Ramp customers now have a unified experience when managing their vendor records within Ramp. All vendors you paid by ramp card or through Ramp Bill Pay are automatically recorded here for you.
If you used Ramp prior to April 2023, your card merchants and bill vendors that were previously separated in two tabs are now found in one Vendor Management Tab.
The Vendor Management tab will simplify storing, analyzing, and discovering all your vendor records and data.
Note, Ramp is rolling this feature out in a phased approach. All customers will have access to this new view by the end of May 2023.
How does it work?
Marking Vendors as Active / Inactive
Unified View
All vendor records across card merchants and bill vendors are housed in one Vendor Management tab.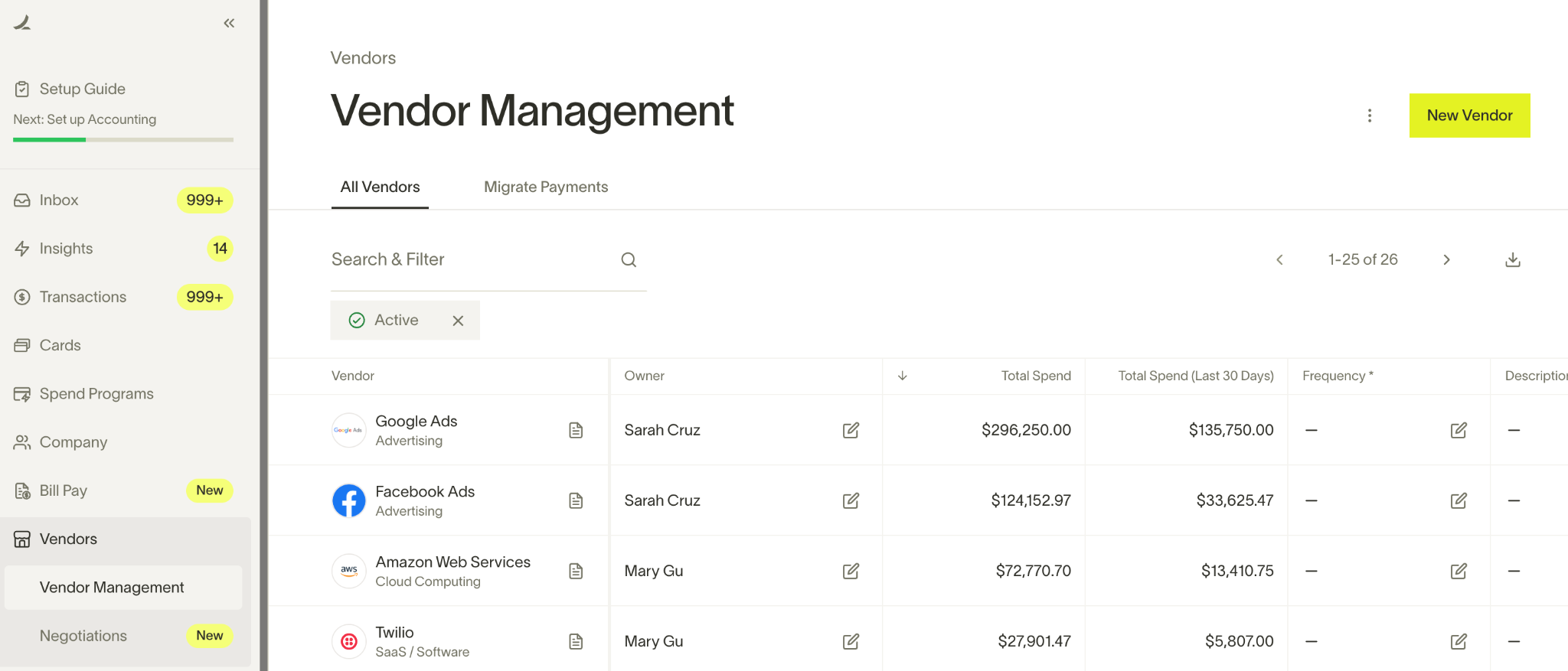 Whenever a card purchase or bill payment for a new vendor occurs, the vendor record will be added to the Vendor Management tab. You will be able to easily view vendor details such as the vendor owner name, department, and location, the vendor status, and vendor spend directly from the Vendor Management table.
Clicking into a vendor will give even more details like recent bills or card transactions for the vendor. For vendors paid via bill pay, easily add their tax and payment details.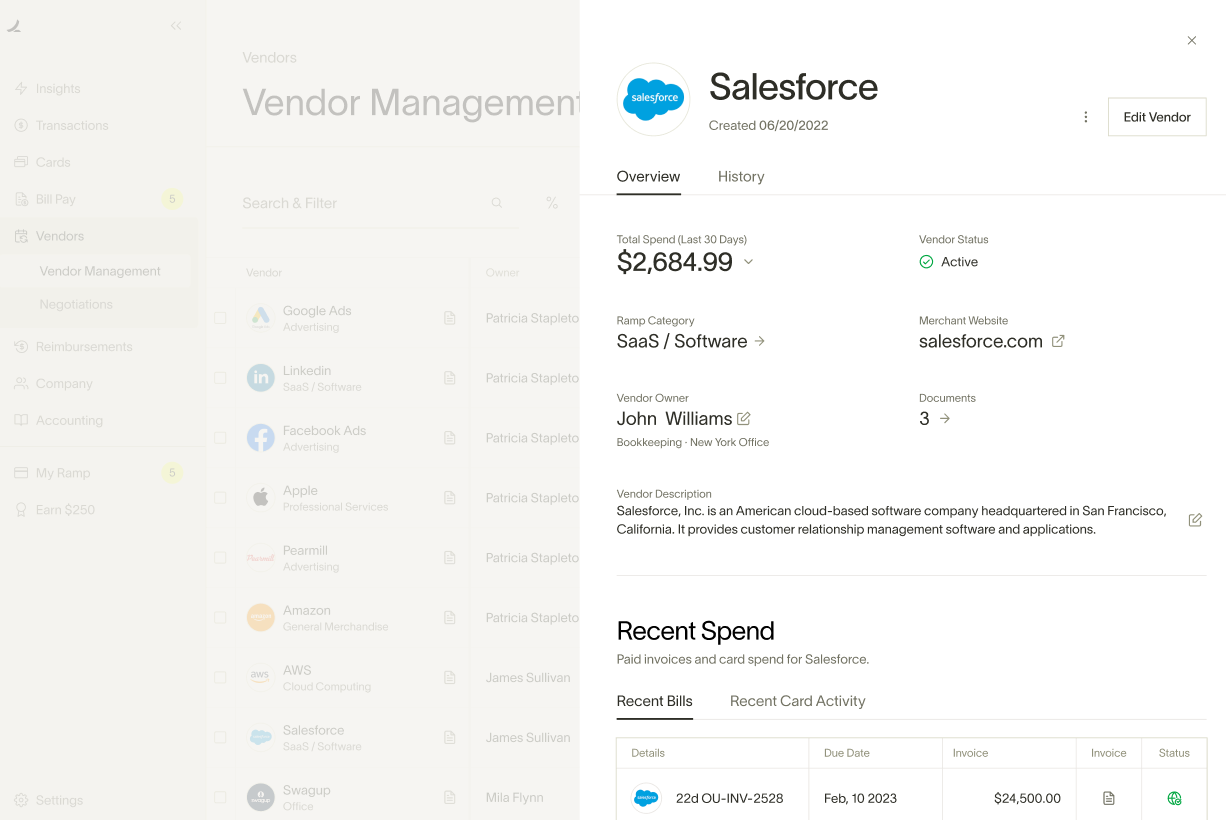 Sorting and Filtering
You will be able to easily search, sort, and filter for vendors within the Vendor Management tab.
Vendors can be filtered by:
Vendor Name
Vendor Category
Vendor Owner / Department / Location
Vendor Status (Active vs. Inactive)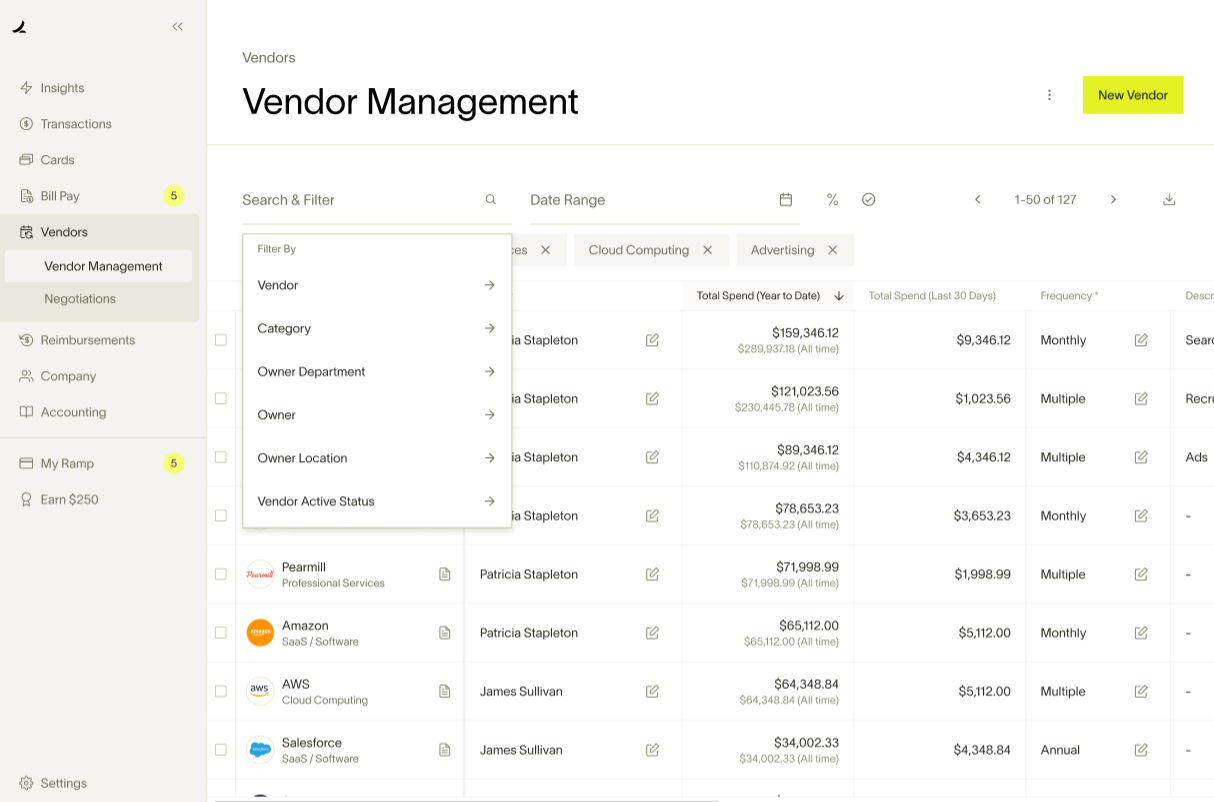 Marking Vendors as Active / Inactive
Ramp customers now have the ability to mark a vendor as active or inactive. You can easily change the status directly from the vendor table or by editing the vendor record.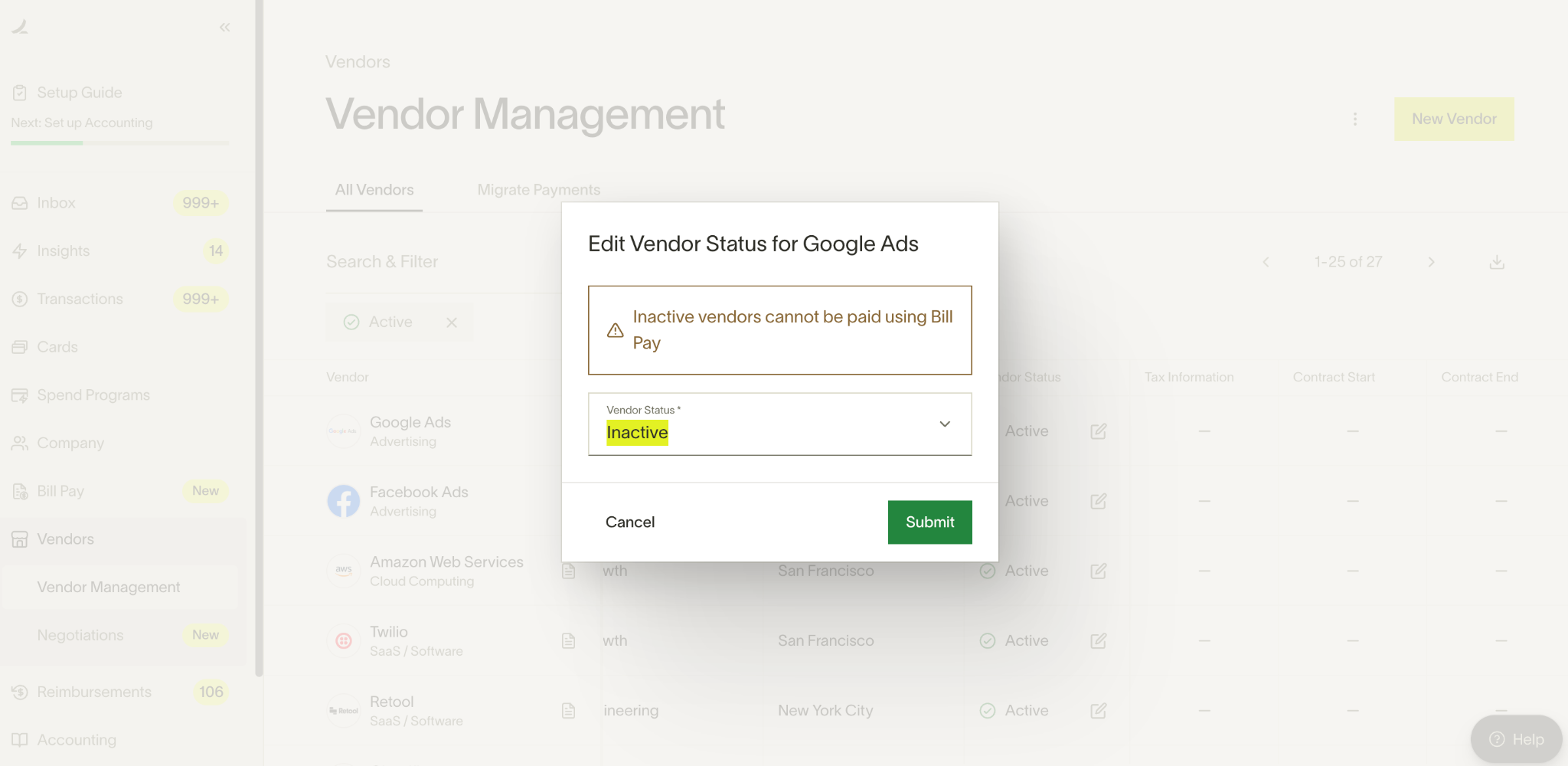 If a vendor is marked as inactive, a warning message will appear for the vendor within Bill Pay informing the user of the vendor's inactive status.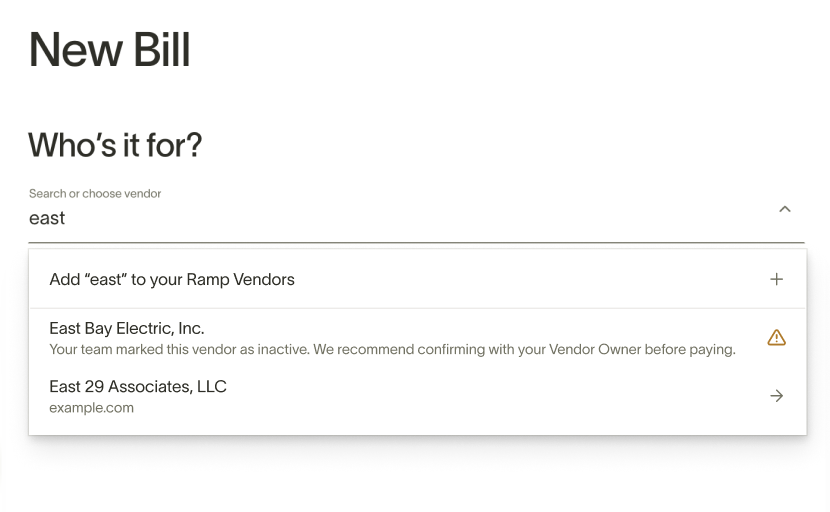 Ramp Category
Ramp Categories are important fields that help our customers classify vendors into specified groups.
For vendors paid by card, these categories are pre-determined by the credit card provider and are tied to the category restrictions you may set for card purchases. Learn more about setting up category restrictions here.
Please note, categories for vendors paid by card cannot be changed.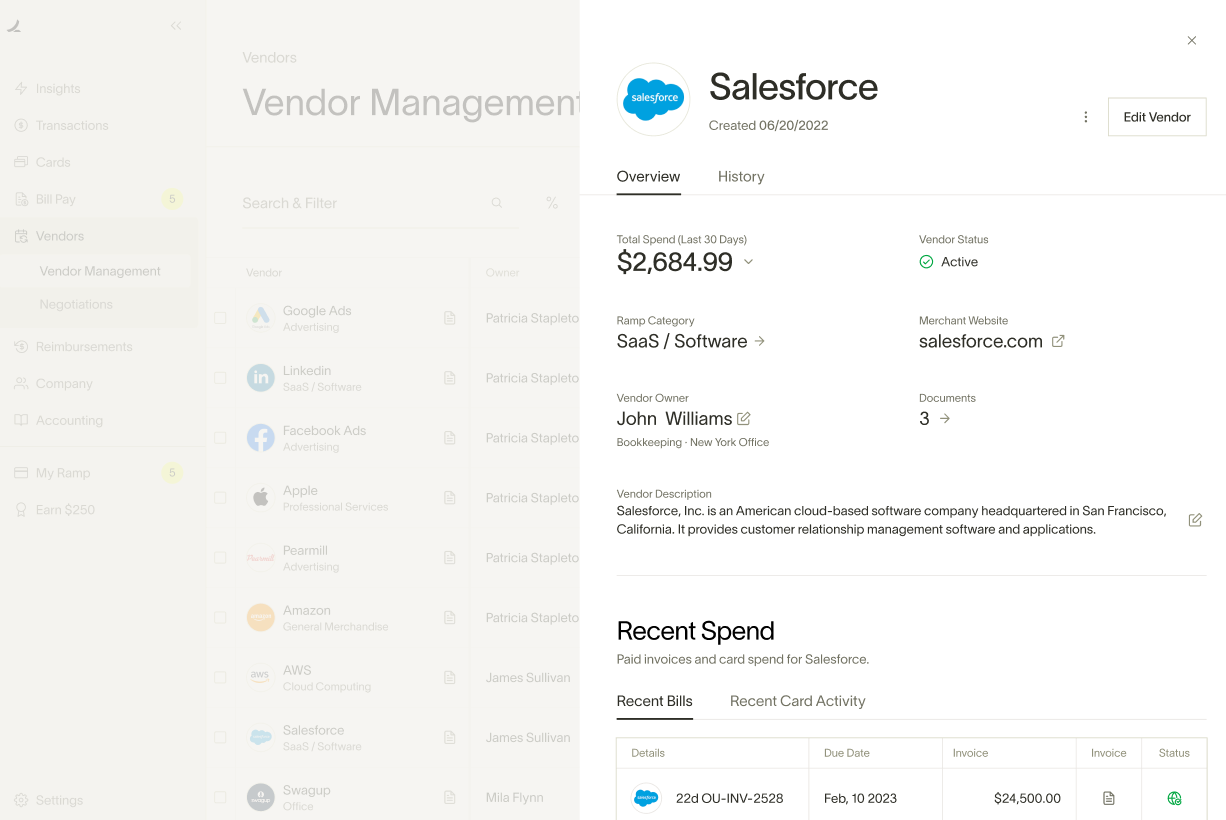 For non-card spend vendors paid on bill pay, you can now select a category to classify the vendor. This classification is useful when filtering and sorting your vendors within the Vendor Management tab.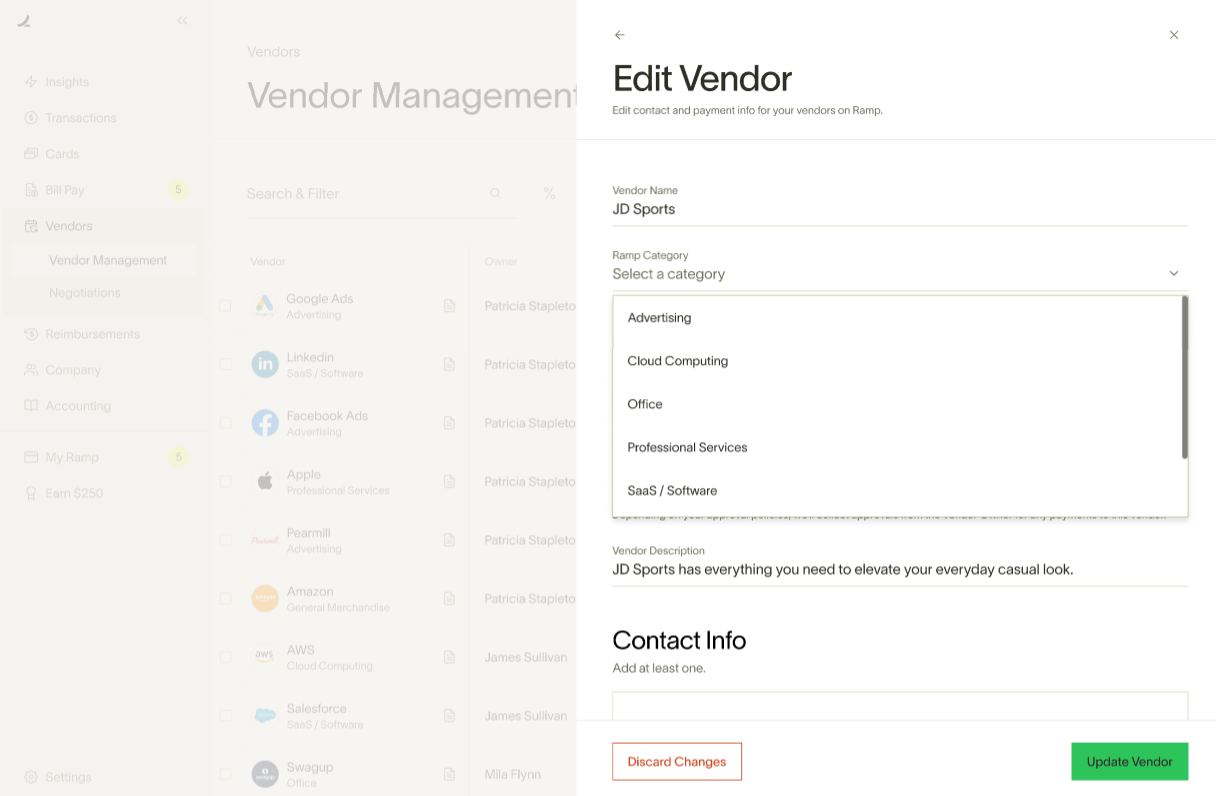 Contracts and Documents
Ramp allows you to easily upload and store key documents relevant to your vendor right within the Vendor Management tab.
Simply, click into the vendor and drag in the desired document. Documents can range from contracts to vendor W9s to payment information.