Overview
With Ramp, you can handle all of your company's spend in a single place. With Bill Pay, you can email or upload your invoices and create, approve, and pay your bills in under 60 seconds. We sync every bill and every payment to your accounting software. It's the fastest bill payment product on the market.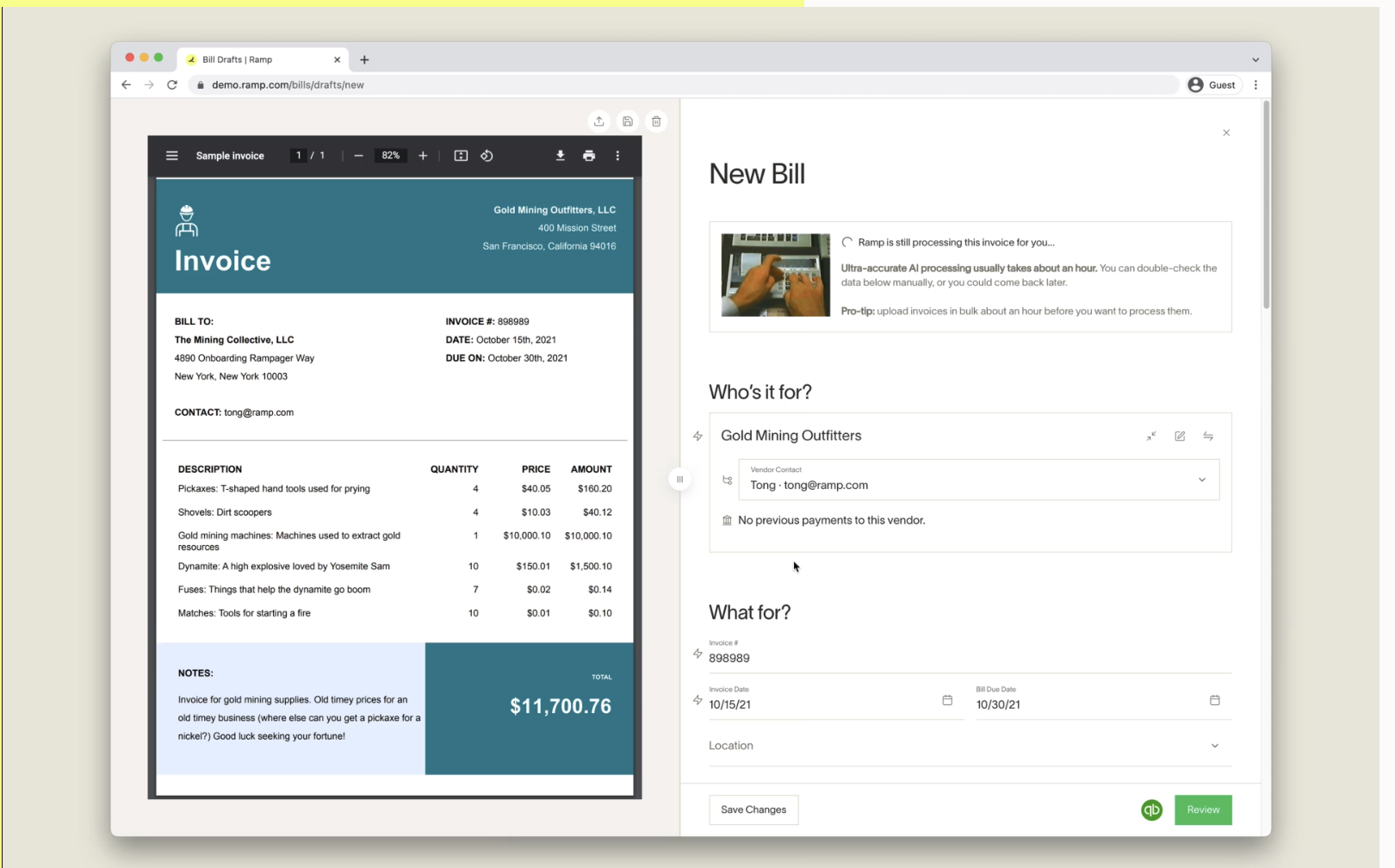 If you already know what you're looking for, jump to our articles below:
Bill Pay Setup: follow our guide for setting up Bill Pay, including accounting, creating approval layers, and automatic invoice forwarding. This guide will have you paying bills in less than 60s.
Bill Lifecycle: walk through the process of paying a bill, from invoice upload to viewing payment history. You'll see how our product emphasizes speed and process controls so your vendors are paid fast and you can have peace of mind.
Bill Pay Accounting: we sync directly to your connected accounting provider so you can focus on the most important business needs. When you are integrated with an accounting provider we support, bills are synced automatically when they are created, updated, and paid. Read about which providers we support and how the syncing process works.
Bill payment methods: lightning fast payments with multiple ways to pay. For each bill payment, Ramp initiates 2 payments. The first is to withdraw the funds (called a debit) from your selected bank account and the second is to push the funds (called a credit) to your vendor using the payment details you provided. See how we pay your vendors on time.
Bill Pay Approvals and AP Clerks: with Approval Layers and AP Clerks you can upload and create bills with streamlined approval processes. Read how to set them in the guide here.
Bill Pay Vendors and Vendor Owners: Bill Pay makes it easy to manage your vendor's payment details and contact information. This guide will get you up to speed on Bill Pay vendor management.
Reporting
We are adding bill payments to the Accounting and Insights tabs in the first half of 2022. Notify your sales representation or our Support team to be informed when this is launched. You can view all of your bills within the Bills pages.
Tax support
Ramp Bill Pay has begun providing vendor tax support. Bill Pay users can add and store their vendors' W9 information directly in Ramp and export that information for easier 1099 processing.
Please read more about Bill Pay Tax Support here.