Overview
Ramp for Travel is the newest and fastest way to manage your travel spending from Ramp. Now, finance teams can centralize control of travel spending while allowing employees to book travel using their favorite booking platforms. From bookings to expense reporting, Ramp for Travel makes travel management much easier for your employees while giving you the same controls, insights, and automation that you'd get from a standalone travel solution.
As an admin, you now can:
See every active employee trip in one dashboard with complete itineraries
See all travel expenses related to a trip grouped by category
Get real-time alerts when employees spend out-of-policy per your per diem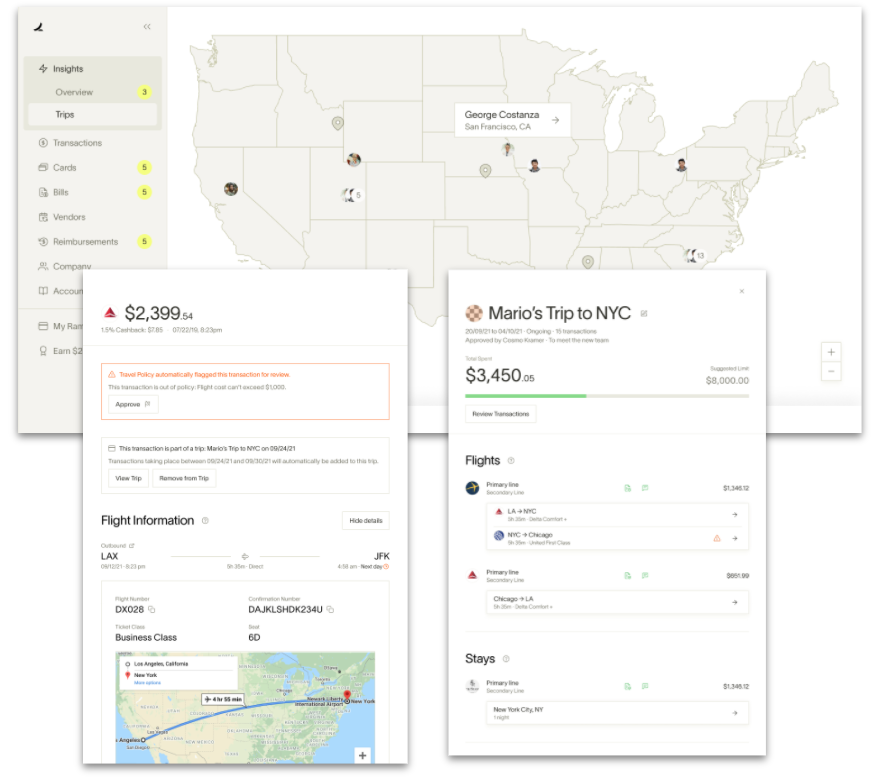 Employees can request to travel and book wherever they want. Thanks to Ramp's receipt integrations and travel enrichment capabilities, they will spend less time submitting expenses. Finance teams will also maintain real-time visibility into their travel plans. This data is automatically generated based on the transactional data on your company Ramp cards - no more manual entry or separate travel booking platform!
Jump to:
How This Works
Requesting Travel & Issuing cards
Employee requests a card to travel from their Ramp dashboard. Tip: Use Card Programs to quickly issue virtual and physical cards tied to travel in bulk.
The travel request gets routed and approved following the approval workflow. This can be done in email, Slack, or within the Ramp dashboard.
The card can be restricted to specific travel spending categories.
Employee can book flights, hotels and use their virtual card for taxis and per diems (note that travel by train won't be included in Travel). Tip: Save your travel virtual cards within your favorite travel booking software.
See: Approval Policies.
Managing Travel Spend & Submitting Expenses
After a cardholder forwards their airline confirmation email to receipts@ramp.com, Ramp will automatically detect the user is going on a trip and generate an itinerary.
All transactions from the user during the trip will automatically be linked to a single trip.
Ramp will automatically surface insights on the trip to the manager and admin - including itinerary information and total costs. See the Travel Dashboard section for more details.
User simply has to submit receipts, memos, and other accounting information to Ramp.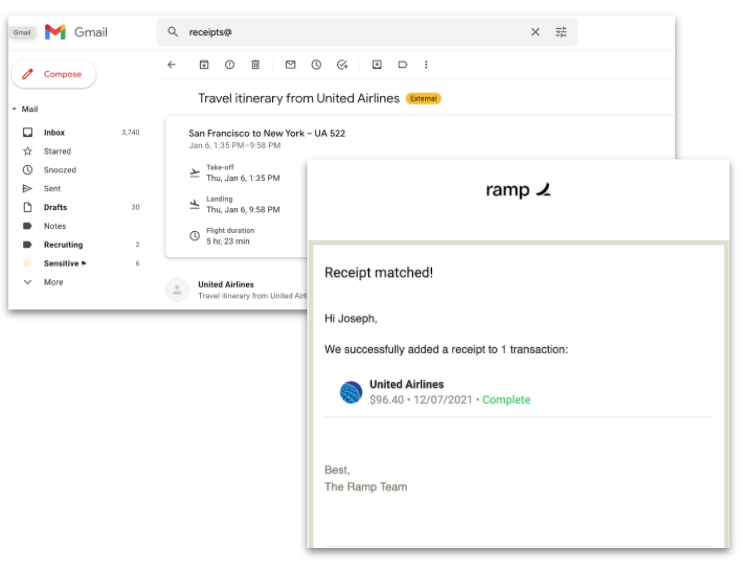 5. Transactions on these cards can be automatically coded with card level rules to the right projects or class codes.
6. Transactions may also be split by attendee. All you need to do is (1) click into the transaction (for example, from the "Transaction" → "Overview" panel) → (2) scroll down to the "Policy" section and click "Add Attendees" → (3) in the "Add Attendees to Bill" panel, type in the names and click "Add attendees". That's it!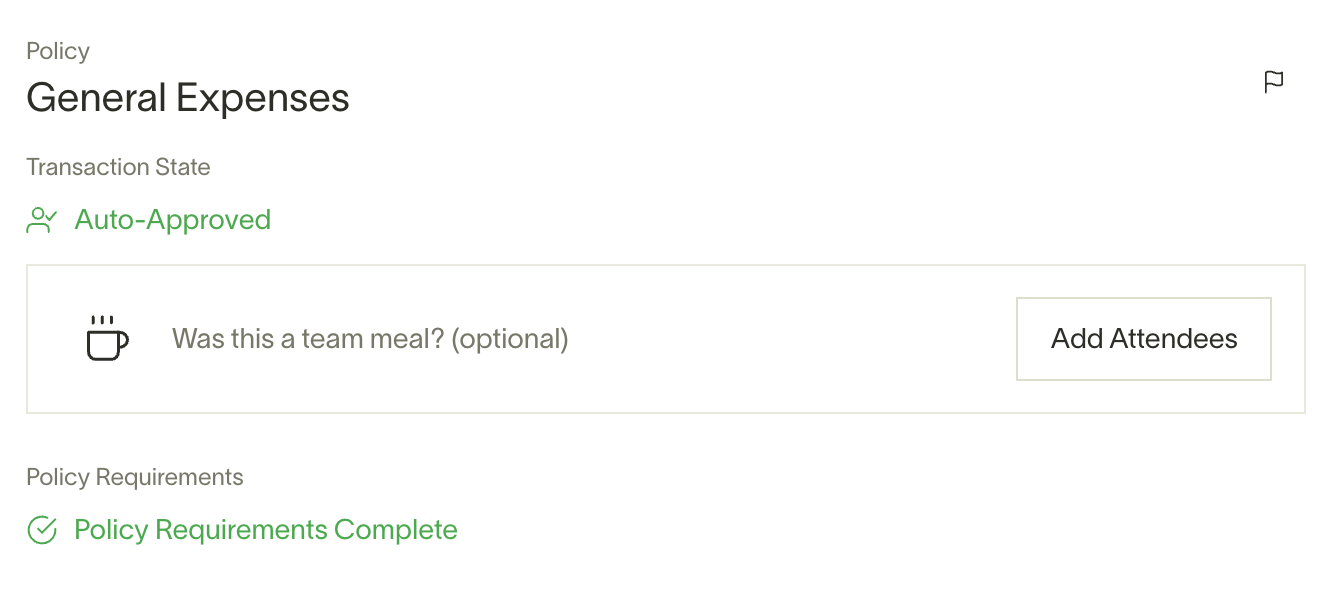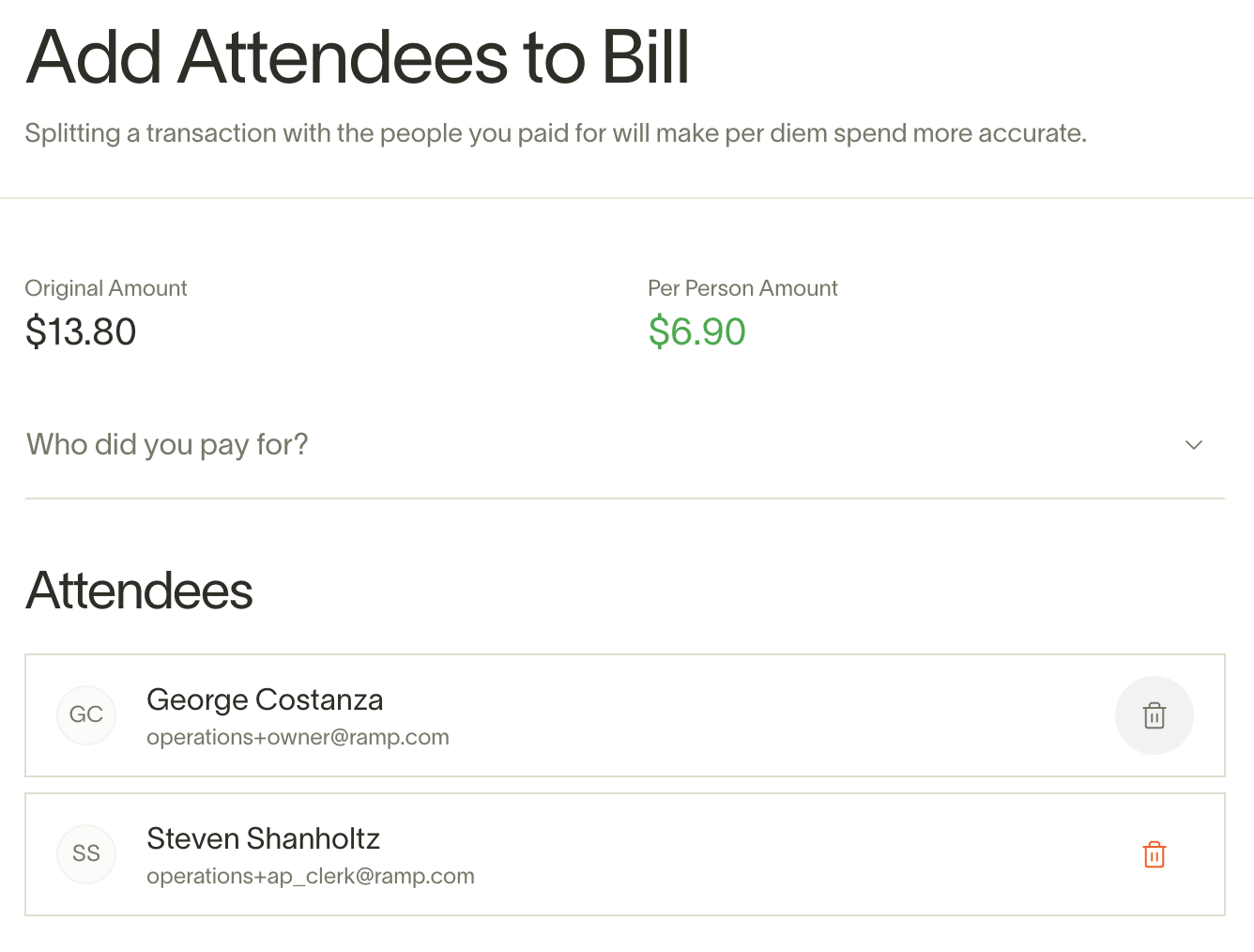 Note: If a cardholder exceeds their per diem spend while traveling, their transaction will be flagged, and the user will be prompted to either repay the transaction or split the bill.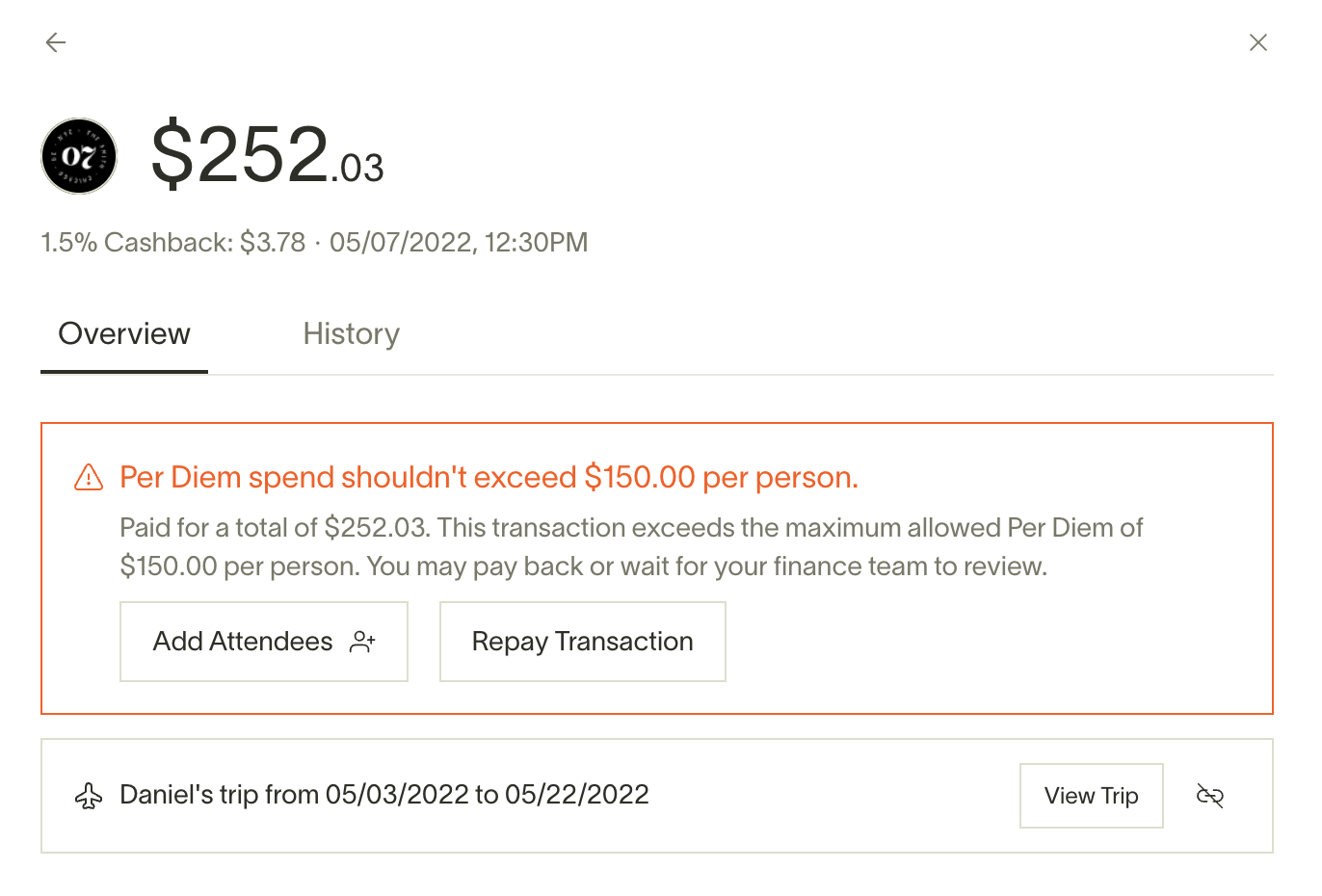 See: Submitting Receipts & Memos via SMS or Email
Enforcing Travel Policy
Within Ramp, admins can define their company's Travel Policy. This includes:
Maximum airfare cost and hotel nightly rate
Flight booking class allowed based on flight time
How long in advance you need to book
Maximum daily spend on meals (per diem)
Once implemented, Ramp will automatically flag transactions that are out of policy based on these rules. Fill out as many or as few of these rules as you'd like; all of them are optional. We do this by pulling itinerary information from the receipts forwarded to Ramp to understand everything about the trip. Here is how this works:
Rule
How it works
Maximum airfare cost
Total airfare cost of the trip
Booking class
Compares ticket class (e.g. Economy, Economy Plus, Premium Economy, Business) with the duration of that specific leg
Advanced booking

Compares the transaction time with the time of the trip

To disable, select "No restrictions"

Maximum nightly cost for hotel
Compares the hotel cost per night for that booking
Per Diem
Automatically adds up card transactions on restaurants and entertainment during the period of the trip by day and compares that with the per diem limit
Travel Dashboard
The new Travel Dashboard enables you to see all your company travel spend and details live. This product is currently in Beta - to request access please contact support@ramp.com.
There are three main sections to this dashboard:
Map View - see active and upcoming trips on the world map. Click into specific people to view their trip details.
Metrics View - see a summary of your travel spending over time, including the breakdown by category (flights, hotels, per diems, transit), top spenders or merchants, largest trip expenses, etc. Slice and dice data in any dimension you need.
Trips View - see a holistic list of active, upcoming, and completed trips on the dashboard.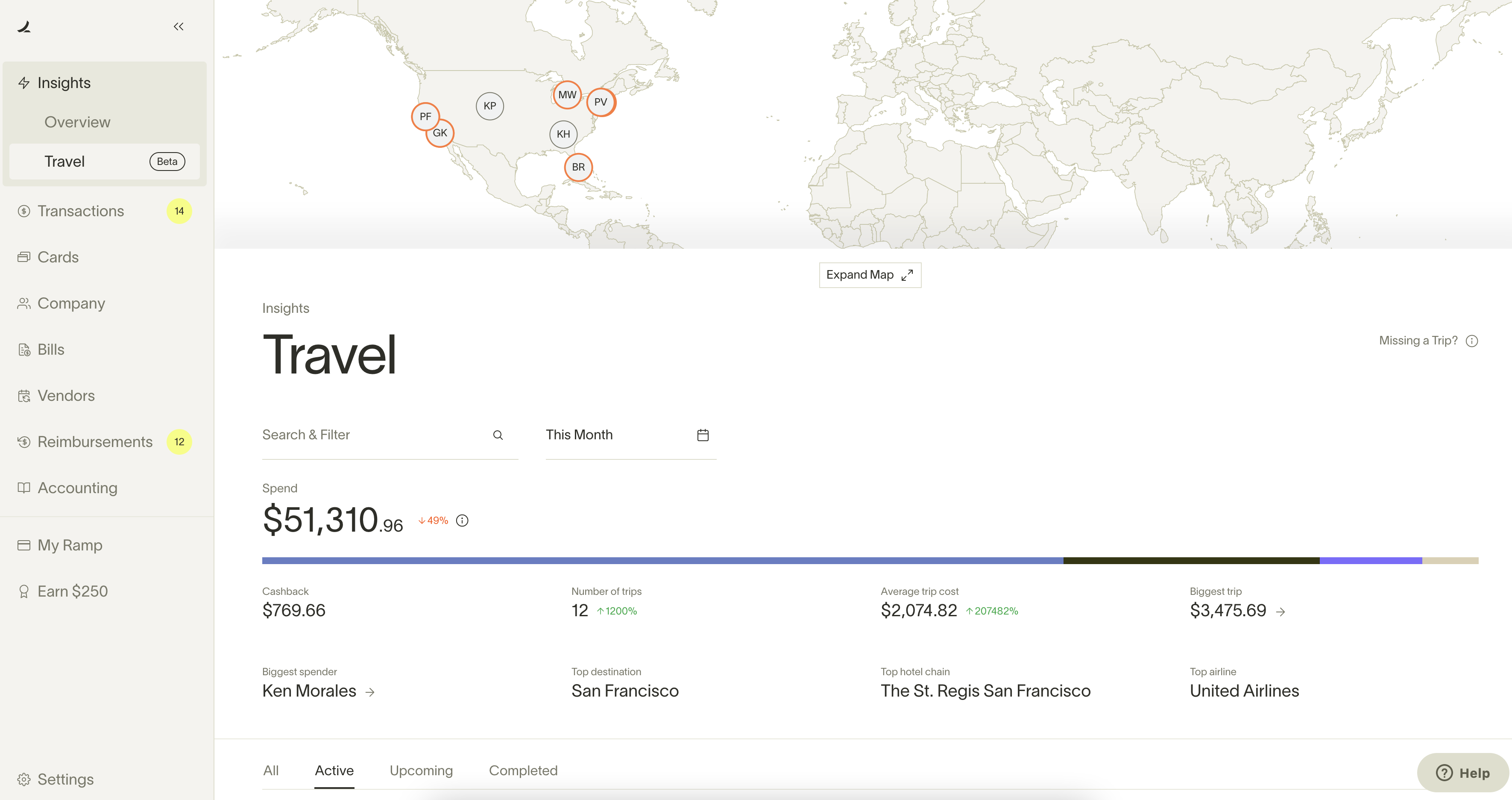 Ramp Trips
A "Trip" on Ramp represents a grouping of transactions that are associated with a single Trip. Trips are automatically generated as users spend on their Ramp cards, forwarding their receipts confirming their itinerary is submitted to Ramp. Users can add more transactions to a trip manually in case any transactions fell through the cracks.
Within a single Trip, users can see a full set of expenses automatically categorized for convenience:
Total cost of the trip
Dates of the beginning and end of the trip
Source and destination of the trip
Airline transactions (and links to flight itinerary)
Lodging transactions (and links to lodging details)
Ground transportation (e.g. Uber / Lyft)
Per Diem (any spend on restaurants/entertainment during the trip)
Miscellaneous (any misc. spend that falls outside of the above categories, etc.)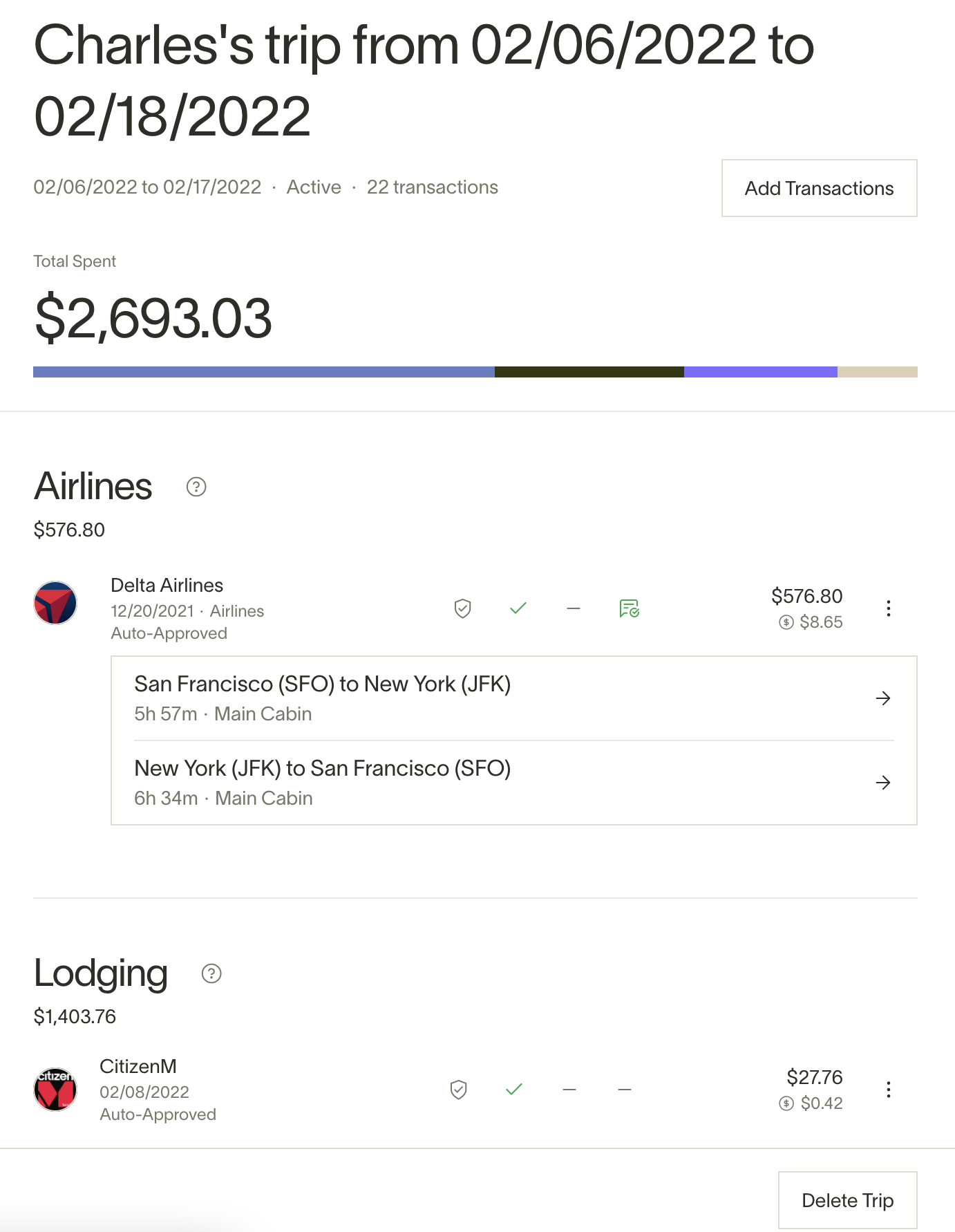 Travel Integrations
With Ramp, you can use your Ramp cards safely and easily with your favorite online booking platform - all transactions and itinerary information will show up on Ramp once receipts are submitted.
For companies that would like to use a managed travel solution (not recommended unless you are spending a significant amount on travel company-wide), Ramp has direct integrations with a few partners that will automatically send a receipt and itinerary information to the Ramp platform upon booking - making your life even easier. Check out the list of partners below and feel free to mention Ramp sent you!
Travel Perk: https://www.travelperk.com/