Overview
With Ramp, you can handle all your company expenses in a single place. This includes corporate card expenses as well as any cash or incidentals that need employee reimbursements with our Reimbursement product. With Reimbursements, employees can submit out of pocket expenses, managers can approve these expenses, and Ramp will automatically facilitate payment to the employee within 3 business days. It's the fastest reimbursement product on the market.
Jump to:
Set up Reimbursements
As an admin, you can set up reimbursements by clicking into the Reimbursements tab and setting things up. For more information, click here: Reimbursements Setup
The payment method: choose between paying back via ACH (and select the account that Ramp will debit to pay your employees) or disable ACH payment and choose to pay outside of Ramp (not recommended).
Your mileage policy: choose whether you allow mileage reimbursements and how much to pay per mile. Ramp's Google Maps mileage feature populates the mileage after employees enter a start and end location. This will then automatically compute how much to reimburse employees.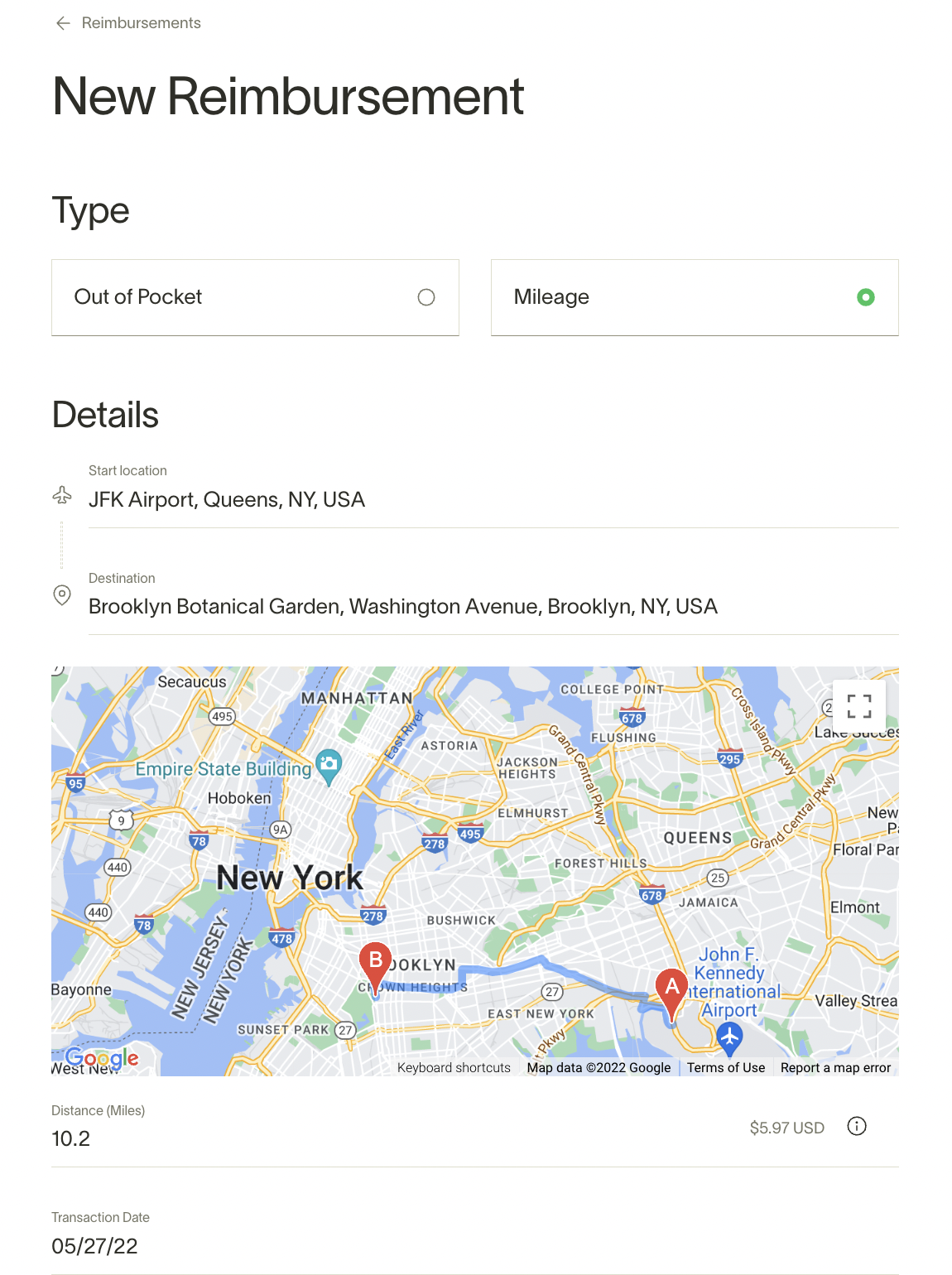 Submission policy: confirm what information is required when an employee is submitting a reimbursement, including receipts, memos, and any specific accounting categories. More information here: Submission Policies
Approval policy: confirm the approval workflow required to approve the reimbursement, which you can customize to add layers and approvers based on the dollar amount of the reimbursements. More information here: Approval Policies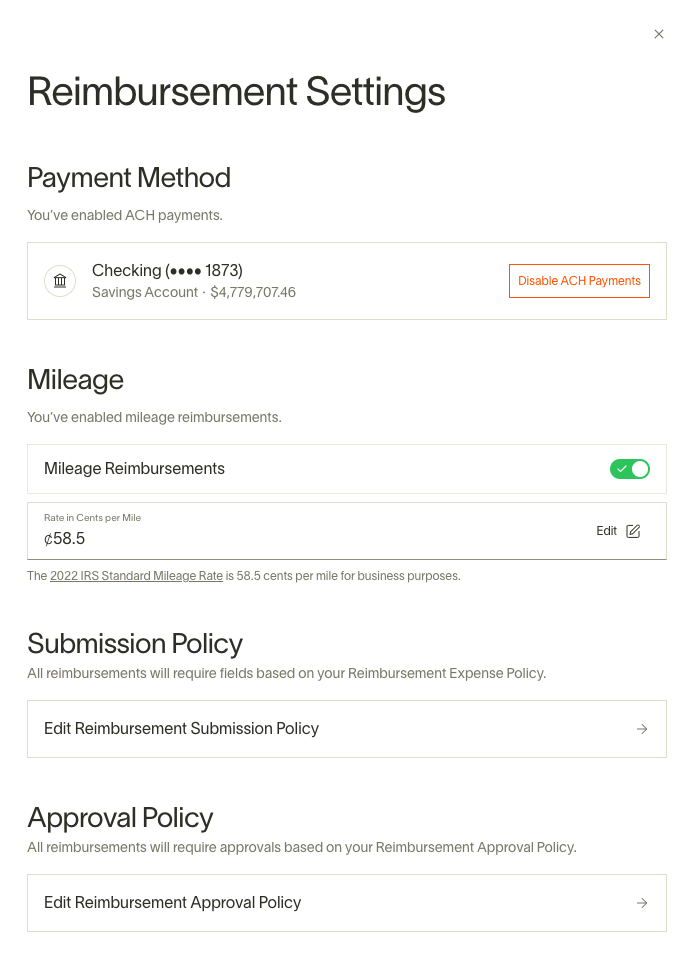 Submitting Reimbursements
Submitting reimbursements is easy. Simply navigate to My Ramp and click Reimbursements on the top right. With a few clicks you can submit your first reimbursement. Check out this article for more information: Submitting Reimbursements
Payment flow
We will send a single payment every day to a employee's bank account for all the reimbursements that they submitted in the last 24 hour period and withdraw one amount per employee from your connected bank account. This means that if an employee submits 10 reimbursements today for $4 each, instead of sending your employee 10 separate payments for $4 like we do currently, we will send a single batch payment to their bank account for $40 instead. When we debit the business for the user's reimbursement we will debit them once for $40 as well.
Reimbursements will show in your bank statement using the following template: first, "RAMP REIMBURSE", followed by the first initial and last name of the employee being reimbursed.
Note: We do not currently support this feature in Texas--it's in the works!
Accounting flow
Accounting for reimbursements is lightning fast like our Ramp card transactions. We sync directly to your accounting provider leveraging our direct integration. Currently, we use Bills to sync reimbursements to your Accounting Provider. Check out this article for more information: Syncing reimbursement to accounting