Ramp's Unified Login consolidates the login experience for all of your different Ramp accounts into single email. This makes managing multiple accounts on Ramp seamless!

Easily toggle between the different companies you are a part of by clicking the drop down menu at the top of the Ramp screen.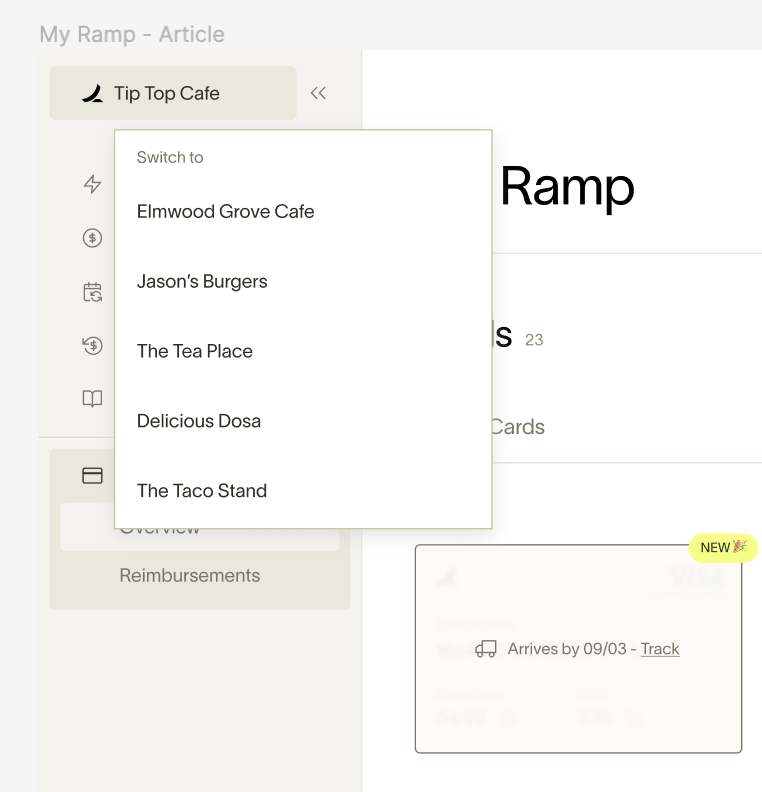 How to invite a user onto a new business
When you first join Ramp, you will connect your email to an account. If you'd then need to be added to another business, an admin or owner on the other business will simply have to invite you to the business using your primary email.
For detailed instructions on how to invite a user to Ramp, please view this article.
Once you accept the invite for the new business, you will be able to easily toggle between the two companies (or more) like in the image above.
How to migrate to the new unified login
If you previously had accounts linked on Ramp, when you first login to Ramp, we will ask you whether you'd like to unify the logins for said accounts.
Once you unify those accounts, you will use the login credentials (email + password or SSO) for the primary login credentials you selected. All emails and communications will now go to that one email so if you'd like to keep the separate, we recommend maintaining the logins as separate credentials.
If you choose to keep the logins separate, you will no longer be able to switch across businesses within one Ramp instance. To login to the other business, you would have to sign out, and then log back in using the credentials for said business.
Note: the other login credentials will no longer work once you've unified them.