Overview
As a Ramp user, here is everything you need to know to submit reimbursements and get paid back on Ramp. Jump to:
Setup your account
Once your company has turned on reimbursements, you'll see the Reimbursements button on the top-right-hand corner as shown below on the "My Ramp" tab:
Add your personal bank account. If your company has turned on ACH payments via Ramp, you'll be required to add your US-based personal bank or international bank account details (see more on international reimbursement here) in order for your organization to pay you directly if your reimbursement is approved (this typically takes 3 business days once a reimbursement is approved). You'll see a banner at the top of your Reimbursements page if you haven't linked a bank account and be prompted to do so if you try to submit a reimbursement. If your company hasn't turned ACH payments on, you'll be reimbursed and paid outside of Ramp by your admin or manager.
Submitting Reimbursements
Submit a reimbursement: To submit a new reimbursement, there are a few ways.
Under "My Ramp" > "Reimbursements", you may click on "New Reimbursement", drag and drop receipts, or you may duplicate any reimbursement by clicking into the draft, approved, or rejected reimbursement. You will then have to add a receipt, memo, and any other policy requirements that your organization requires. In order to add multiple receipts to a single reimbursement, click into the existing draft reimbursement, and click on the 'upload' button in the top left corner.
You can also create new reimbursements by emailing one or more receipts to reimbursements@ramp.com

. (Emailing multiple receipts will create multiple reimbursements.) You can also submit reimbursements from your mobile browser!

Finally, download our mobile app (iOS) to submit receipts easily on the go.
Reimbursements will auto-save as you're editing and appear as a draft on your Reimbursements main page if you click the "Back" button. You or anyone in your approval chain may edit the reimbursement amount leading up to the final approval. Find out how this affects your approval flow here →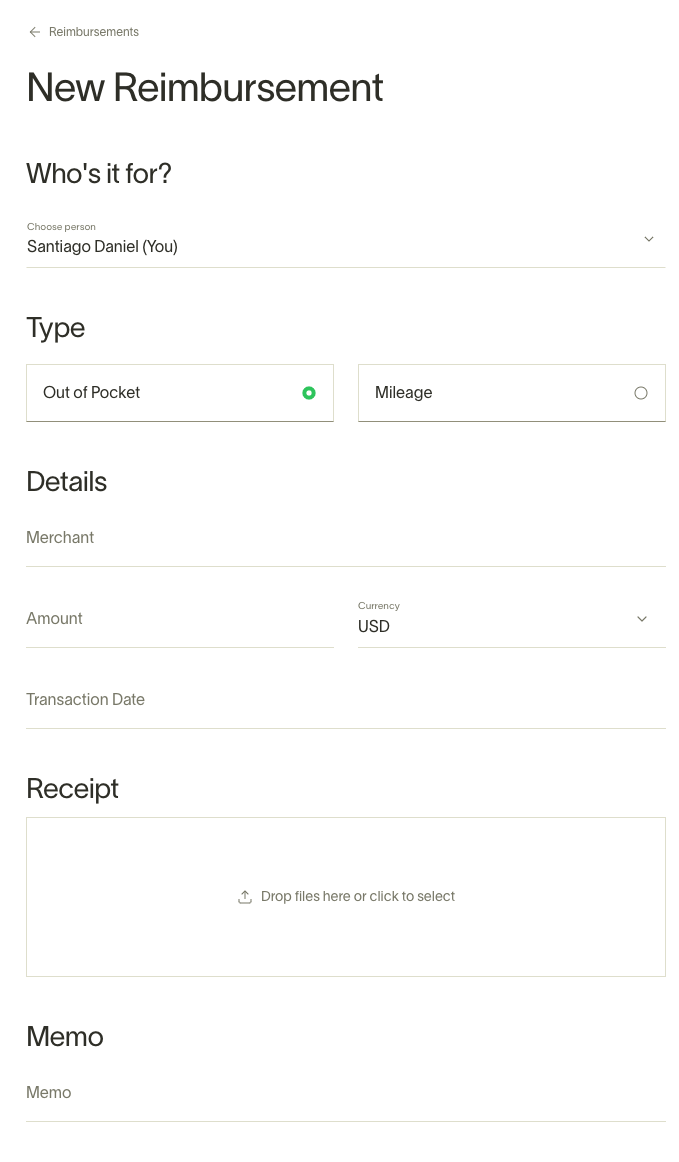 Wait for approval: Once you submit a reimbursement, it'll be routed to either your direct manager or admins for approvals, or a combination of individuals if your company has multi-approvals enabled.
While your reimbursement is pending, you and your manager/bookkeeper/admin may edit any reimbursement field. When reimbursement fields are edited after the 1st level of approvals has been made, at the 2nd layer of approvals, the approval chain may reset. Below is the logic by which the chain resets:
When you edit any part of your reimbursement, the approval chain will always reset.
If any of the other roles edit the reimbursement level at the 2nd approval level...

The chain resets when these fields are edited: Amount, currency, spend limit, trip, and/or mileage
The chain will

not

reset when these fields are edited: Date, merchant, memo, additional fields
If a reimbursement is rejected, you will have the ability to edit this reimbursement and re-submit it. Please note that historic reimbursements cannot be edited.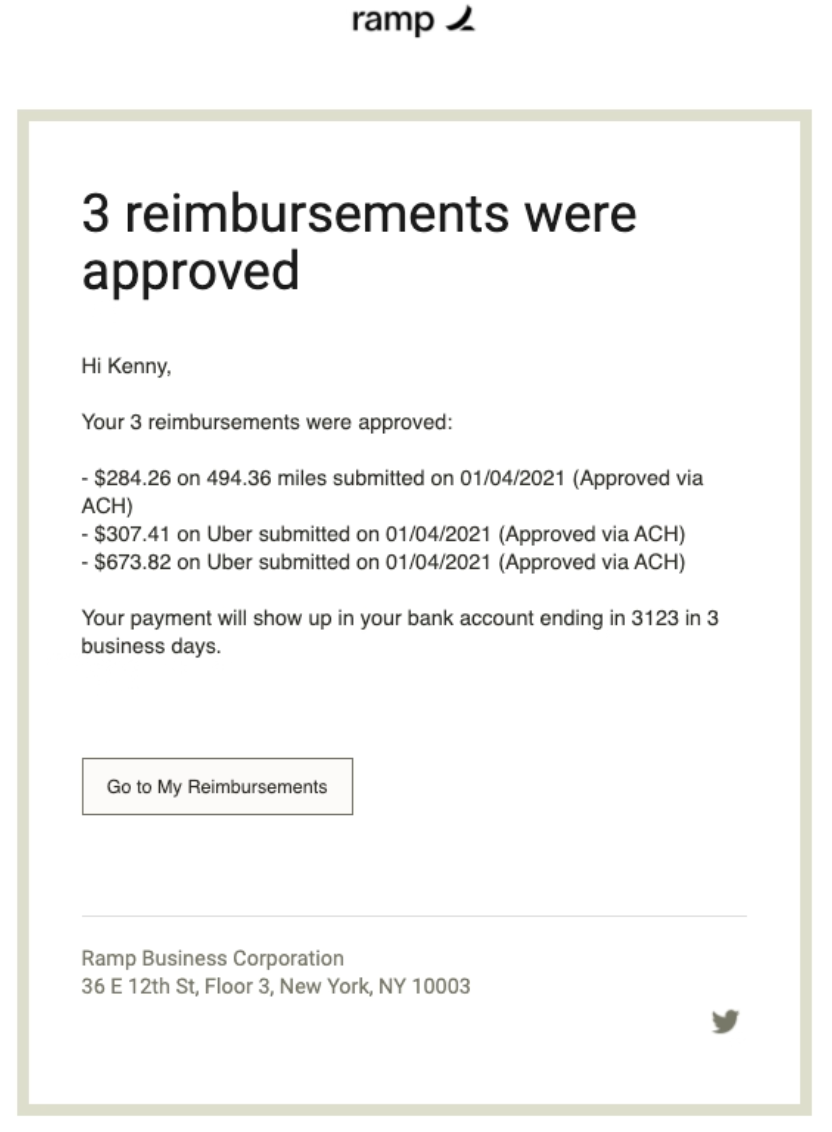 Get paid back: Once approved, you should receive funds directly into your bank account. Expect 1 transaction for every reimbursement submitted on Ramp. This process typically takes 3-5 business days. After a reimbursement has been approved and before the payment begins processing, admins and owners have the ability to cancel your reimbursement payment from the reimbursement drawer in case of mistakes in approval, payment method, or bank issues. This will both cancel and reject the reimbursement.
If your company hasn't enabled payments via Ramp, your company will pay you outside of the Ramp platform. Please contact your company administrators with any questions about payments outside of Ramp.
Bulk upload, memos, and submission
Multiple receipts may also be submitted together, in Ramp or via email, and our AI will quickly generate draft reimbursements. Edit multiple reimbursements at once, add the relevant information, and bulk submit. Find it in our app here →
Bulk Submission in Ramp
Navigate to

My Ramp

→

Reimbursements

Click on Create Reimbursement

To bulk upload (up to 20 at a time):

Drag and drop multiple receipts into the upload portion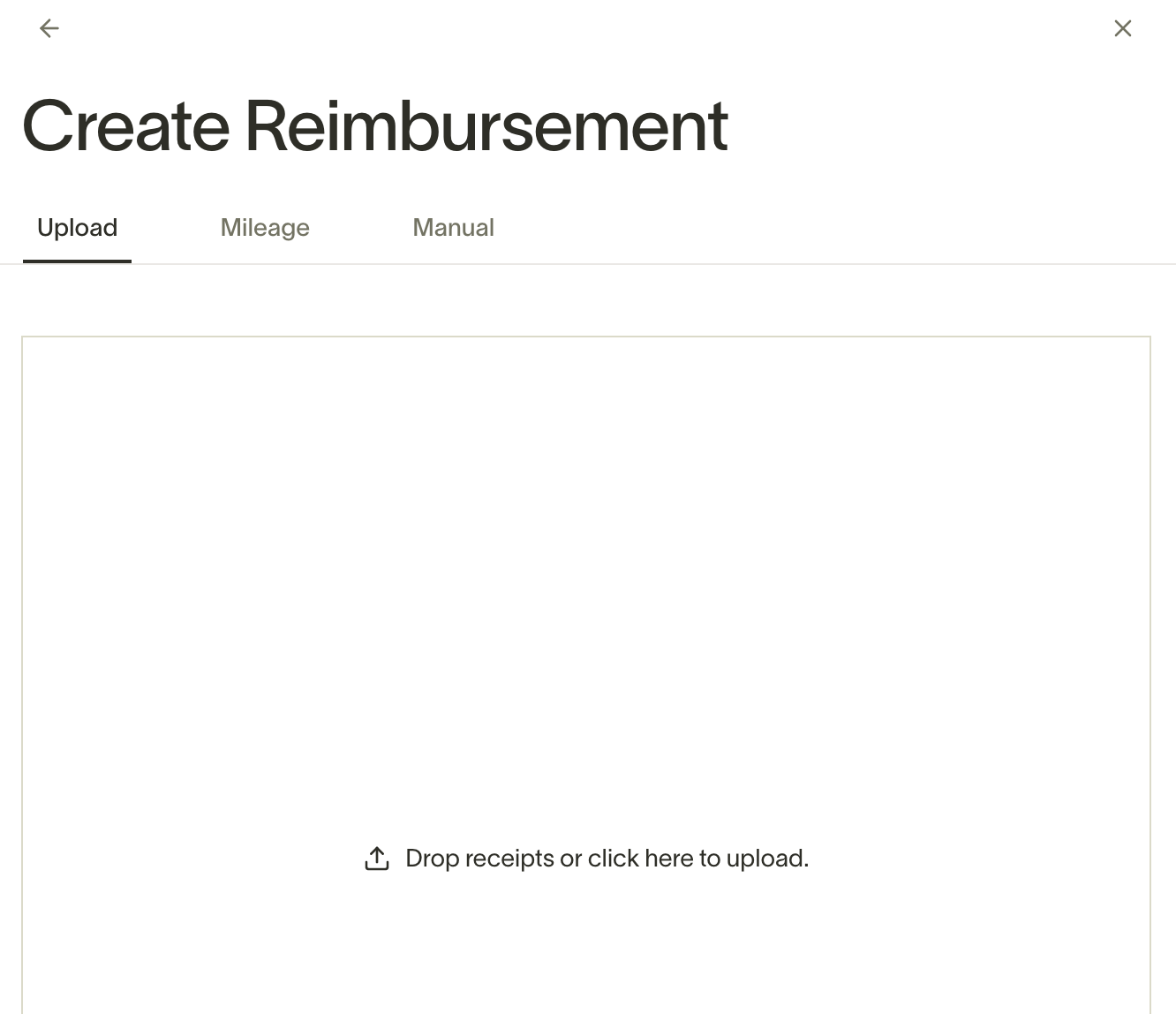 4. Once the reimbursement drafts load, you may select the checkbox on the left-hand side of the page to bulk edit the memo and category.
5. Once the required fields are filled in, the submit button will turn green, and you may bulk submit

Reviewing reimbursements
After submitting a reimbursement, you can review an Active (has yet to be approved) or Historical (previously approved / rejected) reimbursement from your Reimbursement tab. Click into any reimbursement for additional information. See more on reviewing, editing, and cancelling reimbursements here.