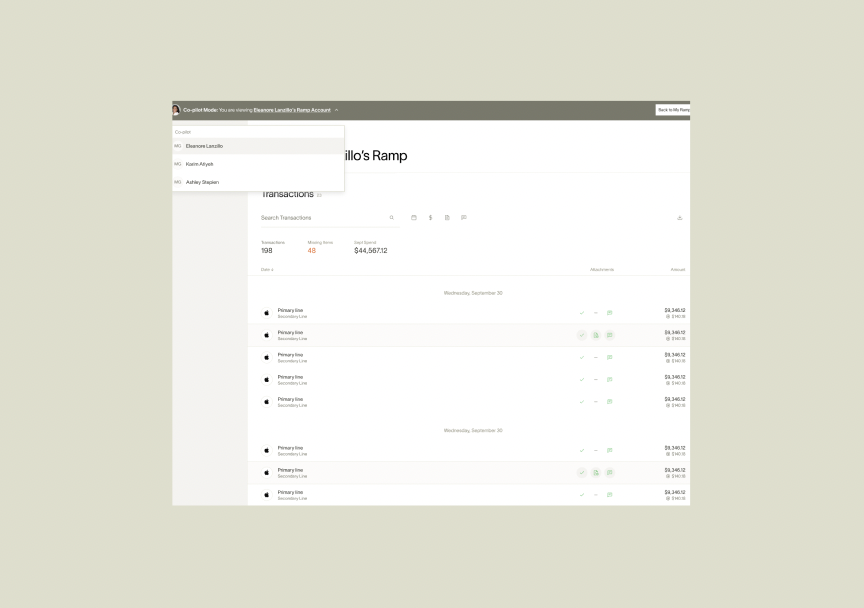 Overview
The Assistant role is for an individual (e.g. an Executive Assistant) to perform certain tasks on behalf of another user (e.g. an Executive). The Assistant role is not a distinct user role on Ramp, it is a permission that can be appended to an account. Jump to:
What can the Assistant user do?
Assistants can do the following on behalf of their assigned user(s):
View transactions
Submit receipts
Fill out the transaction memo
Submit/edit reimbursements
Assistants are able to create reimbursements on behalf of their assigned users, though they will not be able to add personal bank accounts. Assistants will not be able to request policy exceptions.
What notifications will the Assistant receive?
Assistants will receive their assigned user's action items (such as missing business items) along with their own action items in weekly digest.
The assigned user/executive may set filters to automatically forward emails (receipts/memo/coding) to their Assistant. For example, setting the Gmail filters:
from: communications@ramp.com
subject contains "missing"
auto-forward: assistant email
What can the Assistant user see?
The Assistant can see the transactions and related information for the user(s) who have assigned them as Assistant.
Assistants are not able to see activity beyond their designated scope, such as card numbers and the transactions of other users that the user(s) they're assisting can see, even if they are assigned to an Admin user.
Assistants will also be notified of their manager's missing items in their weekly "Missing Items" email.
Who can assign themselves an Assistant?
Any user can assign one or more Assistant users to their own Ramp account. One user can have multiple Assistants. Admins can assign any user as an Assistant to any other user on Ramp.
Who can be an Assistant?
Any user can be granted Assistant permissions. Additionally, a user can be assigned as an Assistant to multiple other users.
How do I assign my Assistant?
If you are a Ramp user, you can assign your own Assistant by following these steps:
At the bottom of the page, under Assistant Role, begin typing the name of your Assistant
Click on the user you want to assign, and you're done!
As an Admin user, how do I assign Assistants to others?
If you are an Admin, you can assign Assistants to other users by following these steps:
Select the user who needs a Assistant assigned to them, then click Edit Profile
Scroll down on the Edit Profile drawer and begin typing the Assistant's name in the "Who is your Assistant" field
Click on the Assistant you want to assign, and you're done!
I'm an Assistant, how do I view my manager's transactions?
In the bottom of your side bar, you'll now have a section titled "Assistant mode". Just click on this section to move into Assistant mode and a banner will appear across the top of your account! From the banner, you'll be able to:
Select which user you want to Assistant for
Switch back to your Ramp
Lastly, we will keep an audit trail of your Assistant edits to your transactions in the History tab: