Overview
Ramp allows managers and finance teams to enforce spend policies on all card spend. Here is an overview of what happens once a customer spends on the card, and how this can be set up on Ramp.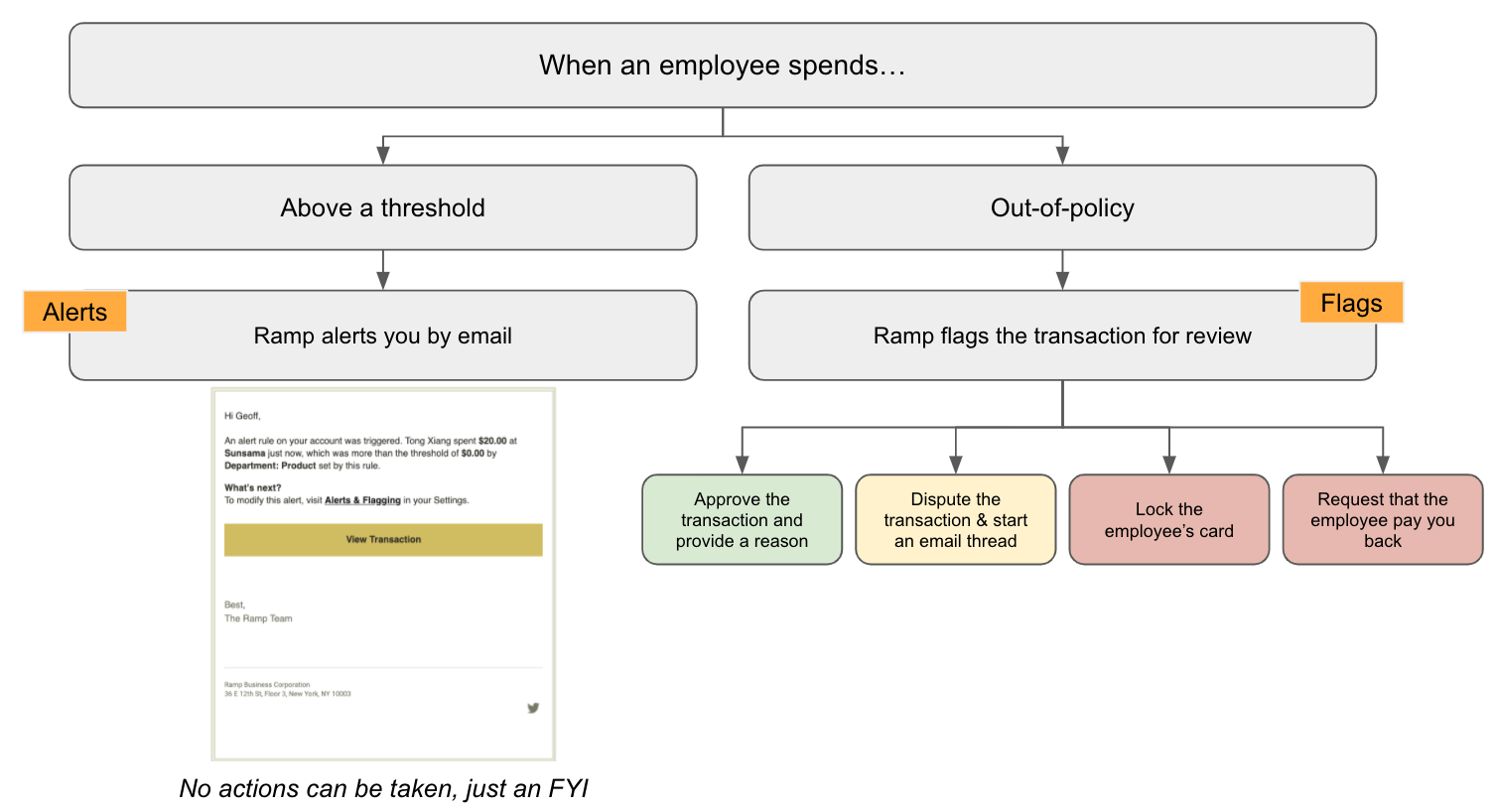 Setup Spend Guidelines
Spend guidelines are rules that admins can implement to define what is allowed to be purchased on Ramp Cards. These rules are triggered automatically after the transaction happens. There are two types of rules:
Flags (for policy enforcement) - these are transactions that are out of policy. When a transaction gets flagged, an email will be sent to the cardholder and to their manager or admin to have a conversation and remediate.
Alerts (for visibility)- these are alerts that can be sent to a specific person to increase visibility on the spend on the Ramp platform. For example, maybe your head of IT wants to know whenever a Software purchase over $1,000 is charged. Please note that alerts are additive, and one alert rule will not override any existing rules. If you create a new rule for alerts over $6,000 for a specific software vendor, you will still get all the alerts from your initial $1,000 rule.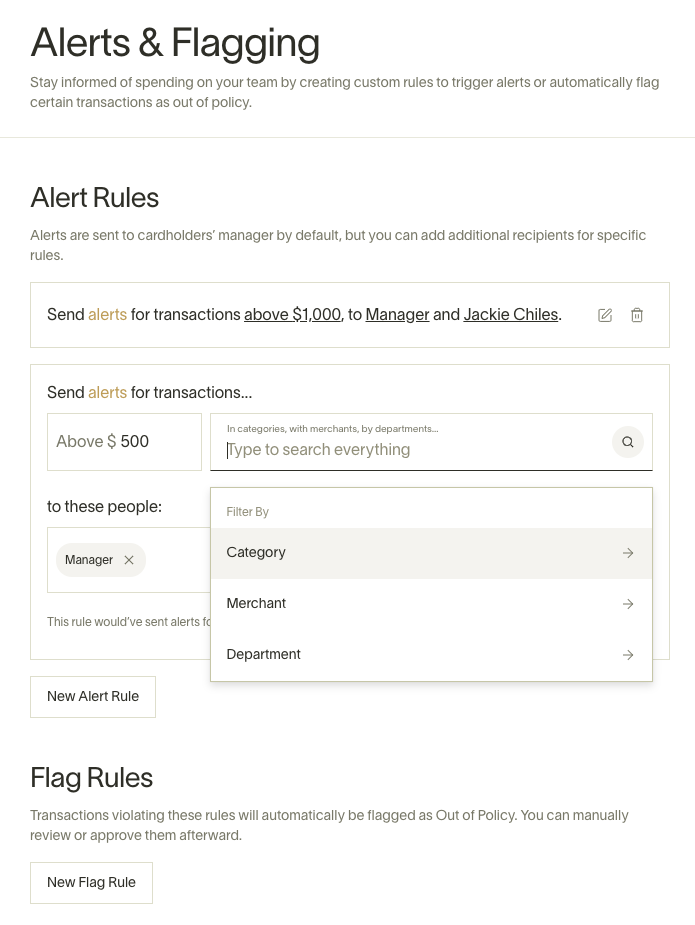 When it comes to Policies, there are two types of Policies on Ramp:
Travel Policy - this governs what is allowed to be purchased when it comes to travel, including per diem, hotel nightly rates, advanced booking requirements, etc. For more information on implementing a Travel Policy, check out: Travel Policy
General Spend Policy - this governs general spend on Ramp. Rules can be defined across any dimensions including amount, category, merchants, departments, etc.
For more information on setting up your expense policy, read here: Setup your Expense Policy.
Flagged Transactions
Once a transaction is flagged, it will show up in the "Out of Policy" section of the transactions tab. Managers and admins can see this transaction and either clear the flag or have a conversation with the employee to pay back the company. Flagging a transaction will start a conversation with the employee and the finance team as well, where you can also request repayment from your employee.

Flagging Transactions
Read: Flagging Transactions
Transactions can be flagged manually by the cardholder, manager, or admin. There are two types of flags:
Out of policy flags: cardholder spent on something that is out of policy
Accidental charge: cardholder accidentally used the corporate card for a personal expense (self reported)
Fraudulent transactions: cardholder does not recognize this transaction.
To flag a transaction as out of policy, open the transaction on your Ramp dashboard and then click "Flag" on the bottom left.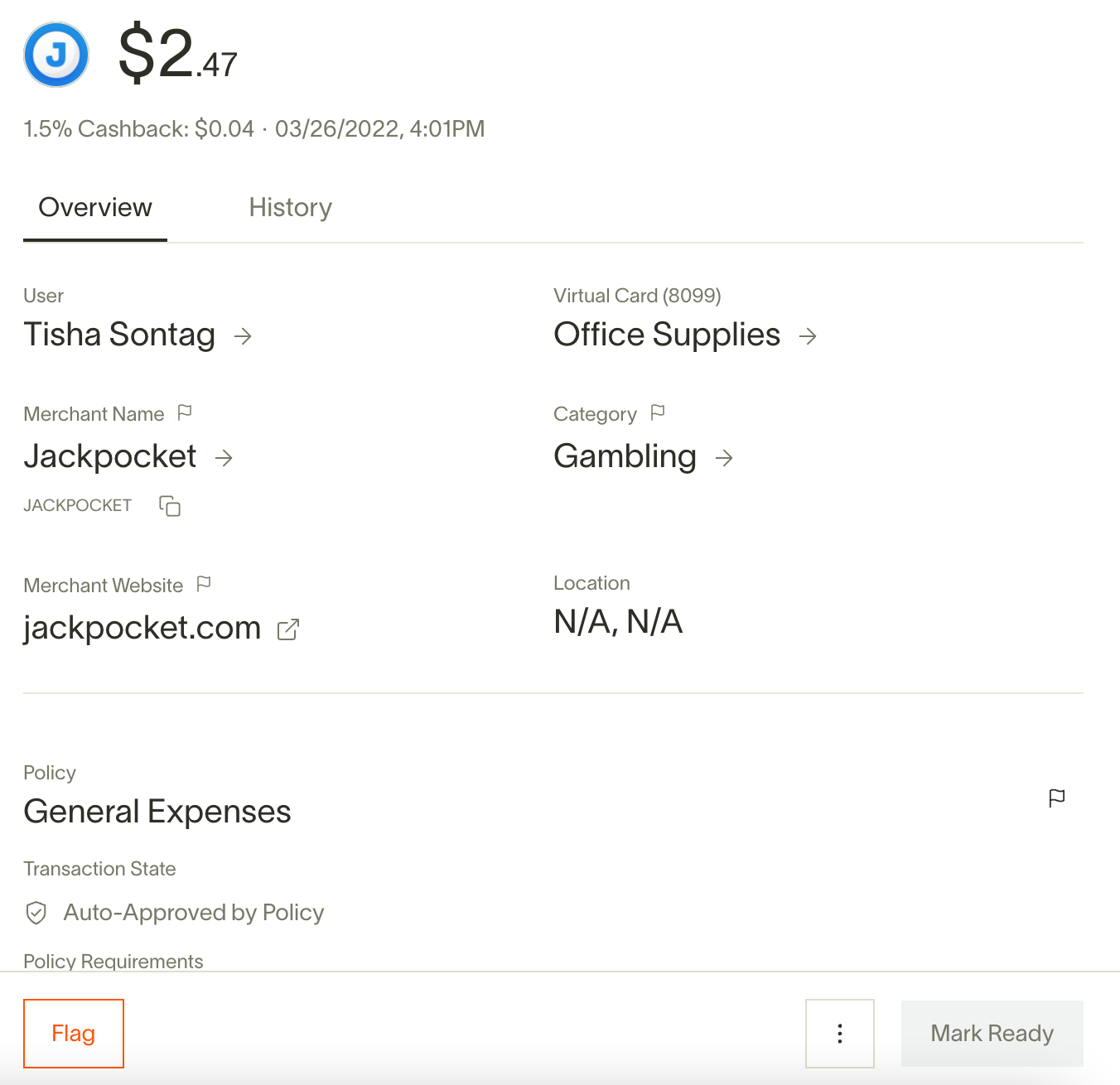 From there, you can choose to leave a note for your employee regarding why this is out of policy and optionally request repayment. This will allow your employee to add their bank account to Ramp and repay your bank account on file.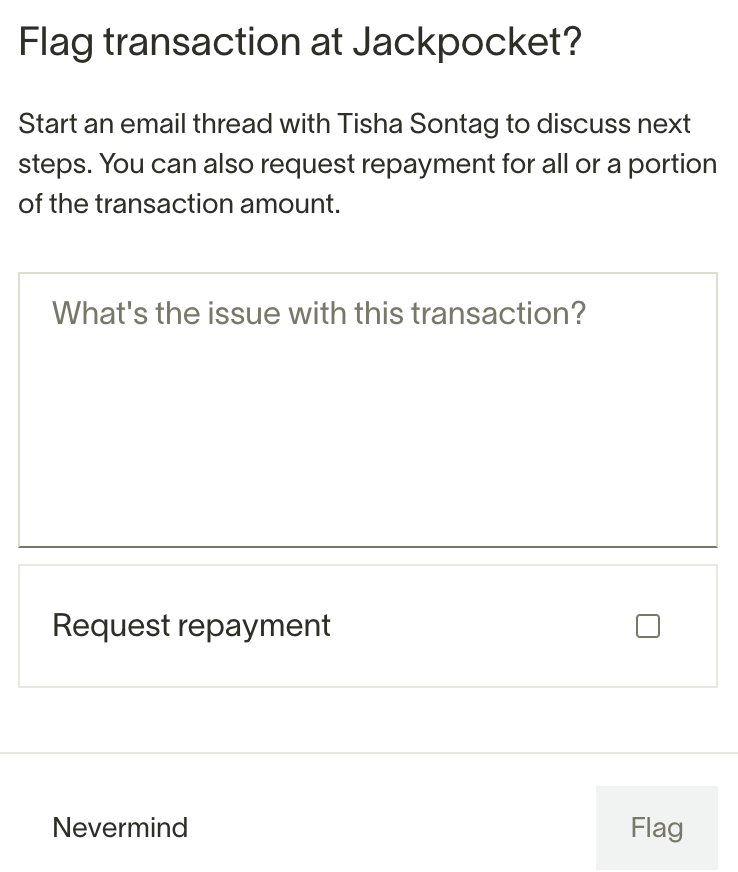 To dispute a transaction on Ramp, instead click on the three dots (kebab icon) on the bottom right of the transaction in question. From there, choose the reason why you wish to dispute this transaction to help our operations team get more details and submit your dispute.
We strongly recommend locking your card in the event that you do not recognize a merchant or a transaction.