For Accounting Firms: Invite your client to connect, and accept their request
In order to get connected with a client, they will need to send your firm a connection request via their Ramp account.
You can help them out by sending them a unique invitation link that, when clicked by the client, will take them exactly where they need to go on the Ramp app to send the request.
To do so, log in to the Advisor Console, click on Clients in the toolbar on the left, and then click the yellow "Invite Client" button in the top right corner.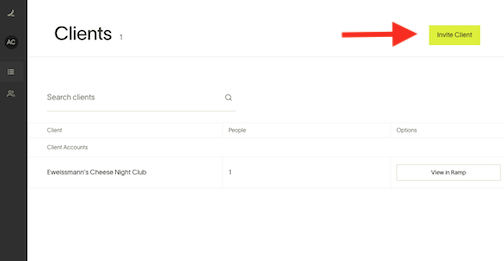 Indicate which roles you'd like to have with your client - Administrator, Bookkeeper or AP Clerk - and then you can copy the unique invitation link and send it out to all your clients via email or SMS.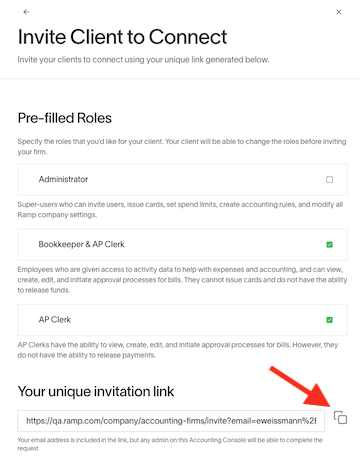 When the client clicks on the link, it will take them directly to the Invite an Accounting Firm section of their Ramp accounts. Here's what that will look like from the client's perspective: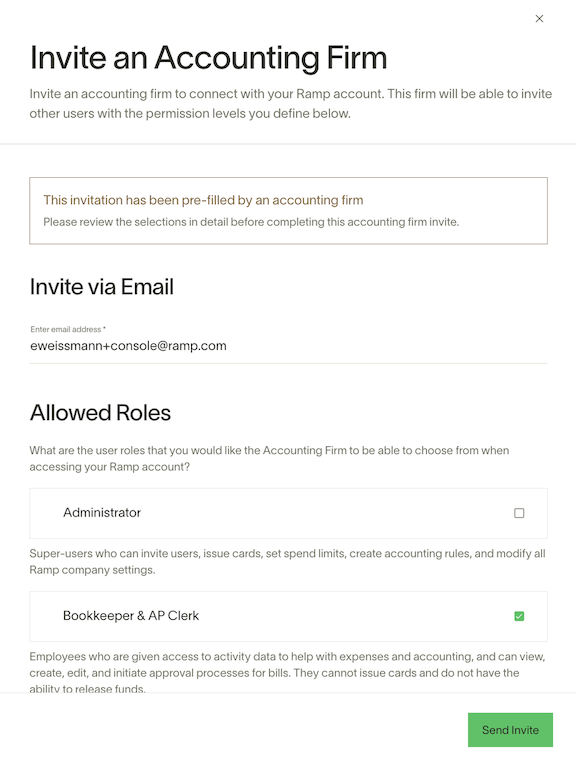 All they need to do from there is click Send Invite, and your firm will receive the invite directly in the Console and accept. This should take your client less than a minute, making the connection process simple as possible for them.
Once the client has clicked Send Invite, all Console Admins will be notified of the incoming connection request via email. To accept, either click the link in the email or log in to the console at https://app.ramp.com. A list of pending connection requests will be displayed, and you can either accept by clicking Accept or you can reject the request by clicking the Reject.
​
Once you've clicked Accept, you will have access to that client's account at the permission level they have designated, and can start adding staff members to their account.
For Ramp customers: Connect your Accounting Firm
If you're a Ramp customer and you want to get your accounting firm connected to your account, you'll just need to send them a Connection Request.
First, log-in and then click the Company > Accounting Firms in the navigation bar on the left.

To invite an Accounting Firm to connect, click the

yellow Invite Accounting Firm button

Enter in the firm admin's email address. Note that you'll need to enter in an email address that's already connected to the Accounting Firm's Advisor Console account, or else you might receive an error. To validate the right email address, you may want to ask your Accounting Firm for confirmation.

Designate the Allowed Roles you want your firm to have: Admin, Bookkeeper & AP Clerk, or just AP Clerk. Then click Send Invite.

Once the Firm accepts your invitation, they'll have access to your account.