Statements are a key part of the Ramp experience - they tell you where and how much your employees are spending and what you owe Ramp. Because Ramp is a charge card (not a credit card!), a full statement payment is required at the end of each statement period. Find out how to read your statement and set your statement payments up for success.

Jump to:
Statement Basics
Your Ramp Statement
Your business will receive a statement at the end of your statement period for all of the card transactions made during that period. It does not include Reimbursements, Repayments, or Bill Pay payments.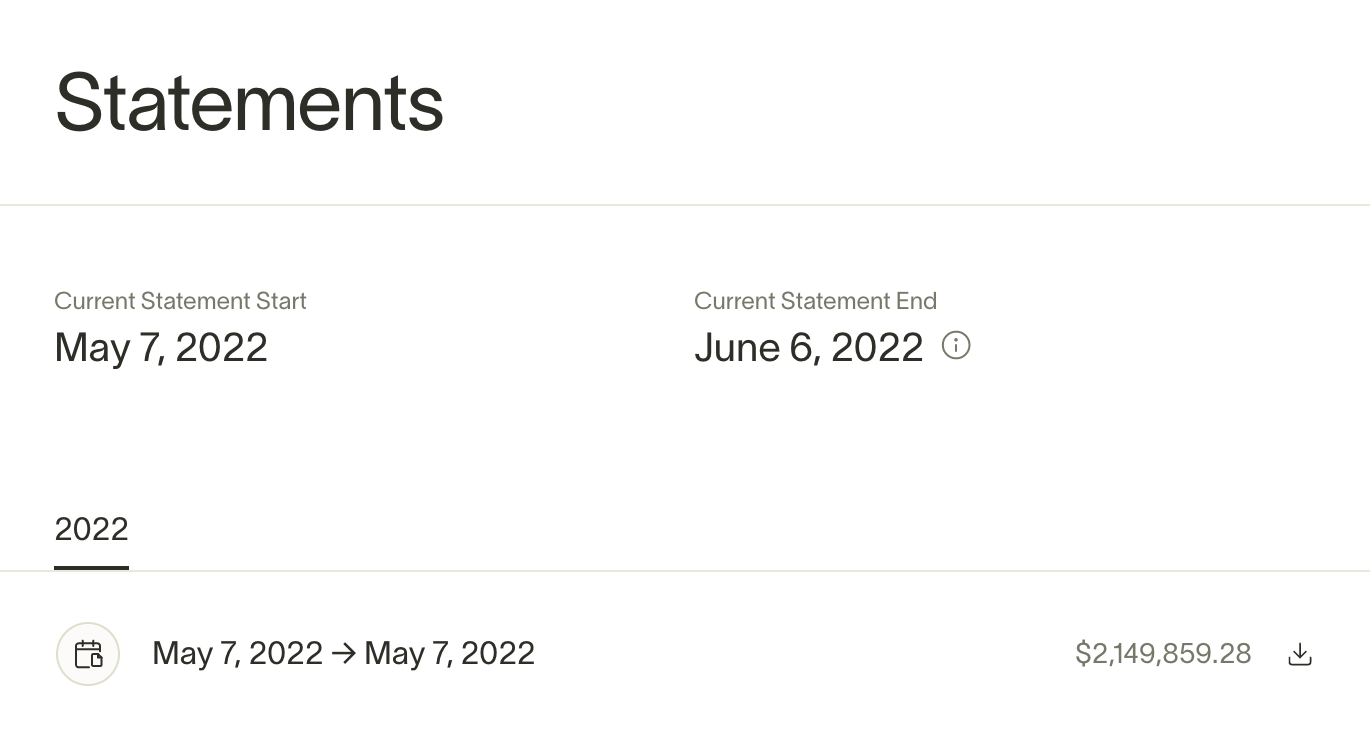 You are expected to pay off the entirety of the statement balance - we do not offer the ability to carry over balances for card transactions (nor do we charge interest). If you need help paying off your statement, please contact our Risk team (risk@ramp.com) or our Support team (support@ramp.com). In the case we don't receive complete payment by your statement date, our Risk team will contact you.
Viewing your statement(s)
You can view your current or any historical statement(s) by clicking on 'Statements' on the Transactions > Overview page. Here you can also download previous statements in CSV or PDF format.

Understanding when your statement is due
Because Ramp is a charge card, a customer is expected to pay the entirety of its balance when its statement is due. A statement is due in 30-day statement cycles, with the first day of the cycle set by the first day you make your first Ramp transaction!
You can see your current statement start and end dates by clicking on 'Statements' on the Transactions > Overview page.

Changing your statement date
You can request to change your statement date by writing to support@ramp.com. Our team will assess your request and either approve or reject, with a good reason either way.
Reading your statement
When you download your statement, you'll see all transactions made during the statement period, including:
Your previous balance

Any payments you made during the statement period (see

Making manual payments

for more information)

The amount spent on your Ramp card(s) during the statement period

Any statement credit applied
You'll also see the cash back earned during your statement period listed. If you redeem cash back to lower your balance, it won't appear on your statement as a separate line item or distinct transaction. We recommend accounting teams account for this during the reconciliation process.
Statement Payments
Setting statement payments up for success
Connecting a bank account
When you sign up for Ramp, you will be asked to connect a bank account either directly or manually. The bank account you connect and select in the Settings > Payments will be automatically debited for the full amount of your balance at the end of your statement period. Read more about connecting bank accounts here: directly or manually.
Performing a debit check
To make sure we are transacting with the right bank account, we will perform a debit check as you onboard. Learn more about debit checks here.
Whitelisting Ramp's Originator IDs
We'll also require you to whitelist our Originator IDs to remove any debit blocks your checking account may have. To make sure your bank lets us make the debit to your bank account, you will be asked to whitelist our Originator IDs (also called ACH IDs) by sending the following Originator IDs to your banking representative and requesting they whitelist them.

- 9186939000 - Ramp Business Corporation
- 9385987000 - Ramp Business Corporation
- 1295304000 - Ramp Business Corporation
- 1619782000 - Ramp Business Corporation
- 9920859000 - Ramp Receivables 1, LLC
- 9997075000 - Ramp Receivables 2, LLC
Changing your bank account
You can always change the bank account Ramp will debit to make statement payments. Here's how:
Navigate to Settings > Data Sources
Select 'Connect New Bank Account'
Follow the steps to connect either directly (search for your banking institution or add an account manually)
Navigate back to Settings > Payments, select the edit icon, and choose your new bank account for automatic payments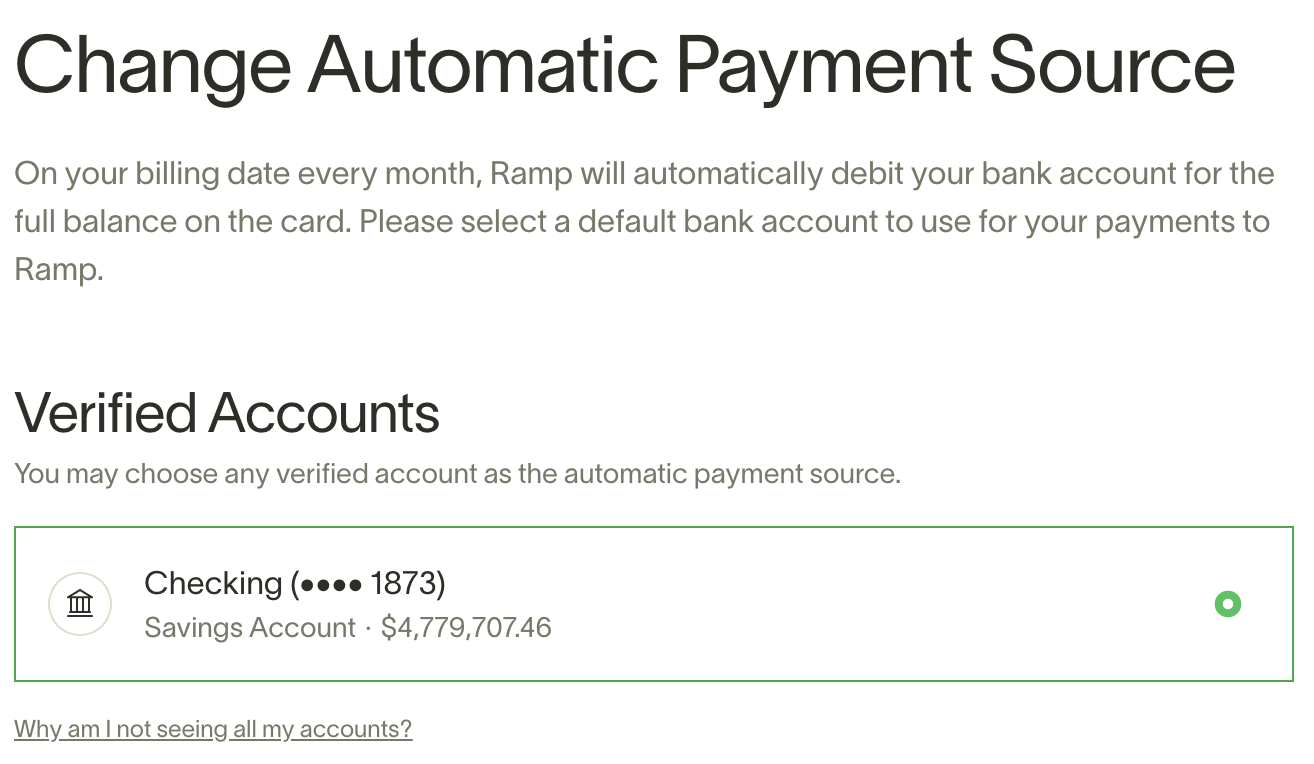 Paying your statement automatically
Because you have successfully linked your bank account(s), performed a successful debit check, and whitelisted our Originator IDs, Ramp will be able to debit your full statement amount from your preferred banking account at the end of each statement period. All you have to do is make sure the bank account selected for Automatic Payments is accurate (you can do so on the Setting > Payments > Autopay page).

Making manual payments
At any point, you can make a manual payment to pay down your Ramp balance. This is a great way to reduce your balance before a large transaction(s) you want to make when you are close to your limit. Your limit may be made immediately available after you initiate a manual payment, but in some cases payments can take up to 5 days to be reflected in your available balance.
Follow the following steps to make a manual payment:
Navigate to

Transactions > Overview

Click on 'Payments' to reach the

'Payments' page

Click 'Manual Payment' and enter the payment amount, the bank account you wish to pay from, and any cash back you wish to redeem

When you're ready to move forward, click 'Review Payment' in the bottom right-hand corner

Make sure everything looks good, press 'Make Payment', and let Ramp do the work debiting your account to pay down your balance!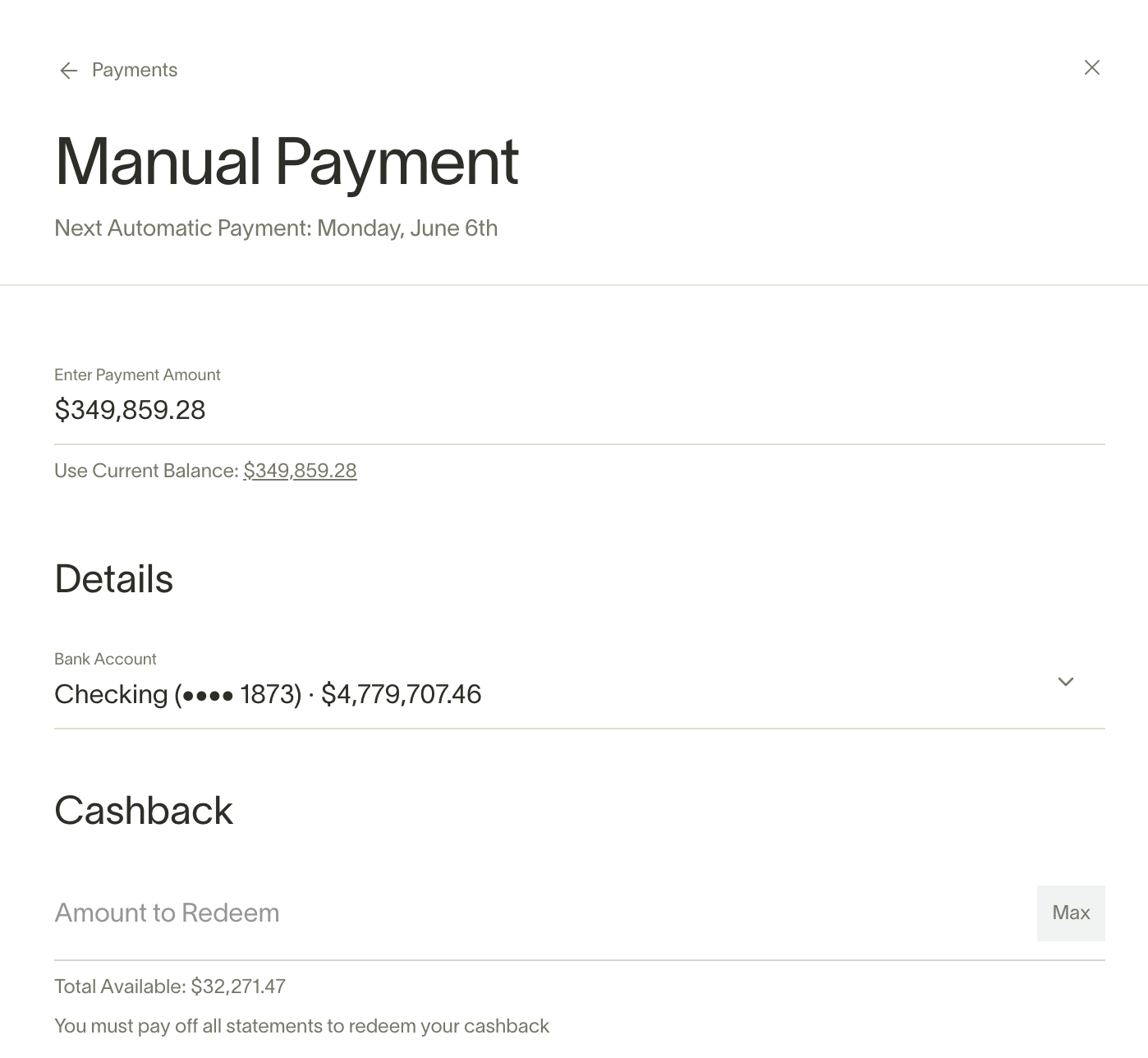 Setting up autopay at 80% of your balance
You can keep your balance from ever reaching 100% by setting up automatic payments to occur whenever your balance hits or exceeds 80% of your current business limit, which is reassessed on a daily basis. Ramp will still make a payment at the end of each statement period, so don't be concerned when you see multiple payments within the same statement cycle. Learn more about Ramp Business Limits here.
To set up autopay, follow these steps:
Navigate to

Settings > Payments

Toggle on the 'Enable early payments at 80% of business limit' setting

That's it - Ramp will automatically make a debit to clear your balance in full whenever you hit at least 80% of your limit so you can continue spending without hitting your business limit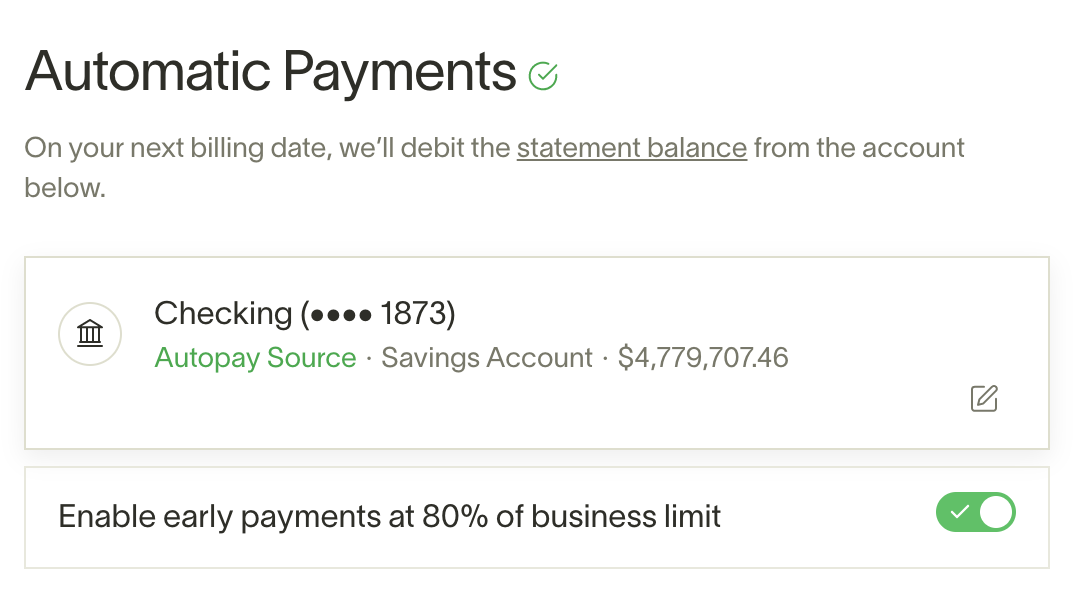 Note: if you enabled this feature after your balance is at 80% or higher, the payment will trigger after your next transaction.
FAQ
I made a payment, but I don't see a change in my available balance. Why not?
Payments made to Ramp may take up 5 business days to affect your available balance. The amount of time it will take for a payment to affect your balance can be affected by previous failed payments, as well as a variety of other factors.