Benefits of using Vendor Reports
By connecting your previous credit card provider, we can identify large and recurring vendors from your old credit card provider for you to seamlessly switch that spend over to Ramp. This will make the transition process much easier by listing out all the vendors, giving you the option to assign tasks to your employees to switch that spend, and get you the 1.5% cashback for all these purchases!
Jump to:
Connecting your Previous Credit Card
You can connect your previous credit card provider through two methods: Finicity / Teller or Uploading a CSV with historical transactions.
Finicity / Teller (est. 5 min): The process to link through Finicity / Teller is as easy as inputting your credentials. After you've completed this, we will pull historical transactions to create your report.

Note: we will not be able to get cardholder information through here so we cannot identify who previously paid for these expenses. If you want a more robust report, please use the second method
https://public-media.driftvideo.com/videos-gifs/DRIFT-VIDEO-3086457-3191032-1645141093.gif
Uploading a CSV (est. 10 min): The process to link your previous credit card provider is very simple, all you have to do is download the transaction history for the last 90 days (we can only support one CSV so please aggregate the CSV's into one if you download multiple)

If you have Brex, Chase or Amex, all you will have to do is upload that CSV
If you use another credit card provider, please reformat it according to this template (leave the column names as is and paste the data below)
https://public-media.driftvideo.com/videos-gifs/DRIFT-VIDEO-3086471-3191046-1645141465.gif
Transitioning Spend
Once you have connected your previous credit card, we will generate the report and send you an email when its ready.
Below is what the report will look like (lives in the Vendors tab and Insights tab).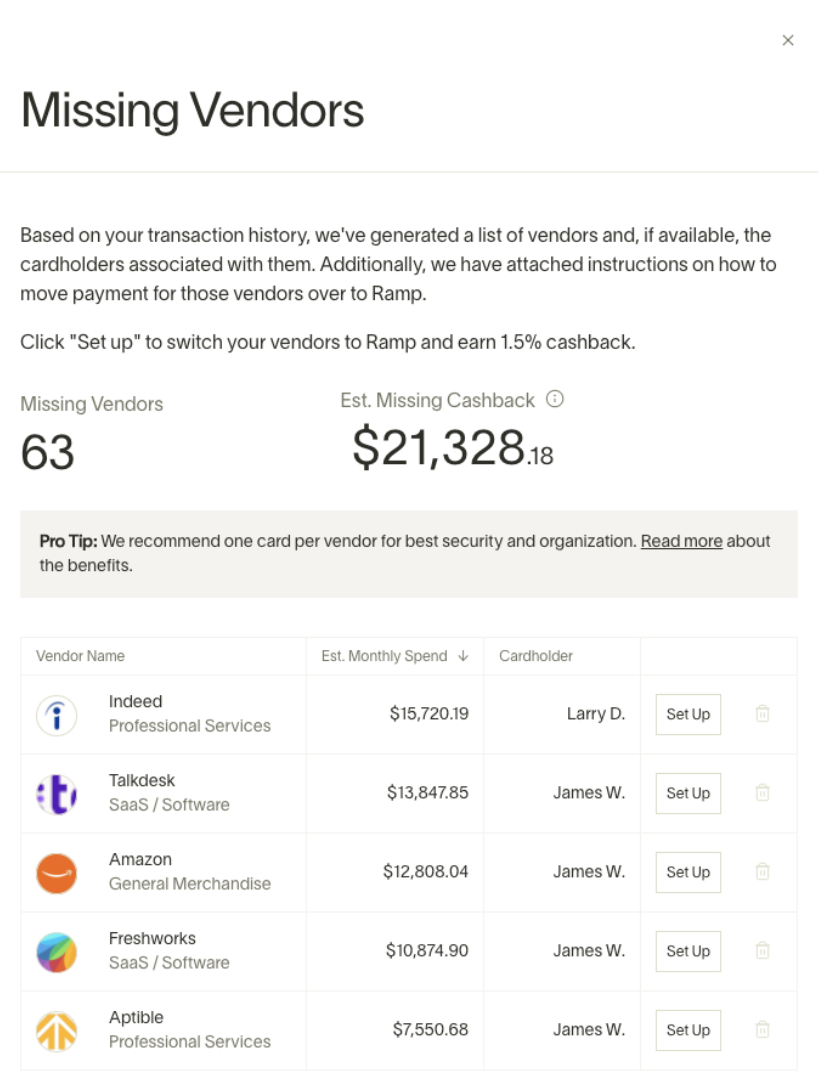 Detected Cardholder: we can only detect a cardholder if that information is uploaded within the CSV that you upload
No Detected Cardholder: this will occur if you connected via Finicity / Teller or if you uploaded a CSV with no cardholder info (including no card number information)
There are a couple scenarios for your report in regards to Assignee and Card Creation. When you select "Set Up" next to a vendor, you will have the option to assign an employee + a card for a vendor.
For the below images, we detected James Whittaker as the person who paid for that vendor. The flow is shown below
James, a user on Ramp, is auto-populated as the assignee.
Choose whether to create a new card or select an existing card for James to use for this vendor.

If you select "Create a Card", we will automatically put in a merchant restriction meaning the card will only be accepted at that merchant. Any attempt to use that card at another merchant will be declined (to read more about merchant declines and card controls, please reference this article).

Assign task to employee
We recommend to create a virtual card per vendor for security (for more info on why we recommend this, please reference this article).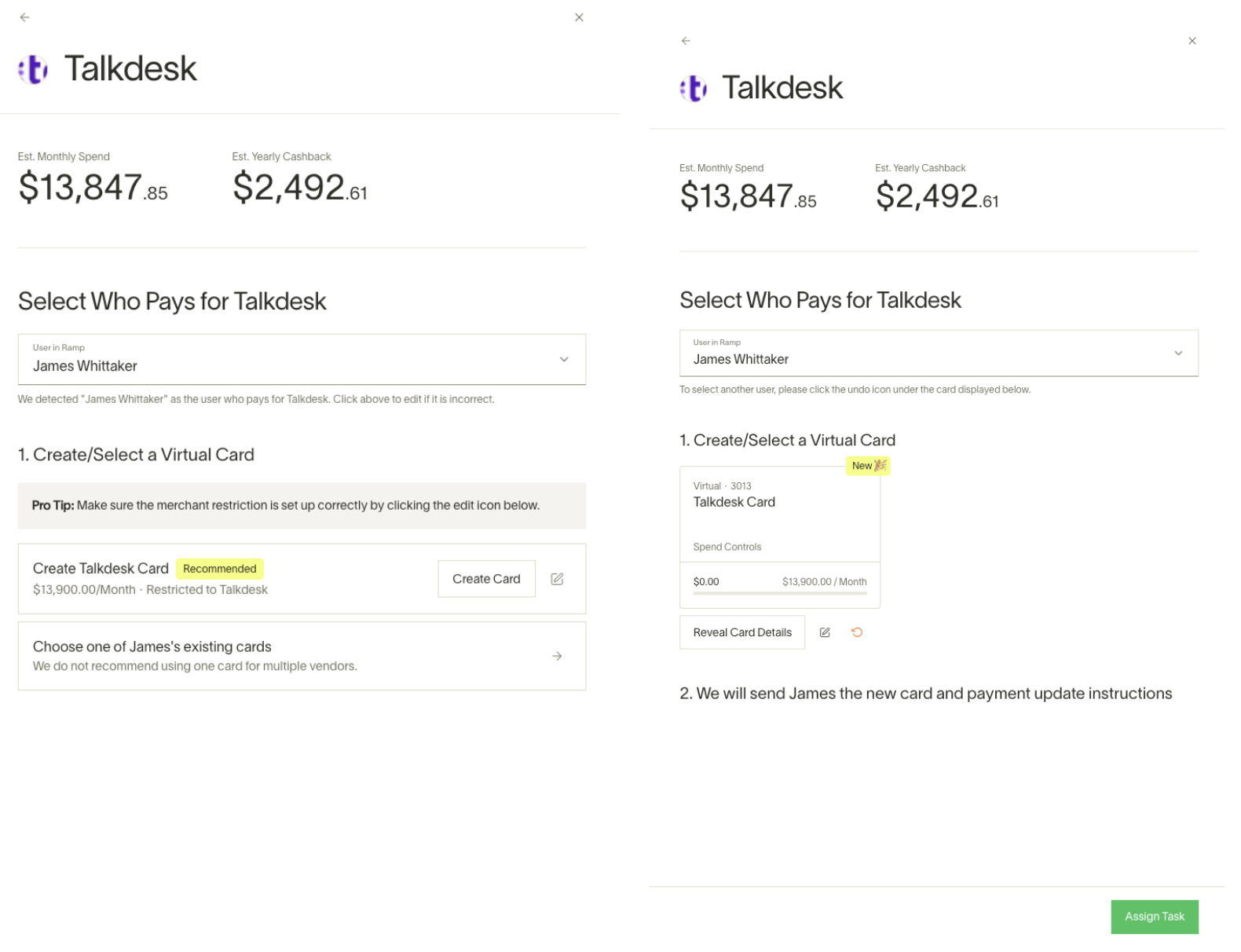 Once you assign the task, we will mark it as done, send a message to the cardholder, and flag the item on their landing page of Ramp.

Another scenario is when you find a vendor that you pay for. You will go through the same flow of deciding whether to create a card or choose an existing one, however, we will provide a link for you to change the card details for said vendor (if we identify the payment link). The Mark as Done button will be disabled until you click into the link to update the payment info.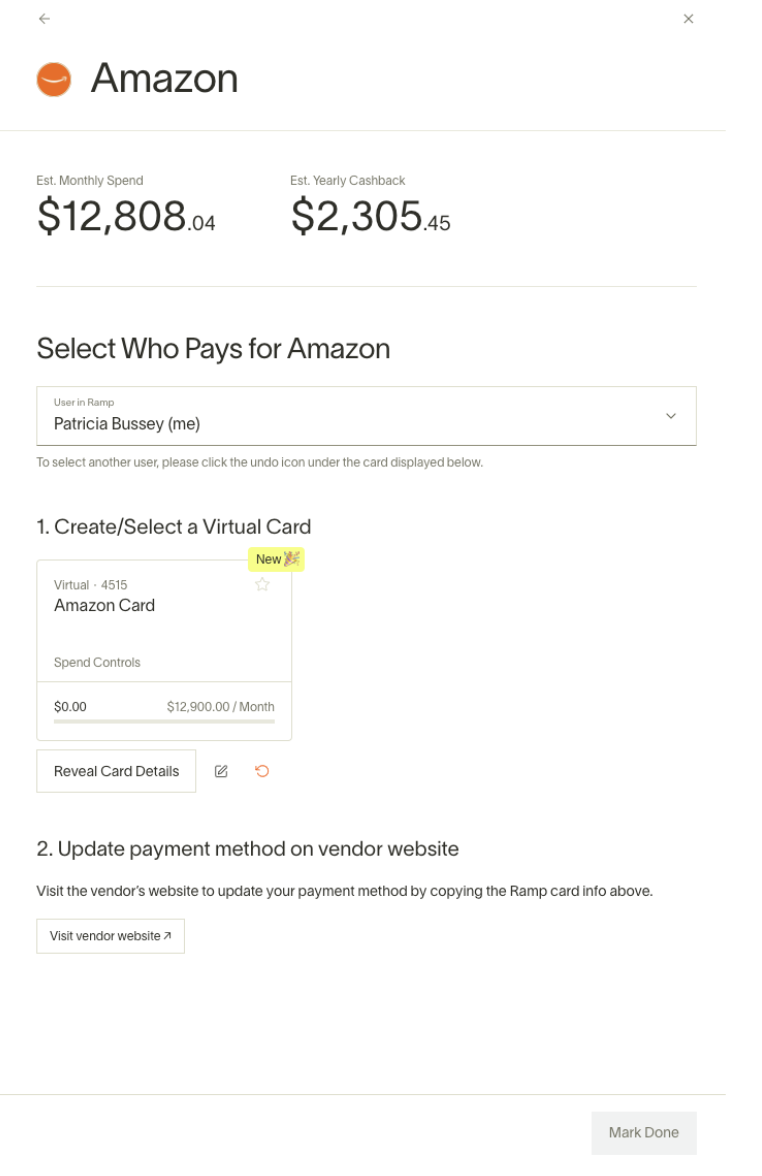 Lastly, there is the possibility where we identify a cardholder, however we don't recognize them as a user on Ramp. If this is the case, we will add an easy invite link for you to invite the employee to Ramp (underlined text below the drop down).

You will then be prompted to invite the user, and we will attach a card for that vendor with the expected limit + merchant restriction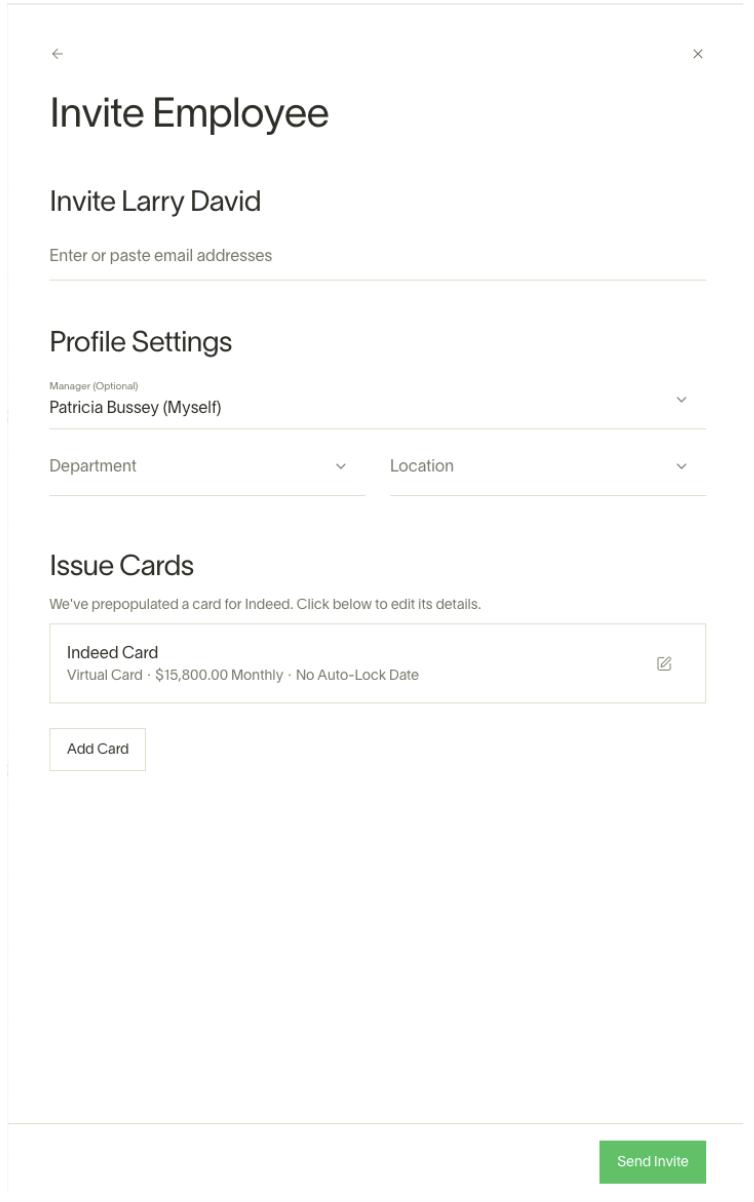 Lastly, you can delete a vendor from the vendor tab by selecting the "trash" icon.

For any additional questions, please message support@ramp.com.