Introducing Category Restrictions
By restricting purchases on a card to specific categories, you can better control the spend that an employee places on their card. If an employee tries to make a purchase in a spend category that you have not authorized on their card, the transaction will be declined. With category restricted cards, your team can have more rules, control, and peace of mind about employee spend.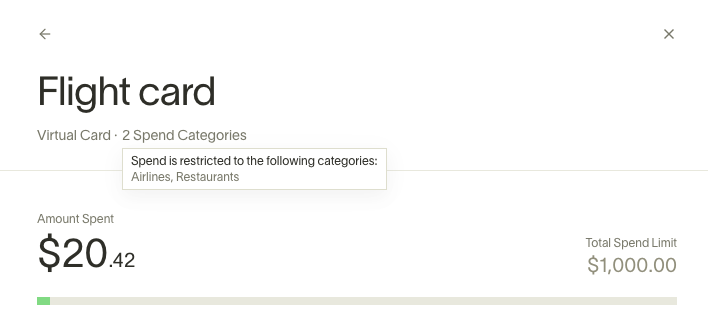 Adding Category Restrictions
You can place category restrictions on new virtual cards or you can edit existing virtual cards to include category restrictions.
When creating, requesting, or editing a card, add category restrictions to the card by navigating to the "Spend Categories" section.
Click "Add Category Restrictions".
You will be prompted with a drop down of the categories you can allow on a card. Search by the category or by the particular merchant to figure out what categories best suit your needs.
Add as many categories as you would like. Any spend on categories not selected will be declined.
Category restrictions on cards are optional, if you choose not to select any category restrictions then a card will allow transactions from any category.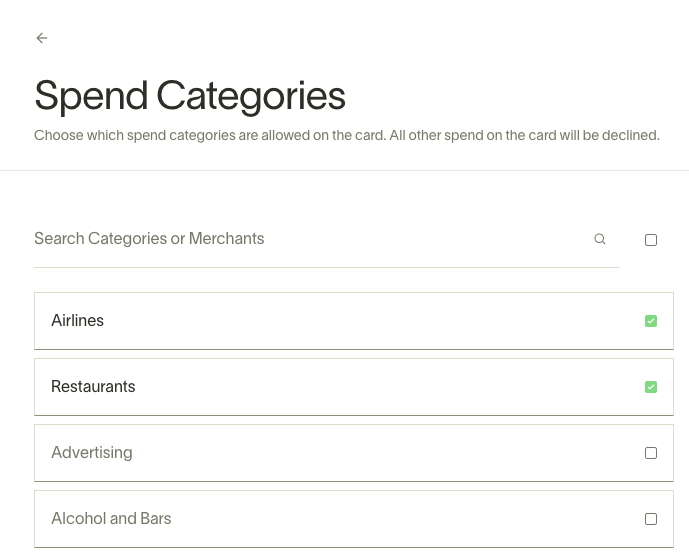 How it works
Ramp determines the category of a merchant based on the MCC code and a number of factors. Sometimes the category that we classify a merchant as does not match the user's expectation for the merchant's category. For example, you might think that your purchase at your favorite neighborhood restaurant will appear under the category "Restaurants" but instead Ramp might classify that merchant as "Supermarkets and Grocery Stores". If your category restricted card only allows purchases in the "Restaurants" category your card might get declined in this case.
If your card is declined, we will alert you and give you the option to make or request an exception to the decline so that you can still spend at your favorite neighborhood restaurant on your category restricted card.
Allowing Exceptions
If your category restricted card is declined due to an issue with a transaction's category you will receive an SMS message from us alerting you about the decline and how to make an exception. If you are a cardholder, the SMS message notes to reach out to your finance team to request an exception. If you are an admin, the SMS message details how to amend the category restrictions within Ramp.
Viewing Restrictions
When you click on a card, a window will open with more information about the card. In this window, we list the number of "Spend Categories" on the card. If your card has category restrictions and you hover over the information icon in the "Spend Categories" section we list the names of all the categories that the card is restricted to.
Available Categories
You can find a list of all available spend categories below:
Ramp Spend Category
Advertising
Airlines
Alcohol and Bars
Books and Newspapers
Car Rental
Car Services
Charitable Donations
Clothing
Cloud Computing
Clubs and Memberships
Education
Electronics
Entertainment
Fees and Financial institutions
Fines
Freight, Moving and Delivery Services
Fuel and Gas
Gambling
General Merchandise
Government Services
Insurance
Internet and Phone
Intra-Company Purchases
Legal
Lodging
Medical
Office
Office supplies and cleaning
Other
Parking
Pet
Political Organizations
Professional Services
Religious Organizations
Restaurants
SaaS / Software
Shipping
Streaming Services
Supermarkets and Grocery Stores
Taxes and tax preparation
Taxi and Rideshare
Travel Misc
Utilities