The Ramp Advisor Console is a product built for accounting firms, to help manage their clients and staff that are using Ramp. With the Advisor Console, you can securely manage your staff on Ramp and the clients that they have access to.
Assign staff members to clients
Once you have your staff members added, you'll want to assign them to specific clients in order to enable their access. (If you haven't yet added any clients, see "Advisor Console: Connecting Accounts").
There are two different ways to assign staff members: by the individual staff member, or by client.
Assign the individual staff member:
Go to the Team Members tab, click the individual's name, then click Add [Name] to Clients.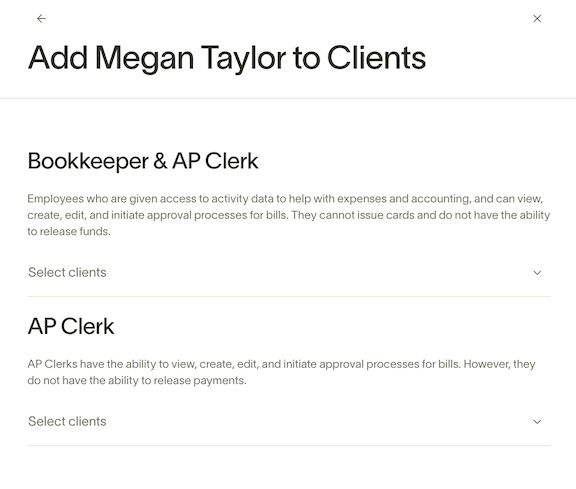 Designate which clients you want the staff member to have access to and under which permission levels, and then click Add to Clients. Once you do so, that staff member will be able to access the client(s) from their own Advisor Console.
Assign staff members by the client
This way of assignment is helpful if you want to add multiple staff to the same client. Go to the Clients tab, and then click into the client you want to assign your staff to.
Click "Add Team Members," and then add your staff under the roles you would like them assigned as. Here you can add multiple team members at once, to the same client. Then finish by clicking "Add Team Members" again.
Once staff members have been invited to the Console and assigned to Client accounts, they can start directly working with Clients.
Removing or changing access to a client
If you need to remove or change a staff member's access to a client, go to the Client's tab and click into the relevant Client name.
Click the dropdown arrow next to the staff member's name. If you want to remove access, click the red Revoke Access.
If you need to change access, you would click the role you would like to change to. For example, in the screenshot below, if I were changing Elizabeth's access from Admin to Bookkeeper & AP Clerk, I would click "Bookkeeper & AP Clerk," then click "Change Role" to confirm.