Ramp Flex gives you unparalleled flexibility in choosing the payment terms that work best for your business. Here's how to understand and use the tenors, fees, and repayments that make Flex so flexible.
Jump to:
Repayments

Scheduled repayments
Early repayments
Paying Flex fees with cashback
1. Tenors
When you use Ramp Flex with a bill, you choose a tenor of 30, 60, or 90 days. The Ramp Flex tenor is the length of time between when the vendor payment is initiated and when Ramp debits your business bank account for repayment. At the end of a financed bill's tenor, Ramp will debit the full principal amount (i.e., the total bill amount) from the bank account you select for repayment when financing the bill. Finance charges will be collected in advance following the initial disbursement of the principal to the vendor.
We currently offer three tenors:
You'll choose the tenor for each bill you Flex when you select Flex financing as the payment method.
Just an example.
2. Fees
Flex fees are assessed as a percentage of the total amount of the bill you choose to finance, and are determined on a business-by-business basis. Fees are based on a variety of different factors about your business, including, but not limited to, the cash balance in your connected bank account(s), revenue data, commerce data, and credit bureau data. When you onboard to Flex and upload an invoice, you will see your initial fees for that invoice, however fees are dynamic and subject to change on an invoice-by-invoice basis and over time.
The actual rate of a particular bill will be presented to you before you execute financing, and locked in when you execute financing for that bill. The total amount you pay back to Ramp the amount of the bill payment you chose to finance plus the Flex fee.
If you elect to repay a financed bill early, Ramp will prorate the fee and debit the total bill amount minus the prorated fee amount from the bank account that you designated.
3. Repayments
Ramp Flex gives you the ability to repay your financed bills in two ways.
Repayment: at the end of your selected tenor, Ramp will automatically debit the bank account that you selected when financing the bill with Flex for repayment of the full bill amount. Finance charges will be collected in advance following initial disbursement of the principal to the vendor. Failure to fully repay a loan when due may result in late charges as described in the applicable loan agreement.
Fallback:

in the case where a bill you've financed would cause your balance to go over your limit, we'll use the fallback strategy in your Flex settings.
Early repayment: after a payment has been released to the vendor (2 business days after the payment initiation date), you can pay off your financed bill for a prorated amount. The prorated amount is determined by dividing the number of days that have elapsed since the start of your tenor and the total number of days in your tenor. For example, if 15 days have elapsed on a 30-day tenor, then your fee will be prorated by 15/30 = 50% of the original fee amount. Navigate to the Flex tab, select the finance bill you'd like to repay early, and select repayment. We'll debit the bank account selected when financing the bill for the full principal plus a prorated amount.
Paying fees with cash back:
When creating your bill and flexing it on Ramp, you'll have the option to pay fees utilizing your cash back
We'll present you with the option to utilize your cash back, simply check the box to utilize your cash back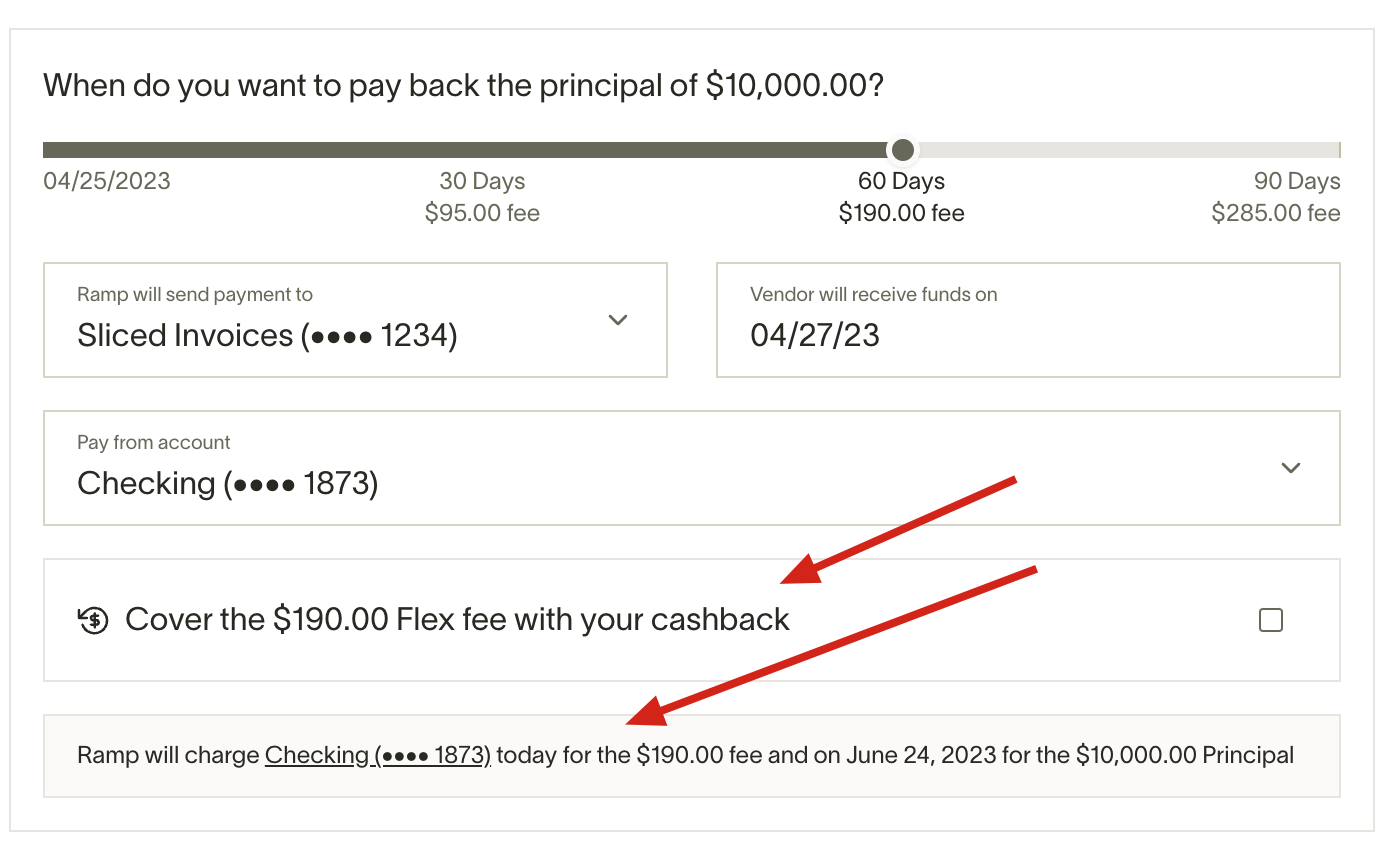 Please note your cash back accrues after you make a payment on your balance to Ramp. After making a payment, all net new cash back will be added to your account
* Ramp Flex is subject to credit approval and restrictions, and will not be available in all states. Loans issued by Ramp Financing Corporation and/or Lead Bank. Visit ramp.com/flex for more info.