Table of Contents
Overview
Ramp: Streamlined Accounting for Every Business
For finance teams and accountants, prompt book closures and insightful accounting data are essential. Here's how Ramp can help:
With Ramp, you're always in control of your financial data.
How it Works
Ramp's Integration: A Quick Overview
Connect Securely: Link Ramp to your accounting system, and we'll fetch essential data like your chart of accounts for precise spend classification.

Review Your Spend: All your transactions appear in Ramp under the 'Accounting' tab, ready for your review and categorization.

Set Smart Rules: Automate transaction classification by setting rules based on merchant details and card information.

Customize Your Sync: Decide when and how your classified data is updated in your accounting system. You have total control over sync frequency.

Familiar Transaction Concepts: Transactions are intuitively categorized. Typically, card expenses appear as credit card transactions, while Ramp reimbursements and bills are presented as bills, settled using bill payments.
Connecting Ramp to Your ERP
Setting up Ramp to sync with your accounting provider is easy. Follow the steps outlined in the articles below based on the ERP system you're using:
Settings
Default Accounts
All the account types a customer needs in one place. 
Manage Accounting Fields 
Efficiently tailor Ramp to your accounting needs: 
Customize Your Integration Settings
Once you initiate the integration, you'll choose which fields from Ramp to sync with your accounting provider. Modify these settings anytime by:
Navigate to Accounting tab.
Go to Settings.
Select Manage Accounting Fields.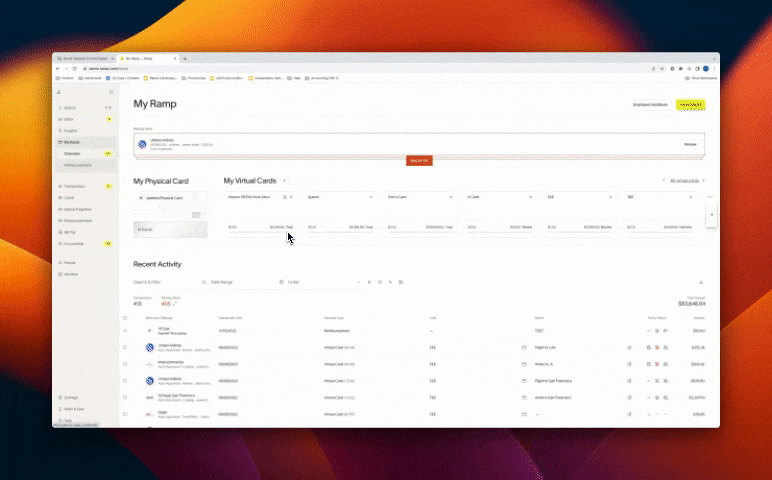 Optimize Your Chart of Accounts Visibility on Ramp
To keep your Ramp interface streamlined, consider hiding non-relevant accounts from view. Customize visibility for all users or specific departments. Here's how:
If you're an Admin or Bookkeeper, go to: Accounting Settings on Ramp.
Select Manage Accounting Fields.
Select the Accounting Field you wish to configure.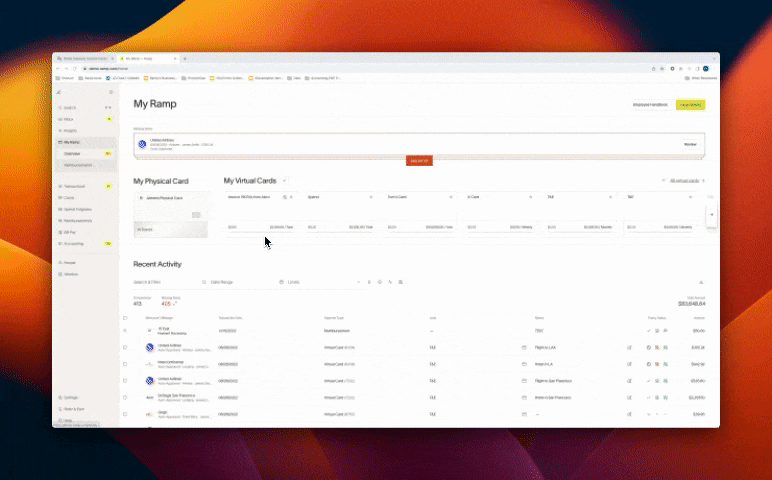 Customize for your workflow
Adjust the order of fields.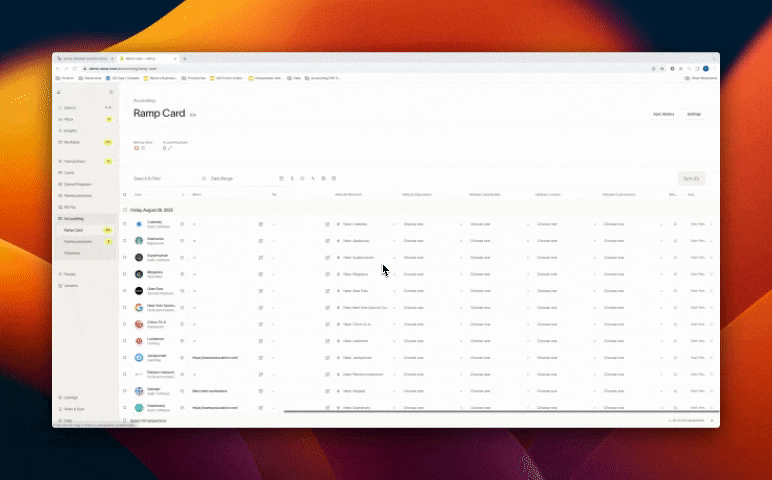 Rename accounting fields and field options.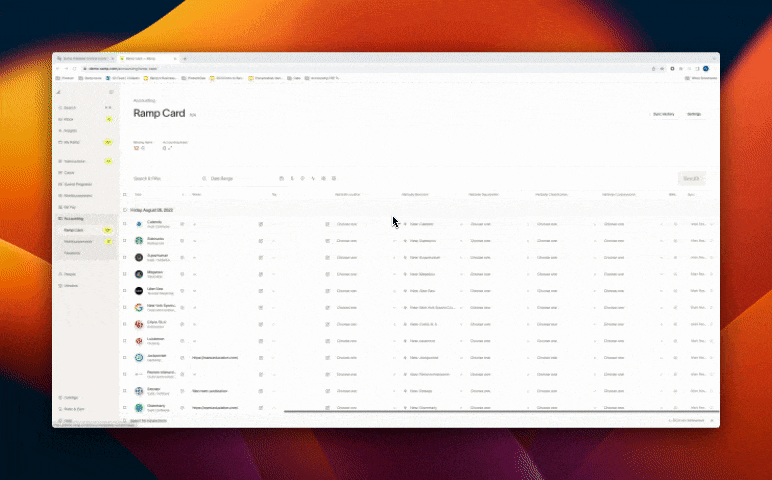 Direct Links to Your ERP
Quickly verify and audit transactions in your ERP directly from Ramp:
Open the synced transaction or reimbursement on Ramp.
Click on "Open in ERP" near the total price. This takes you straight to the corresponding entry in your ERP.
For example, if you see "Open in NetSuite", clicking the link directs you to the exact transaction synced from Ramp.
Compatibility: This feature is available for QuickBooks Online, NetSuite, Xero, and Sage Intacct.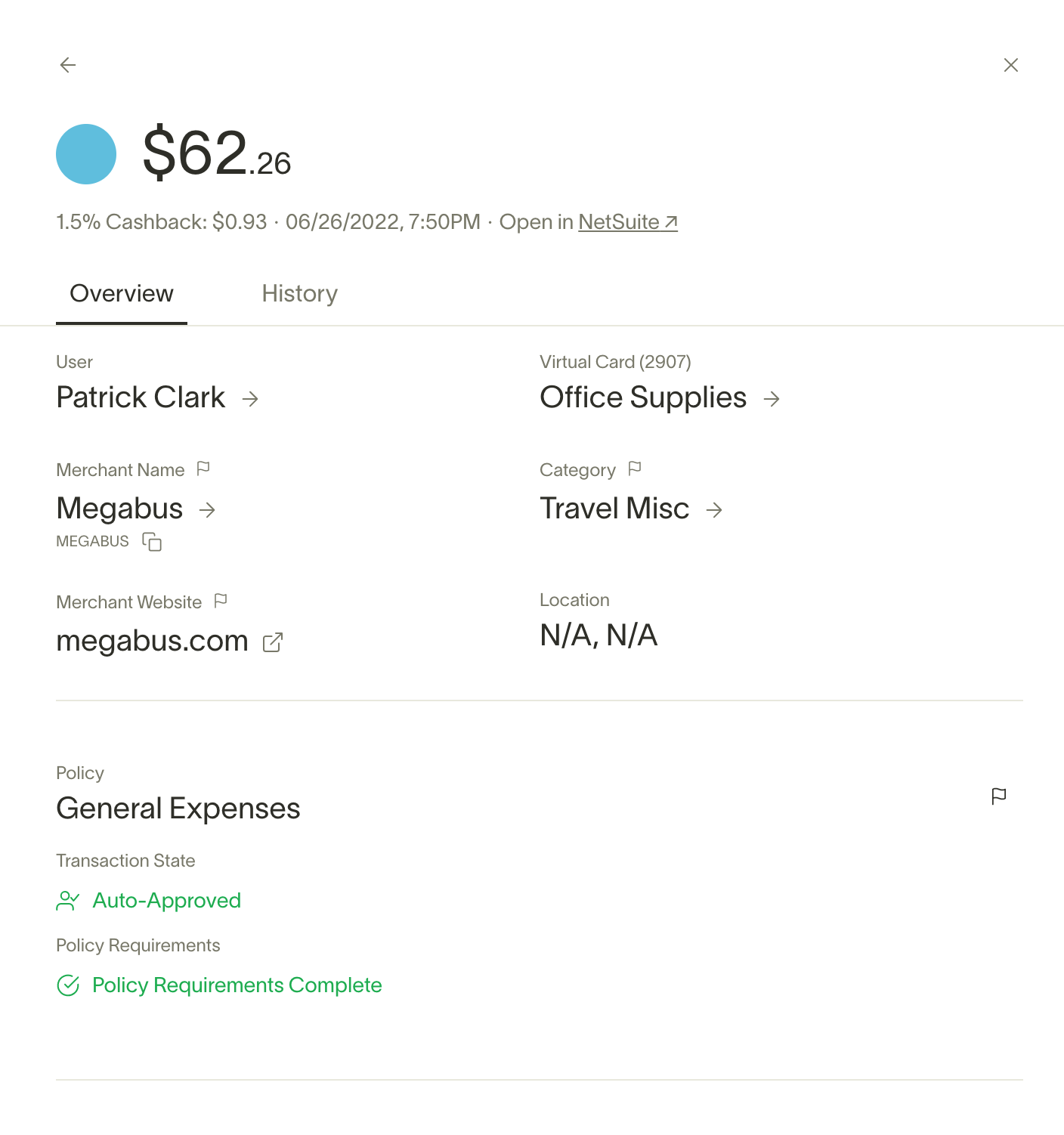 Syncing Transactions & Reimbursements on Ramp
Mark as Ready: After completing all required fields for a transaction or reimbursement, choose "Mark as Ready." You'll then see the yellow "Sync" button (refer to the accompanying image).

Preview & Decide: Clicking "Sync" opens a preview window for a final review. Here, choose to:

"Sync to Accounting Provider" directly, or
Download the data as a CSV. If opting for the CSV, you can either just download or download AND mark as synced. The latter will remove the entries from Ramp's accounting page—useful only if manually uploading the CSV to your accounting system.

Sync Initiation: After confirming the sync, the process begins. It might take a few minutes to transfer all details. If an error pops up, you'll receive a message detailing the issue, and the items will stay in the accounting tab until successfully synced.

What Gets Synced?: Ramp sends over all coded details, including the transaction/reimbursement receipt and memo.
Reconciliation
Accounting Impact
How Ramp syncs Credit Card transactions: 
Ramp syncs credit card transactions as credit card transactions in your ERP. 
Purchase is made 

Debit (increase) Expense or Bank Account 

Credit (increase) Credit Card Liability Account 
How Ramp syncs Reimbursements:
Ramp syncs reimbursements as bills and bill payments in your ERP. 
Bill

Debit (increase) Expense Account in original currency

Credit (increase) Credit Card Liability Account in original currency

Bill Payment

Debit (decrease) the Liability Account

Credit (decrease) The Cash/Bank Account
How Ramp syncs Statement Payments: 
Ramp syncs statement payments as checks in your ERP. 
Statement is paid 

Debit (decrease) Credit Card Liability Account: Reducing the amount you owe since you're paying off the credit card.
Credit (decrease) Bank Account: This account represents your company's cash, which decreases when you pay off the credit card bill.
To reconcile, you will have to go to your accounting provider to match the amount that was paid to Ramp from your bank account to the total dollar transaction amount synced over from Ramp.  If you go to the Transactions tab within Ramp, you can filter by the statement period to easily check which transactions were included in which statement.
Note: in order to disconnect your current accounting integration, head to your accounting settings, scroll down, and click 'Disconnect'
Provider Specific Overview