Overview
Your relationship with your vendor is just as important as paying them on time. We make sure to keep accurate contact and payment details and empower your employees to manage both.
Jump to:
Vendors
Creating a vendor: Bill Pay knows your relationship with your vendor is incredibly important. Being able to contact them, to pay them, and to store contract information are effective in maintaining that relationship. So, you have the ability to do all the above. To create a Vendor, either do so during the bill creation process or on the Bills Vendors page. Any vendor created in Bill Pay will automatically be created in your accounting software to maintain a 1:1 relationship. We recommend you keep the latest payment details, contact information, and contract documents.
Retrieving payment details from your vendor: Bill Pay can retrieve ACH details of your vendor in two ways. The first is by pulling payment details provided for the vendor in the invoice and the second is using a secure, one-time link that Ramp sends to the email provided for the vendor requesting their ACH details. We notify the vendor immediately and regularly after the first request so we gather the payment details needed to make your payment on time. If the payment details aren't gathered in time (which is rare!), we will notify you and request you manually release the payment. A successful payment signals we successfully received accurate payment details for your vendor. For more information on Bill Pay payment methods, view this page: Bill payment methods
Selecting and editing a Vendor: if your bill is for an existing Vendor, we will recommend it on the Bill creation page. Simply select it and their payment details and contact information will populate into the bill. You can edit any information on the Bill Vendors page. It's also a great place to view total and last 30 day spend, the vendor owner, recent invoices, and contracts and documents stored on Bill Pay.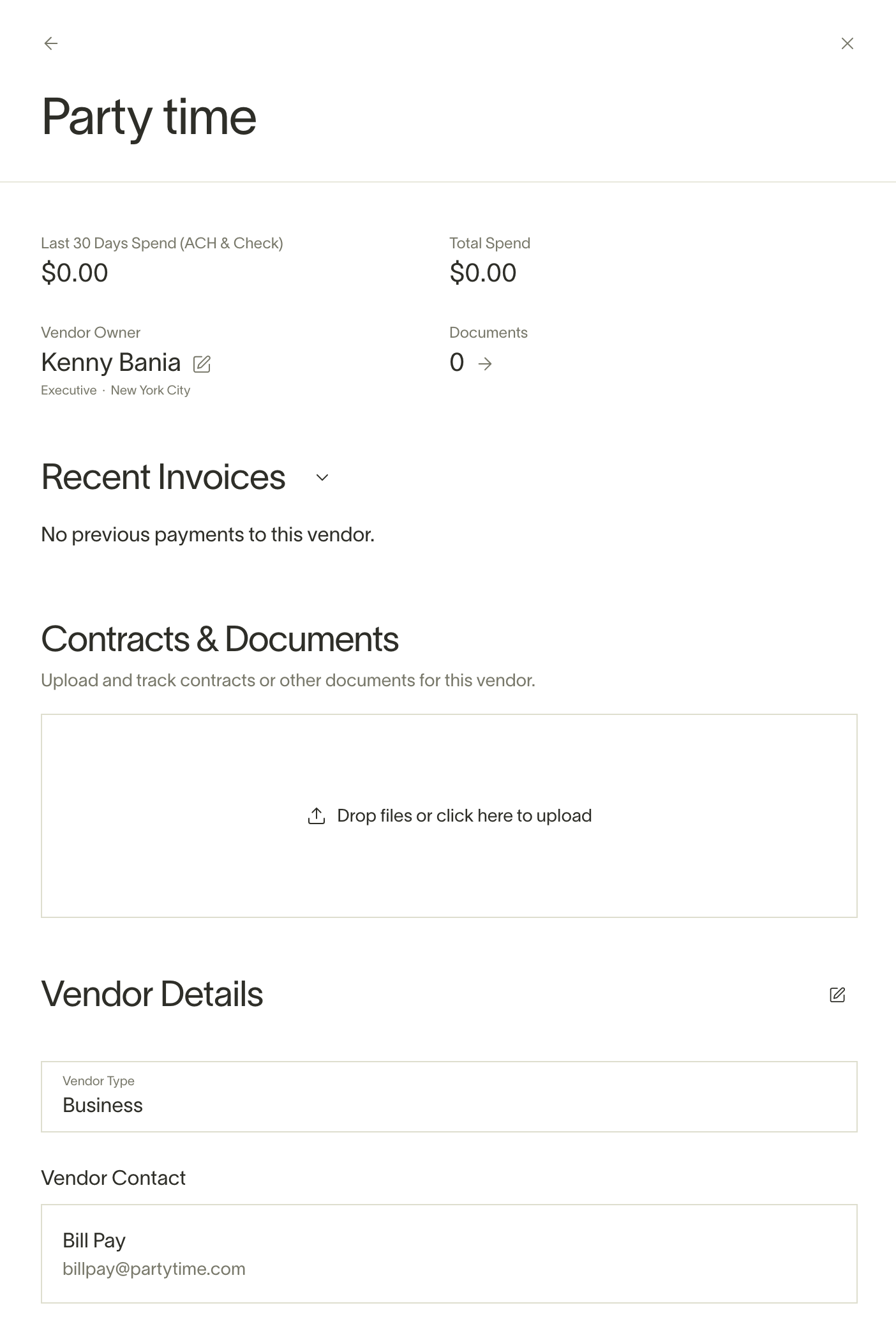 Vendors in your accounting software: as mentioned earlier, any vendor created in Bill Pay will be created in your accounting software. It's important that the information in both systems match, so make sure not to create duplicate vendors. When you create a vendor in Bill Pay, you can assign a GL category so that future payments will be automatically assigned to this category. See this page for more information about Bill Pay Accounting: Bill Pay Accounting
Vendor Owners
Vendor Owners are a way to assign responsibility of relationship with and payments to a particular vendor. An employee who manages your Facebook Ads spend, for example, is a great candidate for Vendor Owner of Facebook Ads.

Assigning a Vendor Owner: you can assign a Vendor Owner either when you are paying a bill to a new vendor or by clicking into a vendor on the Bill Vendors page and adding one there.

Using Vendor Owners: Vendor Owners should be used when creating Approval Layers. For each new layer, add a Vendor Owner to have them involved in bills where their vendor is being paid. They will be notified when it's their time to approve the bill. See more about approvals here: Bill Pay Approvals and AP Clerks
Vendor notifications
Email
Request for payment details (users: Vendor)
Reminder to add your bank details before the payment date (users: Vendor)
Reminder to add your bank details on and after the payment date (users: Vendor)
Vendor bank details added successfully (users: AP Clerk and Admin, if bill originators)
Vendor bank details failed to add bank details (users: AP Clerk and Admin, if bill originators)
Payment was sent (users: Vendor)
Payment was delivered (users: Vendor)
Payment was failed, returned, or changed (users: Vendor)