Turning on Bill Pay
Paying bills with Ramp Bill Pay is fast. Setting it up is even faster. Navigate to the Bills tab to get started!
Jump to:
Setting up Bill Pay
1. Setup Accounting
If your accounting software is supported by Ramp, you can connect it to your account and sync not only your card transactions but your bill payments as well. If you want to try Bill Pay without an accounting provider, we can do that too. Just select 'Set up Later' and proceed to the next step.
More information here about integrating your accounting software: How does Ramp integrate with accounting software?
More information here about Bill Pay Accounting: Bill Pay Accounting
Paying bills from multiple entities with Netsuite & Sage
If you're using Netsuite or Sage for accounting, Ramp allows you to choose the entity that you want to pay bills from.
Go to our entities settings page. We pull the subsidiaries that exist in Netsuite. Then, for each subsidiary, you can assign A) a default bank account to use to pay bills, B) the corresponding cash account in Netsuite, and C) the default AP account you want to use to track created bills.
Go pay bills and assign them to subsidiaries! In the bill pay edit view, you'll have a new drop down where you can select the subsidiary that the bill belongs to.
2. Choose your bank account
Next, let's choose the bank account you want us to withdraw (debit) funds for your bill payments. You'll see all the bank accounts connected to Ramp. Enable the one you want us to use and then select the cash account in your accounting software which corresponds to this bank account. Learn about bank linking here: Bank Account Linking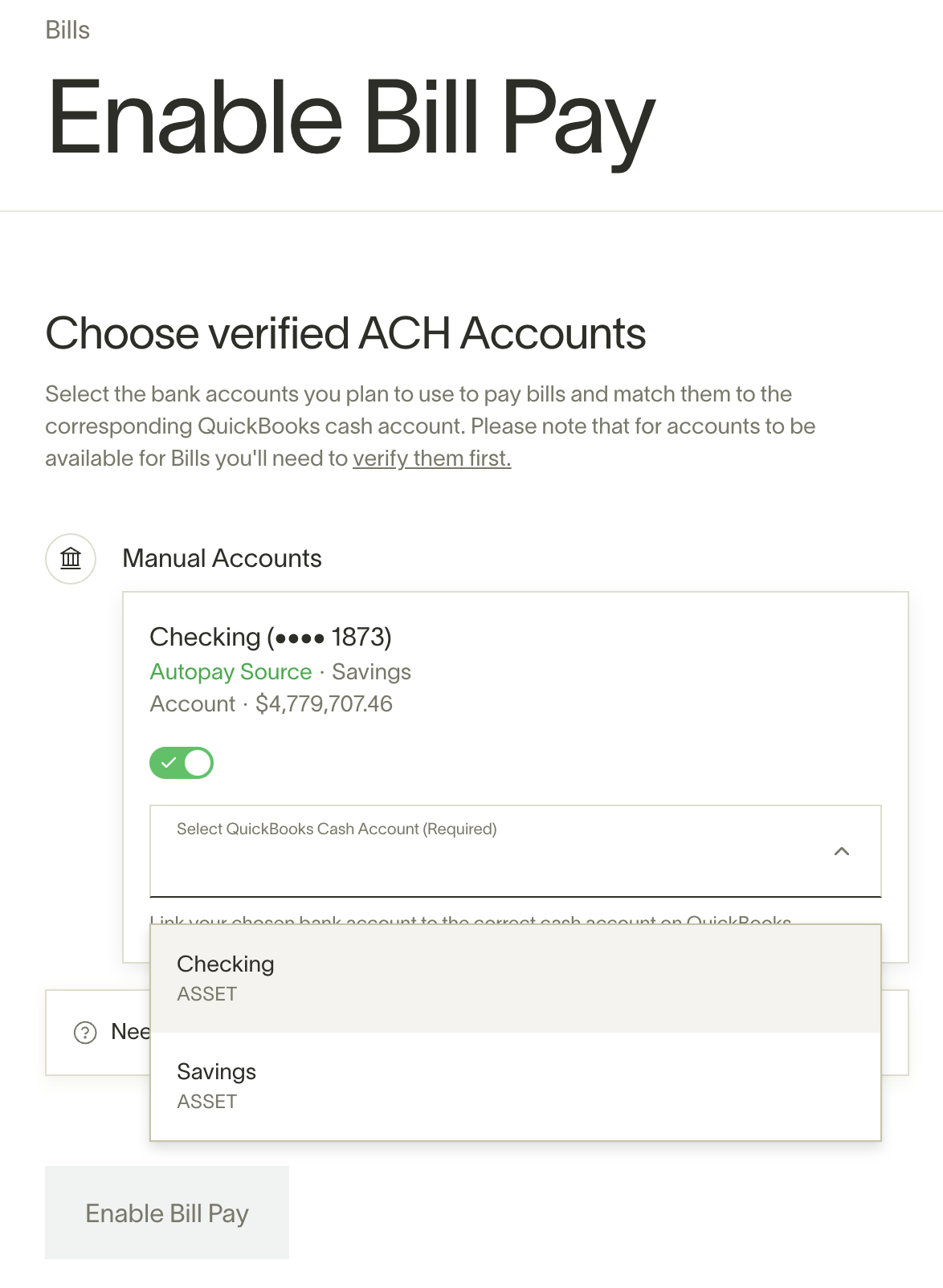 3. Create approval layers and assign an AP Clerk (or two)
Now you are free to upload invoices and draft and pay bills. But we suggest you set up controls and permissions with our Approval Layers and our AP Clerk role. The process to create Approval Layers and AP Clerks can be found in the Bill Pay Settings page.
Approval Layers: you can create approval chains at the dollar amount and add as many approvers as you want. Approvers might be Vendor Owners, heads of departments, or your AP Clerks. You must include an Admin in at least 1 Required approval step.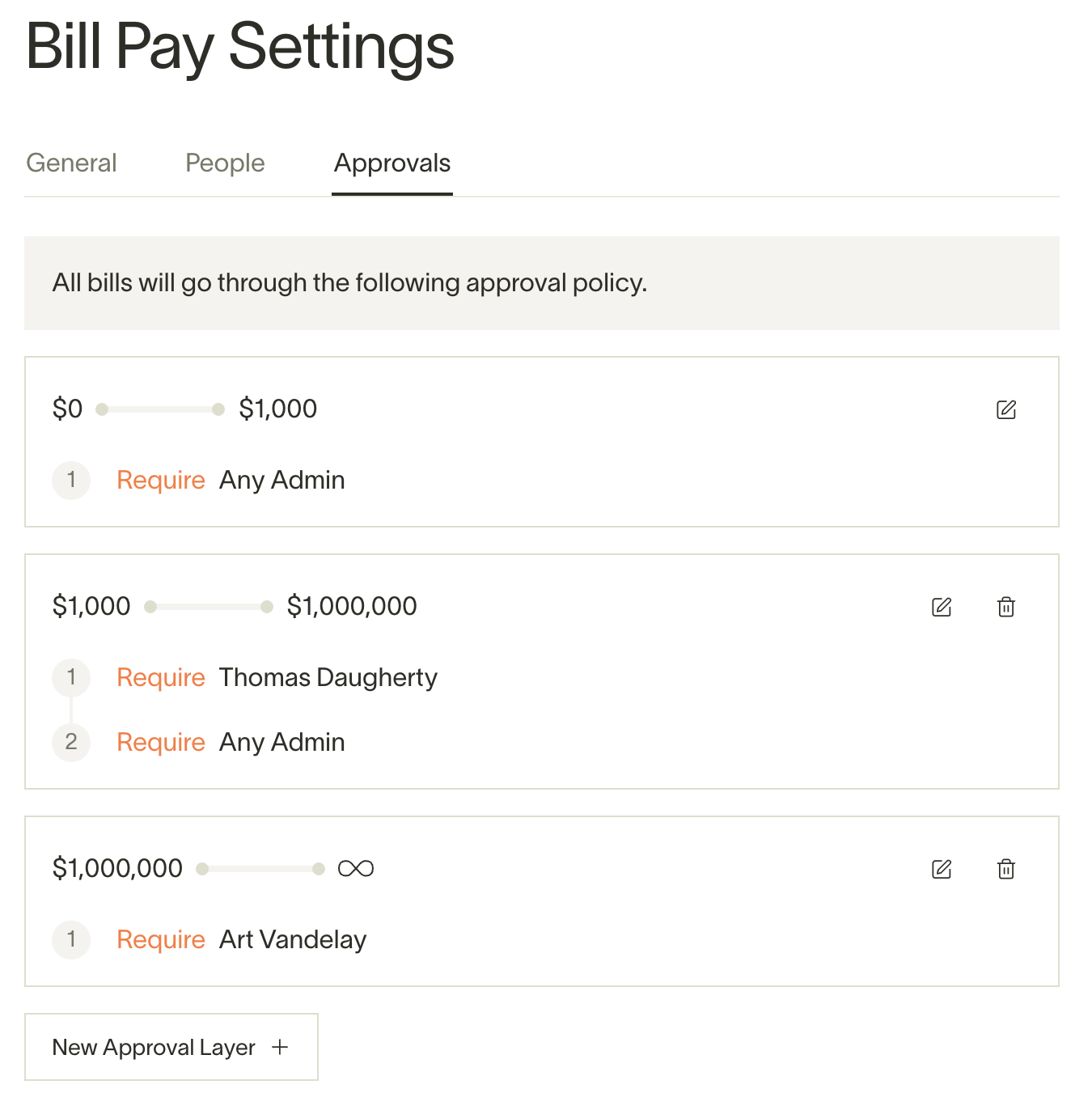 AP Clerks: by default, only your business owner and admins have access to Bill Pay. You can permit other users to use Bill Pay be assigning them AP Clerk access. This will enable them to view, create, edit, and initiate approvals for bills but not pay them. We recommend you assign all or some of your Bookkeepers the AP Clerk permissions.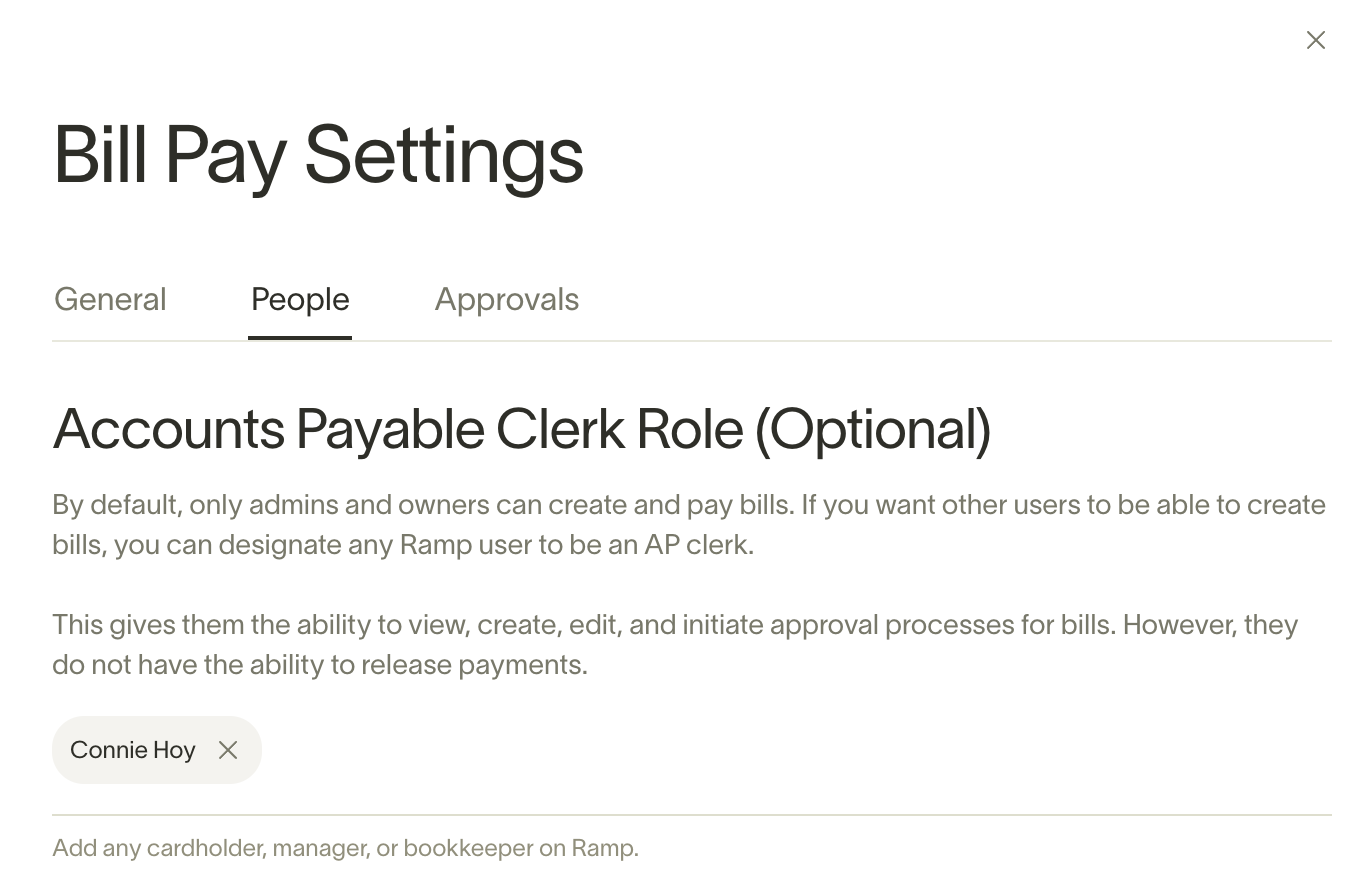 More information about Approval Layers and AP Clerks here: Bill Pay Approvals and AP Clerks
4. Setup automatic invoice forwarding
When we say Ramp Bill Pay is fast, we mean it and we don't mean just paying. Uploading invoices is also blazing fast. You can always drag and drop invoices anywhere on the Bill Drafts page, upload them in the New Bill window, or prefill a bill manually.
To make the process even faster, we provide you with your own AP email address to which you can forward any bills. The address is <company name>@ap.ramp.com. For example, if your business is called Super Fast Inc, your AP email address would be superfastinc@ap.ramp.com. Any invoice attached in PDF format will turn into a bill draft in Bill Pay. The process gets even faster with automatic email forwarding.
How to set up with Google G Suite
How to set up with Google G Suite

Logging into the email address you'd like to forward emails from, follow
these instructions first: https://support.google.com/mail/answer/10957?hl=en
[https://support.google.com/mail/answer/10957?hl=en]. This sends a
verification email to the <your company name>@ap.ramp.com email address.

Then, contact our team by logging into your account and clicking the "Help" button on the bottom left of the sidebar. Give them the email address you're
forwarding email from and ask them to verify the email on your behalf.

You're set up!
How to set up with Microsoft 365 / Outlook:
Please note that Ramp recommends customers to always forward invoices to the Ramp AP email address from a company managed account rather than having their vendors directly email the Ramp AP account. This allows your business to maintain access to all vendor communications and prevent unintended invoices from appearing in Ramp.
5. (Optional) Setup Ramp Flex*
Ramp Flex is a financing solution embedded in Bill Pay that allows you to extend payment terms with vendors right when you pay your bills. With Flex, you can finance your bill payments to vendors (including those who don't accept cards or offer terms), for 30, 60, or 90 days, alongside a small fee.* Learn how to set it up here: Ramp Flex Setup or just navigate to the Bill Pay -> Flex in Ramp.

6. (Recommended) Adjust Bill.com syncing settings
While you migrate off Bill.com onto Ramp Bill Pay, you should turn off 2-Way AP Payment Sync and enable 1-Way Transactions Sync in Bill.com's settings. Since both products use your accounting software as a system of record, Bill.com will generate duplicate bills of the ones you create in Ramp. Disabling this will let you delete bills in Bill.com without losing the original bill in your accounting software.