Your card can be declined for several reasons. Below are a few common reasons and how you can get it resolved.
The transaction puts your card's balance above its limit. If the transaction amount is higher than the remaining balance on your card it will be declined. If you have a phone number on your Ramp account, you will be notified via SMS. Your manager can increase the limit of the card if they want the transaction to go through.
The transaction puts your company's balance above its limit. If your transaction is larger than the remaining balance for your company, it will be declined. Your company admins or owners can pay down the company's balance to allow new transactions to come through.
The transaction was declined by the merchant. In some cases, the merchant will decline a transaction. This is especially common for certain high-risk categories, like gift-cards. If your card is being declined and you have a balance to complete the payment, speak to the merchant to see if the issue is on their end.
The transaction was declined due to a category or merchant restriction on your card. If your manager or admin has added a category restriction on your card, your card may only be used for specific categories. If you spend at merchant that was not authorized, your card will be declined. You should have been notified via an SMS and can request an exception from your manager.
The transaction has been flagged as fraudulent. If Ramp believes the transaction is fraudulent, it is flagged by our systems. Reach out to support and we'll help get it resolved.
To view your and/or your team's declined transaction:
As a manager, you will be able to view all declined transactions at the company or team depending on your scope in the Transactions tab subsection for Declines. Additionally, you may:

Filter by merchant, cardholder name, amount, dates, and declined reason

Export to CSV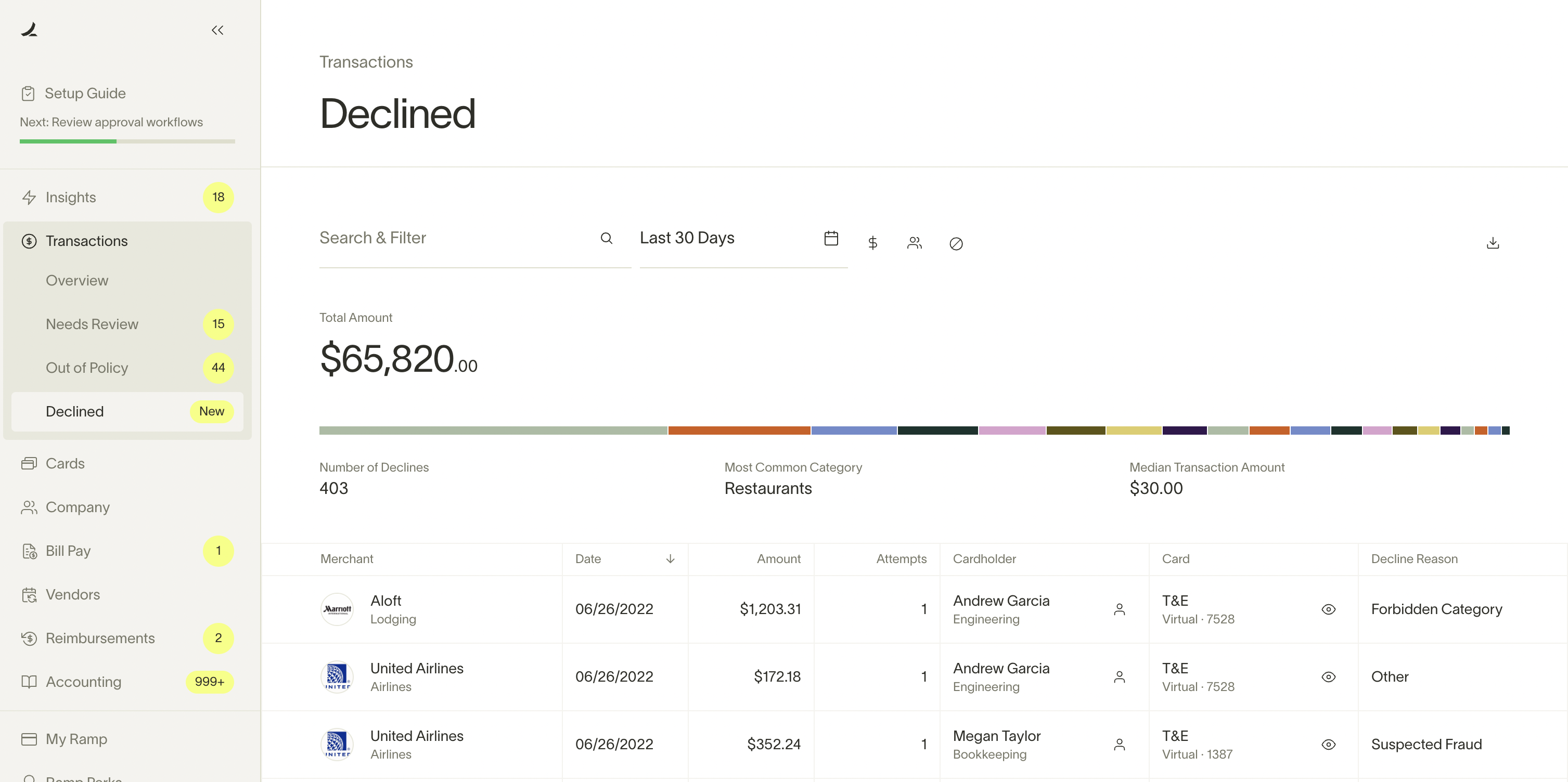 As a cardholder, you can view your declined transactions by clicking on the card for which you wish to view declines. At the bottom of the panel, you may click on the Declines tab.