Locking cards
You can freeze your card anytime by clicking the lock toggle on the card details page after clicking into a specific card.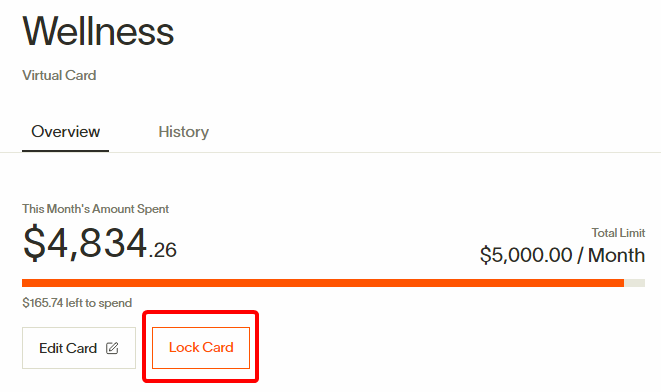 Any transactions going forward will be declined. You can unlock your card at anytime.
Managers and admins can lock other user's cards; if a card is locked by an admin or manager, only they or someone with a higher role can unlock the card then.
Terminating Cards
Virtual cards
You can terminate a virtual card anytime by:
Click on the card you want to terminate.
Click on Edit Card:

Scroll to the bottom of the next page until you see the Terminate Card option:

Please note that terminating a card disables it for future use and subsequent transactions tied to this card will be declined. Refunds, however, will continue to go through on terminated cards. Terminations cannot be reversed. However, all previous transactions made on this card will still be available to everyone in the respective transactions history page.
Physical cards
Direct termination of physical cards must be done through Ramp support. Please contact Ramp support with a request to terminate a physical card.
In cases where you lose or had your physical card stolen, or if you simply wanted to cancel your current card and had another reissued, you can reorder your card on your own.
Terminating users
When a user is terminated on Ramp, all cards currently issued to this user account will be terminated.
For virtual cards, you will be given an opportunity to transfer them to another user before the account is deleted.
Physical cards cannot be transferred, and will be terminated along with user account deletion.