Ramp automatically matches the receipts you send to receipts@ramp.com to your transactions. For customers that want to save even more time, you can now set up forwarding rules in your email account that will automatically forward receipts to Ramp.
Here are two options with instructions for Gmail:
Option 1 - Use selected email forwarding
Add receipts@ramp.com as a forwarding address in Gmail by clicking here
Create a filter that catches emails with receipts associated with your Ramp card. You can do this by clicking on an example email and selecting 'Filter messages like these' - Gmail instructions can be found here.
Select Implement a forwarding rule for all emails in that filter to receipts@ramp.com

. Gmail instructions can be found

here.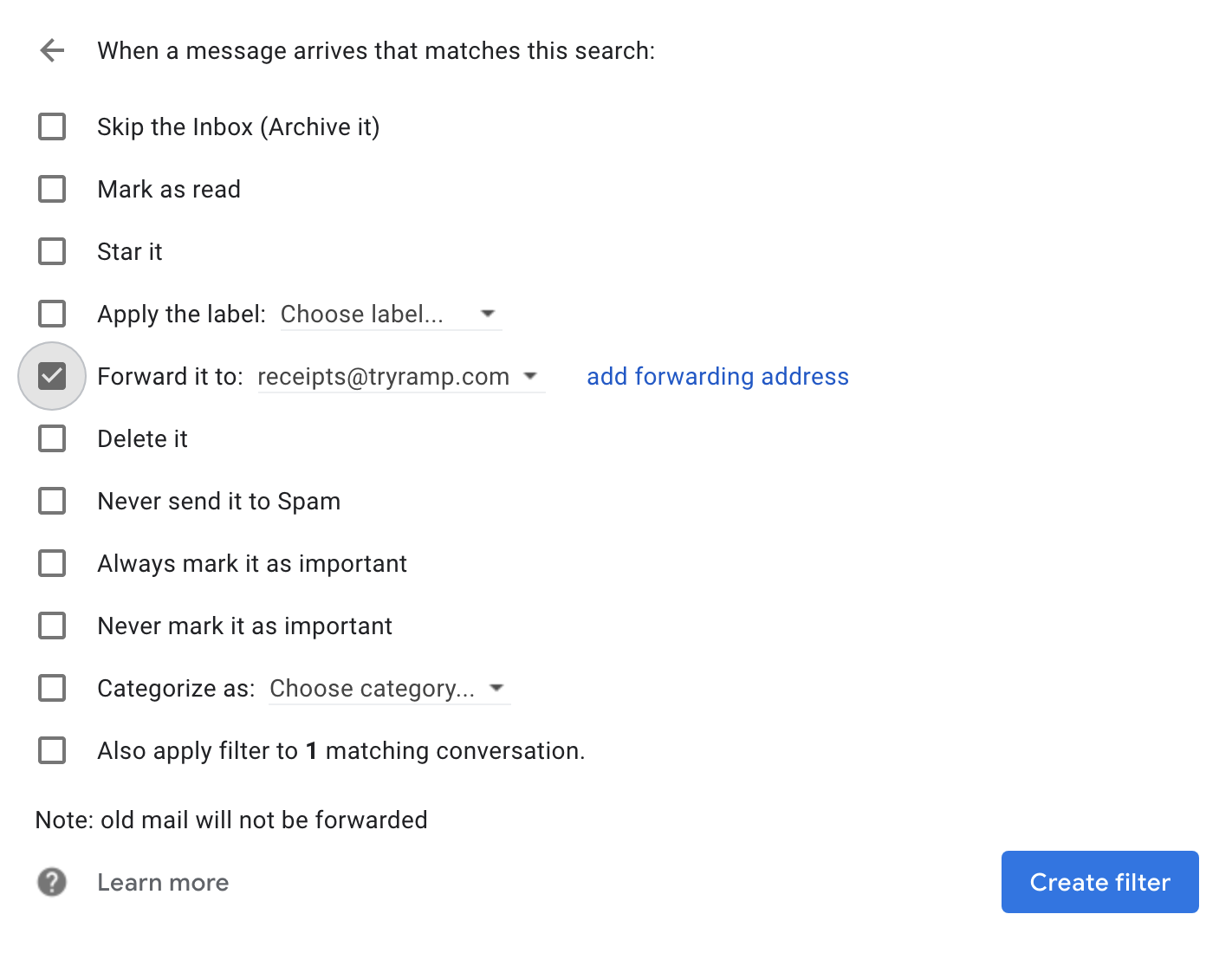 4. Afterwards, Ramp's support team will confirm the receipt forwarding request, and you'll receive an email confirmation from Google.
Note: this may take up to 24 hours
Option 2 - Use email alias for receipts
For customers that send receipts to centralized aliases like "ramp-receipts@company.com", we allow forwarding to Ramp accounts automatically.
Create the alias (likely contacting your system admin) - e.g. "ramp-receipts@company.com"
Select this alias as the billing email address for each of the vendors you pay with your Ramp card
Add that alias to your Ramp account as an authorized receipt sender - Go to 'Settings' > 'Your Profile' > 'Receipt Forwarding'. Note: receipts sent to that authorized email will also be considered to be matched on transactions across the company. So you only need to add it to one profile for it to apply to everyone.
Set up a forwarding rule to automatically send all receipts from your alias to Ramp (see step #1 from above).
Then you're all set! Receipts will get automatically forwarded and Ramp will match receipts automatically and send you confirmations.