Tracking partner status
If you're a Console Admin, head to the the Partner Status tab. There, you'll see what Partnership tier your firm is at (New Partner, Bronze, Silver and Titanium), and how many referrals you'll need to reach the next tier.

If you hover over the next tier up, you'll be able to see a list of benefits your firm will get once it reaches that tier. For example, moving from Silver to Gold enables your firm to earn a higher client referral bonus ($750), and we also start paying a revenue share of your clients' monthly spend.
Next to your current tier will be a running total of Completed referrals (e.g. "10 completed referrals.") These are referrals that have signed up and been approved for Ramp. Only completed referrals count towards our partnership program.
For more info about our partner rewards, you should go here.
Making referrals
You can make referrals in two places: the Partner Status tab and the Clients tab.
In the Partner Status tab, click "Refer a client" to refer a company to Ramp that you intend to manage
Enter in an email into the "Refer a friend" box in order to refer a company to Ramp that you don't intend to manage. 
You can also refer a client in the Clients tab by clicking "Add a client."
Tracking referrals
You'll see a full list of referrals in this tab as well. This list should contain all referrals your firm has made, both in the Console and via your firm's landing page. If you see referral(s) missing, please contact your accounting partnerships rep.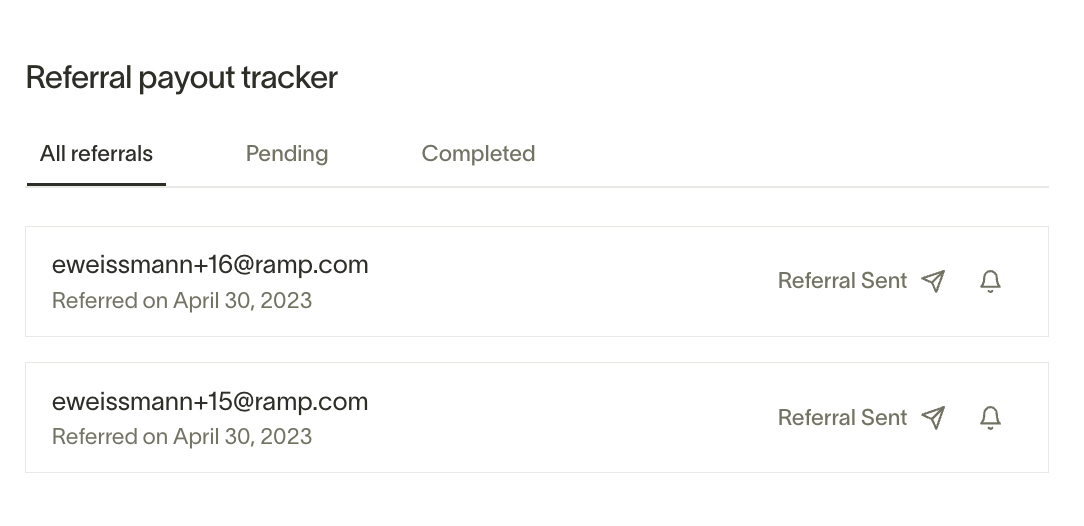 Once your referral has signed up for Ramp, been approved, and spent & paid down at least $1,000 on their Ramp card, the referral status will update from "Approved" to "Eligible for Bonus."
This means that both the client you referred and your firm are now eligible for the referral bonus.
In addition to tracking referrals in the Partner Status tab, you'll see a running list of Pending Clients in the Clients tab.