Overview
Approval policies on Ramp govern the steps required to approve card issuance, card edits, reimbursements, and bill payments. You can define who needs to approve what and when, as well as keep certain people informed via notifications.
Ramp makes it easy to customize approval workflows so admins can define the right set of people to approve expenses based on the amount. Approval policies cover:
New card requests
Card edits
Reimbursements
Bill payments
Setting Approval Policies
Overview
You can add approval policies for new cards for users, managers, and reimbursements by heading to Settings —> Approvals.
Within the approval drawer, you can define:
The amount ($) range that requires this approval (the "layer")
Who needs to approve & the sequence
Who needs to be notified
Note that you can set up multiple layers of approvals to customize even further. Bookkeepers may now be added to the approval chain for Cards, Reimbursements, and Bill Pay.
If the approval chain has the same user within multiple approval steps, we'll smartly de-duplicate so that the user has to only approve the request only once.
It is also important to note that the dollar amount that is entered is based on annual spend. An example is if the threshold you set is $1,200 and the card you are issuing has a monthly limit of $100 then it will fail within that approval layer.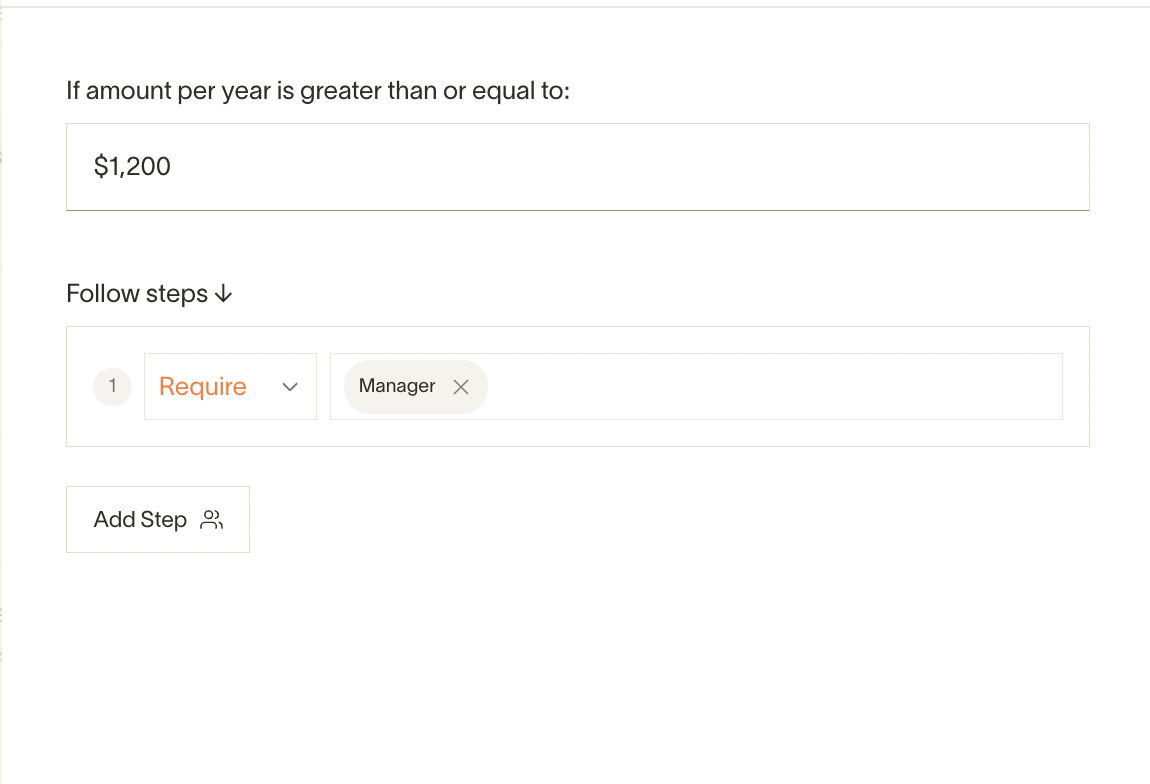 Employee Cards
When employees request cards or a manager creates a card for them on the Ramp dashboard, you can choose if multiple employees need to approve this card creation by clicking the "pen and paper" icon and what individual card limit you'd want to be notified for: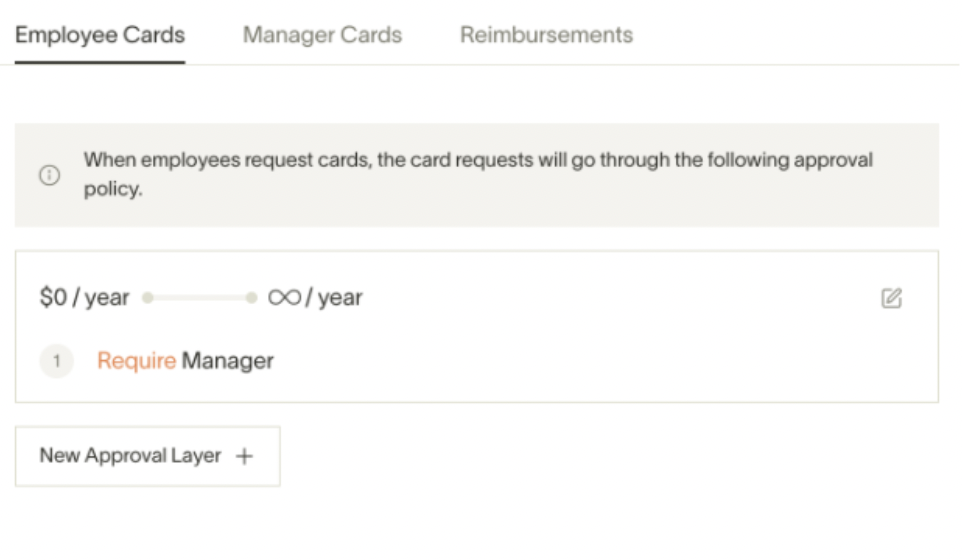 Admins can also set additional approval layers within an approval layer by clicking on the "pen and paper" icon. This is where an admin can establish who on your team is required to approve the request and who also gets notified of a request. If a manager or admin is required then they need to take action and approve the spend request. If an admin or manager is set as notify, then they are simply kept in the loop with a notification, but no further action is required.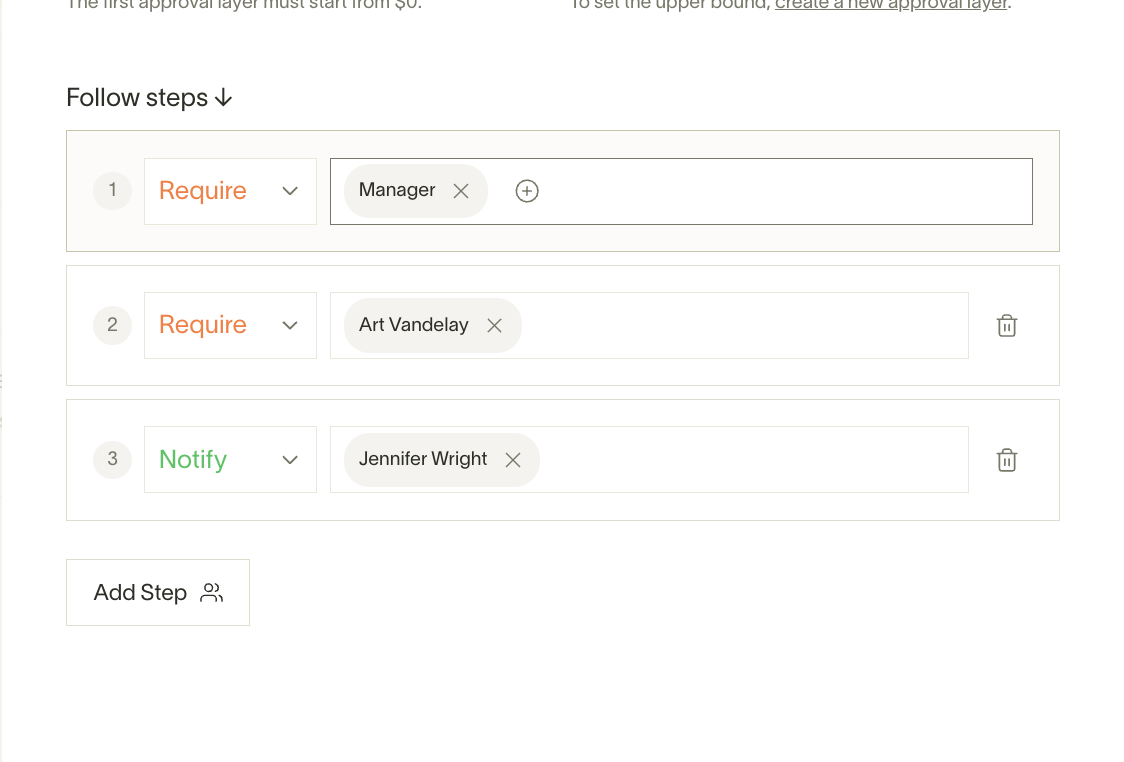 Manager Cards
Previously, managers were able to create cards without approval. If you'd like, you can now set Ramp up to have an admin or business owner approve a new card created by managers by clicking the "pen and paper" icon, or leave as auto-approved for manager cards: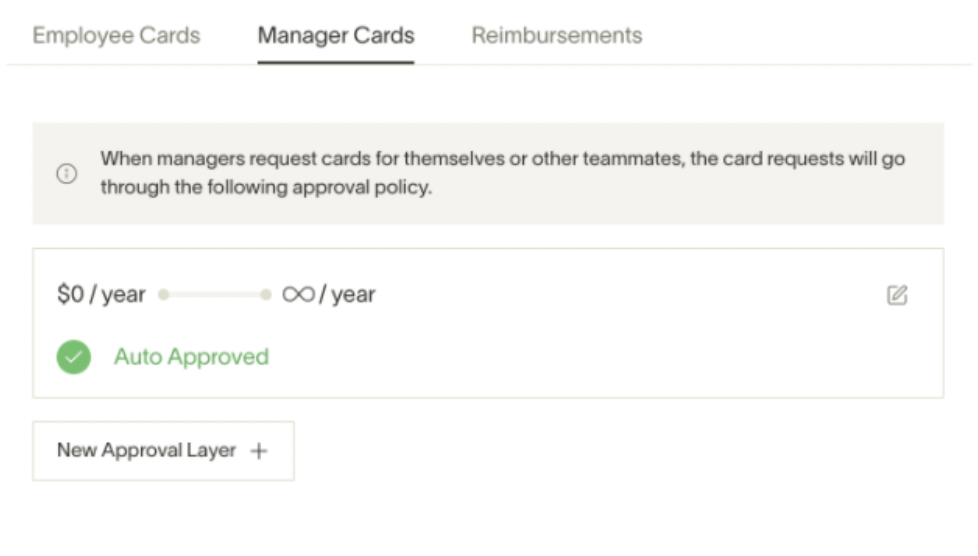 Reimbursements
Finally, you can add approval flows for employee-submitted reimbursements. By default, managers or admins will be able to approve out-of-pocket expenses to be reimbursed. You can click the "pen and paper" icon to require multiple individuals to approve a reimbursement and denote an amount you would want multiple approvals for: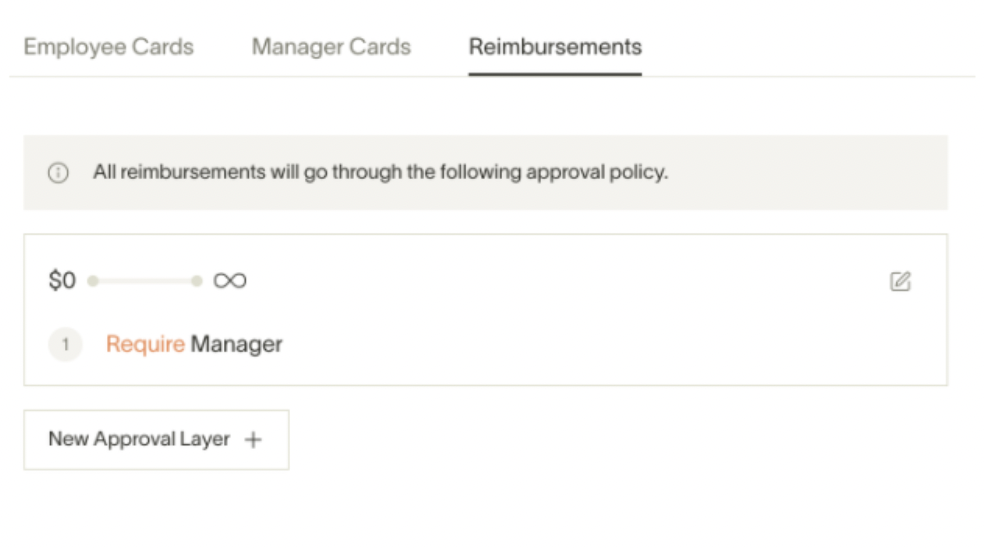 By default, for all of these, managers will be able to assign and approve card requests for employees and be able to approve reimbursement requests from employees. Reimbursements from managers and admins will require approval from another admin by default.