How to know if clients are not connected
If you're an accounting firm that already had access to Ramp client(s), and then onboarded to the Advisor Console, your clients will still show up within your Console instance if you used the same log-in.
You'll find them by hovering over the navigation bar on the left and then clicking the carrot next to "Advisor Console."
If clients show up under "Your Ramp Accounts," that means you can access them, but they're not properly connected to Advisor Console.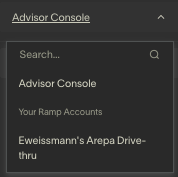 Your Clients page may also show up blank using this set up (or not list all your clients that should be connected)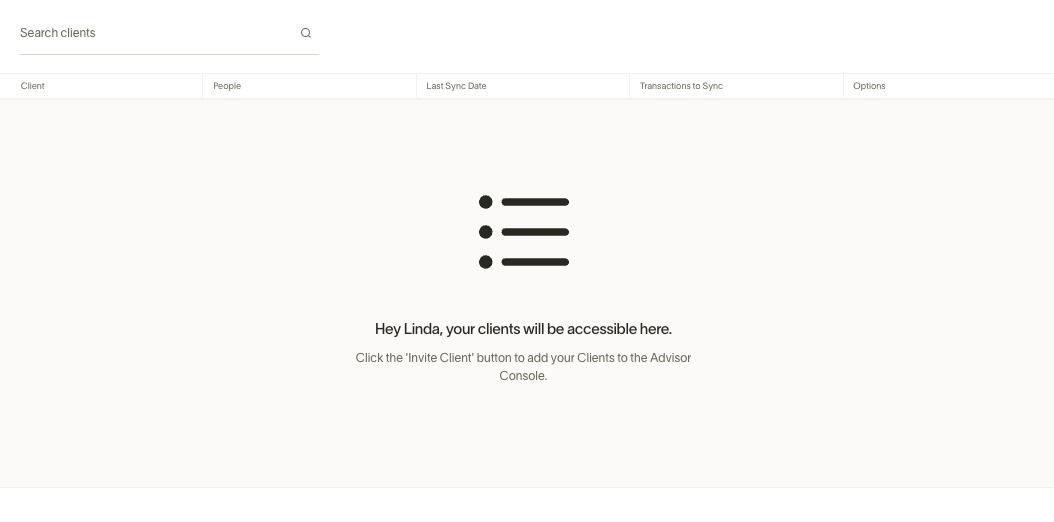 How to get clients connected properly
If you're a Console Admin:
In order to get your clients connected, you should click the "Add Client" button in the top right corner, then "connect with client already on Ramp."

Indicate the roles you would like access to, enter in the client's email and then click "send invite email."

Once your client clicks through the invite link, the Connection Request will show up in your Advisor Console and you'll be be able to accept it.

In the nav bar, these clients will properly show up under "Clients" instead of "Your Ramp Accounts."
Once you have all your clients connected, the only entity that should show up under "Your Ramp Accounts" should be your own firm, and that's only if you're using Ramp as a customer.
If you're a Console User:
If you're a Console User (and not a Console Admin), you won't have the ability to invite clients to connect, and accept the connection request. Instead, you should ask a Console Admin to do this step for you.
How to assign myself access to the client
Once the client has been connected to your account, you may try to grant yourself (or another staff member) access to the client, and see a message: "[name] has access to [client name] outside of Advisor Console. Contact Ramp support to migrate access to Advisor Console."
If you see this message, please log into your client's Ramp account and click "Help" on the bottom left of the sidebar with a screenshot of the message, and they can migrate your access.
Once that's done, you are now connected to the client via the console.
We recommend getting all your clients properly Connected so that you have access to the full functionality of the Advisor Console.