For IT & Security teams: read the full security brief which explains how your data is protected→
Introducing the Ramp's Outlook integration. Simply set up the integration once, and Ramp will automatically fetch receipts and payment confirmation from all of your employees' Outlook inboxes and use image recognition technology to match it to the correct transaction. Increase employee productivity and free up finance teams to focus on strategic work.
Similar to our other integrations, Ramp's Outlook Integration is easy to install and secure. Our email processing is isolated from our core application: we've strictly limited access, avoid pulling data we don't need, and delete data when it is no longer used.
Keep in mind:
Admins need Outlook Admin permissions to set up Outlook Integration at the company level (employees don't set it up individually). If you are not an Outlook Admin, there is an option in the Ramp setup flow to contact your company's administrator for assistance.

The integration is currently offered only to users based in the United States.

The integration picks up PDFs, including invoice PDFs, and does not show itemized details.

Once the integration is set up, it will attach receipts from the past 7 days and going forward.
Jump to: 
Setup
Ramp's Outlook Integration requires Admin privileges on Azure. It takes just 4 clicks to set up.
Step 1: In Ramp, navigate to Settings > Integrations > Automatic receipt capture. Select Outlook.
Step 2: Review the terms and conditions then choose to set it up yourself or send your organization's IT team a magic link to complete the integration. 
Step 3: Select your Microsoft account and proceed with the prompts on screen to connect, and you're all set! Admins and Owners will receive an email letting them know the integration has been successful.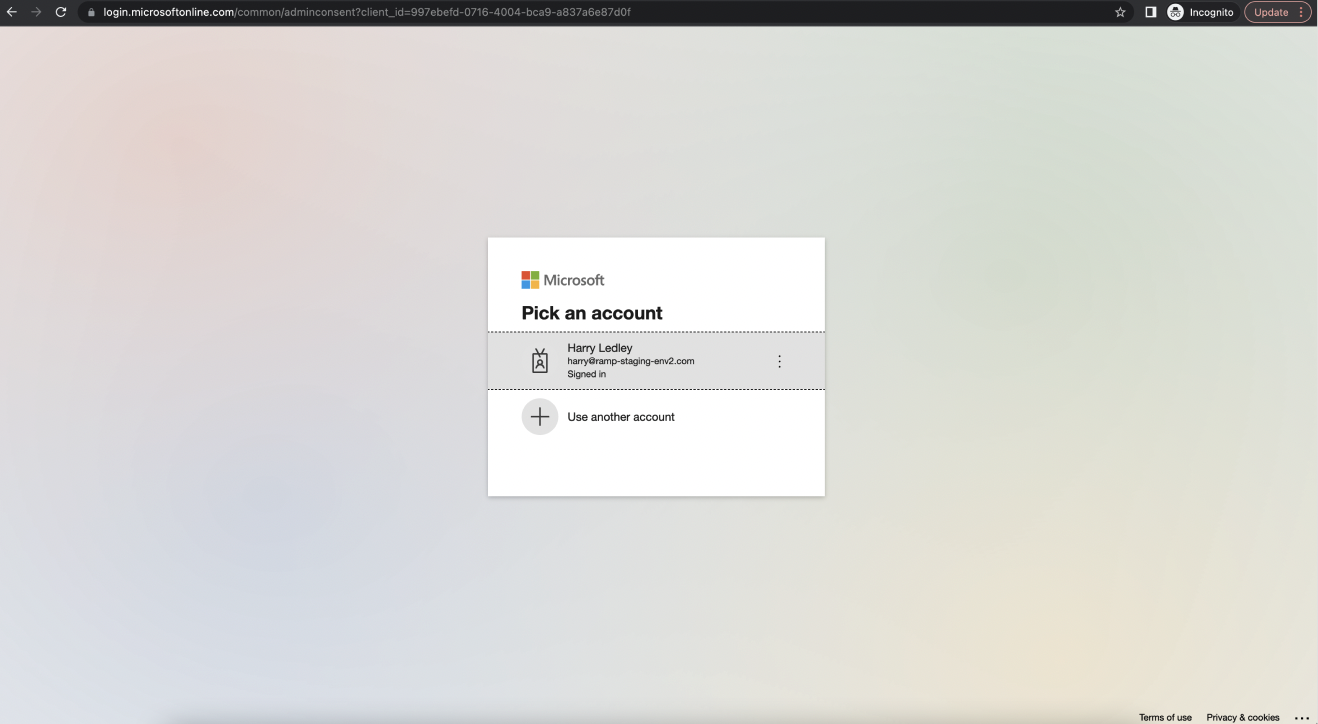 To view how the Outlook Integration has been saving you time, navigate back to Settings > Integrations > Automatic receipt capture > Outlook. The drawer will show how many receipts captured, hours saved, enrolled employees, and recent activity. The bottom of the drawer will also present the option to disconnect your integration.