The Advisor Console has 2 built-in roles to help accounting firms manage how their employees use Ramp: Console Admins and Console Users. These are the roles that control how users interact directly with the Advisor Console.
Meanwhile, there are 3 permission levels an Advisor Console may use to access a client's Ramp account: Administrator, Bookkeeper & AP Clerk, and AP Clerk. These permissions are distinctly different from the set of roles mentioned above. These permission levels control how users interact directly with the client's Ramp account, accessed via the Advisor Console.
Advisor Console Roles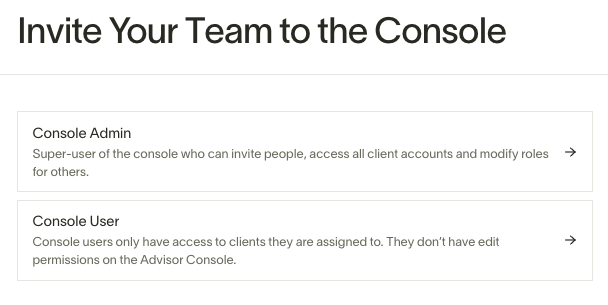 The first user of any Advisor Console, by default, will be a Console Admin. From there, that Admin can invite in additional staff members as either Console Admins or Console Users. We encourage limiting the number of Advisor Console admins as a security best practice. Most firms will only have one or two admins.
Console Admins
Console Admins are the super-users of the Ramp Advisor Console. Admins can:
Manage Admins and Users on the Console. Admins can invite new users, revoke existing access, and change user's roles.
Manage Client Connections. Admins can accept connection requests from clients on behalf of the firm, and off-board existing clients.
Assign Console Users to Clients. Admins can assign other admins and users roles to clients. They can also revoke access once assigned.
Admins can also perform all actions that Console Users can perform, including accessing client Ramp instances.
Console Users
Most accountants should be provisioned to the console as Console Users. Console Users can:
Access Client Ramp Instances. Once a Console Admin has assigned a user to a client, the user can access the Client using the dashboard.

Console users do not have access to any console clients unless they are assigned to the client.

View all Console Admins. Console Users have access to a list of all Console Admins.

Console Users cannot see other Console Users.
Client Permissions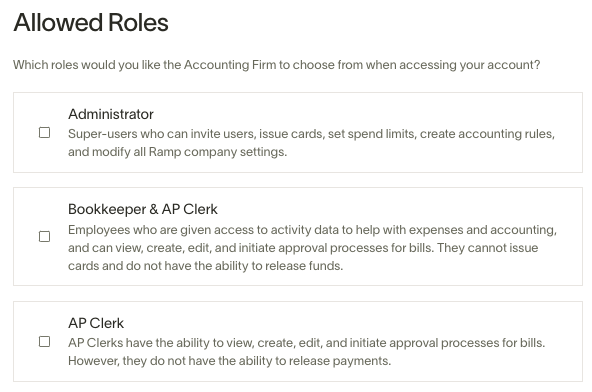 When a client sends your firm a connection request, they will also authorize the roles from which you can choose from when accessing their account. This includes Administrator, Bookkeeper & AP Clerk, and AP Clerk permissions. If they select Administrator, then the other two permissions are included by default.
Once they have sent you the connection request and your firm has accepted, you will now be able to assign your staff (or yourself) to the client using any of the 3 permissions that the client has authorized.
For example, if the client authorized all 3 permissions, you could assign one accountant as an Administrator on that client's account, and another accountant as an AP Clerk. This enables multiple staff members of your firm to work on the client's account at varying permission levels. (See also Assigning Staff Members to clients)