The Ramp Advisor Console is a product built for accounting firms, to help manage their clients and staff that are using Ramp. With the Advisor Console, you can securely manage your staff on Ramp and the clients that they have access to.
Setting up the advisor console
Getting access to the Advisor Console requires you to get in touch with our Accounting Partnerships team. To connect with our team, use the form found on Advisor Console page.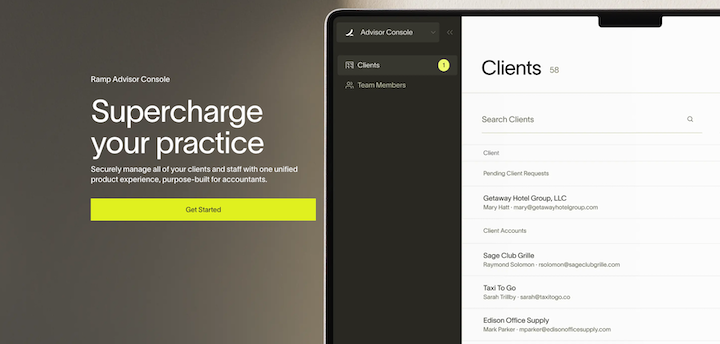 Once you've signed up, our team will be in touch with next steps for onboarding to the console. Here's what the process will look like:
First, we will help you create your dedicated login and account in the Advisor Console.
Next, we will grant access to your first Console Admin in your account. Note: you must maintain at least 1 Console Admin on the account at any given time.
Next, you will invite in your staff to the Advisor Console. If your staff already has individual Ramp accounts with access to specific clients, our team will need to help migrate those logins to the Console. Otherwise, they can create a brand new login on their own without any issues.
Then, your clients will issue you a connection request to link their Ramp account to your Advisor Console account, and you'll need to accept the request.
Finally, you will be able to assign staff members to the clients they need access to. You can choose what level of access they have: Admin, Bookkeeper or AP Clerk.
Tutorial
Here's a 3 minute tutorial for Console Administrators. It covers how to invite team members, connect with clients and grant team members access to clients.
Learn more: