Overview
Introducing Card Limits and Spend Programs: an easy way for cardholders to link their physical card to any virtual card limit and reimburse against this limit, providing the company with additional control over their budgets.
Minimal impact on your day-to-day experience on Ramp with new, powerful functionality to make spending and tracking even more effortless.
What are Card Limits and Spend Programs?
An easy way to link any of your virtual cards to your physical card and reimburse against your virtual card. Let's look at an example.
Your company invites employees to an offsite in Miami, giving everyone $1000 to spend on a virtual card "Miami Offsite 2023."
Previously at an in-person dinner, your team may have:
Used their physical Ramp card, rather than the "Miami Offsite 2023" virtual card, OR

Used their personal card and submitted a

reimbursement
This makes it difficult for employees to manage their spend and finance team to track and code that spend.
Now with Card Limits:
You can link your virtual card limit "Miami Offsite 2023" to your physical card and swipe in-person towards the "Miami Offsite 2023" Card Limit

You can submit reimbursements directly towards the "Miami Offsite 2023" Limit
The ability to seamlessly swap virtual limits onto your physical card will enable teams to get more granular with spend controls. Feel at ease creating more limits to track your budgets, knowing that it can be spent via physical card or reimbursements coded to the correct limit afterward.
As a Cardholder, smoothly manage your virtual limits and reimbursements, and know exactly where which limits you're spending towards at all times whether it's from your card or out-of-pocket.
How are Card Programs changing into Spend Programs?
Spend Programs has the added functionality of issuing cards at scale to employees by department, location, and other fields in your HR provider.
How does this affect current card and card program settings?
Admins can link virtual cards to physical cards and attach reimbursements that can be toggled on and off at the individual card or card program level. Each virtual card will retain its original card number. 
As we go live, whether your virtual cards have these controls toggled on or off depends on your historical spending pattern. Physical card linking and reimbursements are toggled on for all cards except those that have a large majority (90%+) of vendor or A/P-based spend.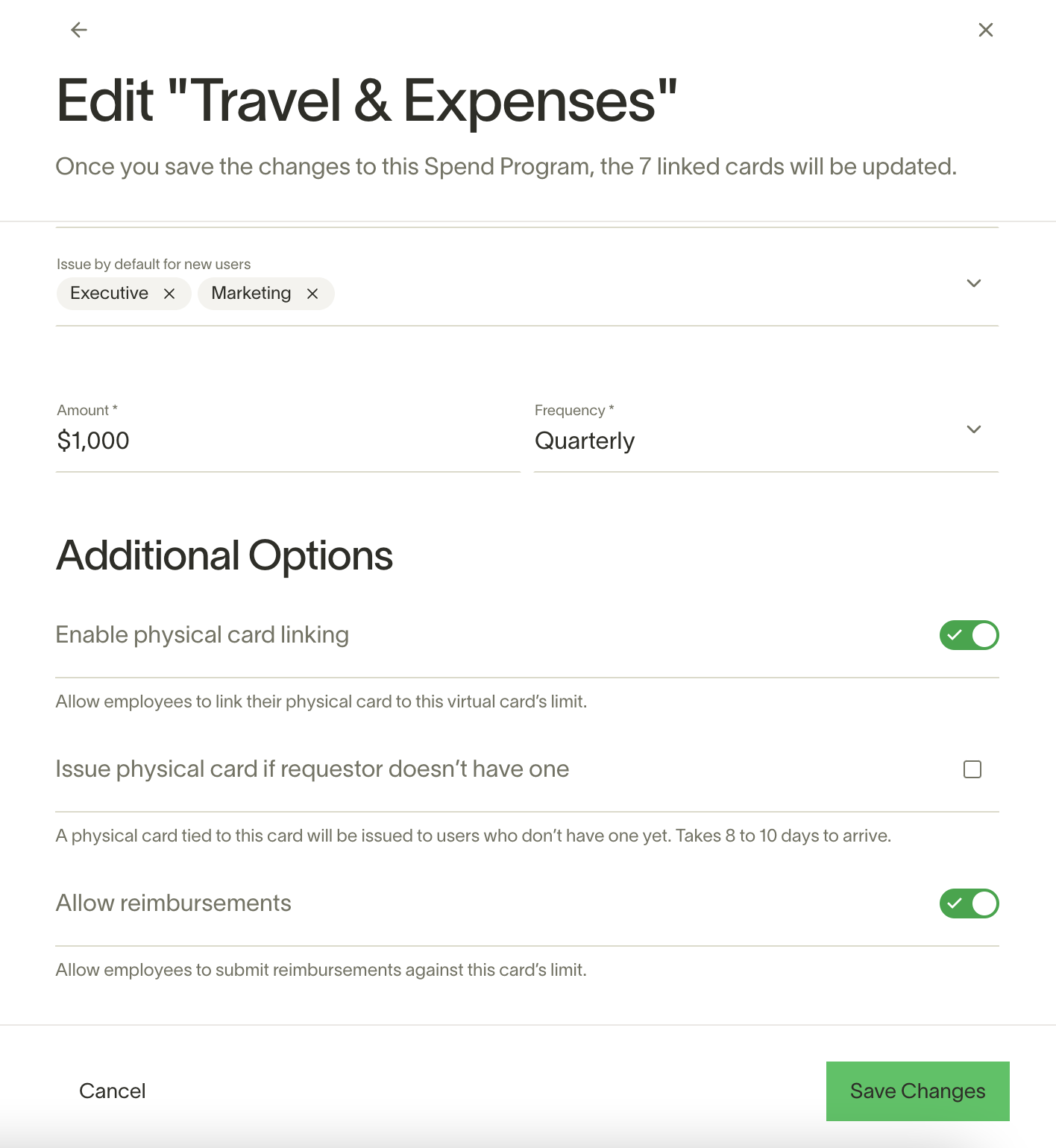 We encourage you to check and/or change your settings to enable or disable this new feature, you may do so take a look at each Card or Card Program setting.
Note: Issuing physical cards will create a new virtual card. Our team is working on the ability for physical cards to be issued without creating a new limit. 
How do I use Card Limits & Programs as a cardholder?
Have Ramp automatically route your physical card transactions
With automatic card matching, Ramp will automatically categorize physical card transactions to different Virtual Card Limits (if you have more than one) on your behalf.
To turn automatic card matching on or off:
On your home page, click on your Physical Card. To turn automatic card matching on,

click "Swap" to start the process of turning it on

Select "Automatic card matching" to turn on automatic card matching

To turn it off in the same Physical Card drawer, you'll see that the button text is "Swap manually"  rather than "Swap." Click "Swap manually" and the virtual limit you would like to link your physical card to to turn off automatic limit matching. 
Please note: Admins may turn this off and on for any user in Ramp. You may see who has turned automatic routing on and off in the physical card's activity tab.
Additionally, if a virtual card has the physical card option enabled, by clicking into the virtual card drawer, you'll see a blue "Link to Physical Card" button in the bottom footer. 


Here's how automatic limit matching works:
Make a transaction on your physical card or with your physical card details


As long as you have a virtual card (spend limit) with remaining limit above the transaction amount and all card restrictions have been met, the transaction will go through.
If your transaction does not meet the criteria (exceeds all limits) and is declined, you will be notified

You will receive a text with the transaction details (amount, merchant), which limit it was routed to, the amount remaining on the limit, as well as any missing items for that transaction
You'll also be given the option via text and in your My Ramp web app to map the transaction to another limit (if there's another one available)
A few other items to note:
You cannot "pause" automatic card matching, only turn it on or off. To remove cards from the automatic card matching option, you may disable physical card linking.
A physical card must be linked to a virtual card at all times
Recategorize to another limit after your transaction goes through
In case a transaction goes through on the wrong Virtual Card Limit, you, your manager, and your admin can all swap the associated Limit by following the steps below:
For Cardholders, under My Ramp in the

Transactions

section (for Managers/Admins on the

Transaction

tab), click on the transaction

At the bottom of the drawer that opens, click the 3 dots and select "Reassign Transaction". 
A few important notes: 
Only

transactions made on the physical card can be switched onto a different virtual card

When a transaction is swapped onto a new virtual card, the new virtual card's policies and approval chain will apply. For example, if you move your transaction from your "Wellness Monthly" card to your "Learning and Development" card, the "Learning and Development" card's policies will apply

For Cardholders and Managers, virtual card changes may only be made prior to accounting syncing. Admins have the ability to change the Limit after accounting syncing.

Swapping a limit on a transaction is only available for transactions made after the platform update. For example, a transaction made on January 20th cannot be swapped if Card Limits were enabled for your account on February 20th.
Reimburse towards Card Limits
If you have out-of-pocket spend and need to reimburse towards a Virtual Card, you may select the relevant Card Limit while filling out the reimbursement form. This will automatically deduct the reimbursement amount from the Card Limit, enabling you and your finance team to better track spend.
Important: If you'd like to reimburse towards a previous pay period, for example, if it's March 2023 and you'd like to reimburse towards a Virtual Card that resets monthly for a transaction from January 2023, Ramp will automatically reimburse for the period associated with the "Transaction Date". Enter your January transaction date, i.e. 1/16/23, and it'll count toward the limit for that period.

You may also reimburse from a virtual card drawer from your Overview page. Click into a virtual card with reimbursements enabled, click the 3 dots in the footer, and select "Submit Reimbursement".

Additional functionality with Limits
With Limits, we're also launching multi-step transaction review, in which Admins will be able to customize transaction review policies under Approval Workflows. This feature includes:
The ability to set a dollar threshold for manager reviews (i.e. only for transactions above $1k)
Listing an admin over a manager or vice versa for additional review (up to L9)
Ability to change approvers in-flight transaction review

Note: Cardholders and Managers may add additional reviews but only Admins may review the them